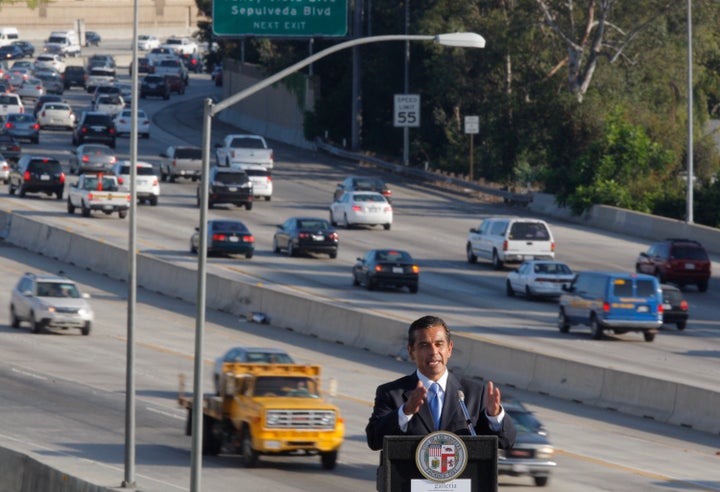 By now you've probably heard about the I-405 closure this weekend. But what you may not have heard above the clamor of a supposed carmageddon, is that the I-405 Sepulveda Pass Improvement Project is part of our plan to deliver what every Angeleno deserves: a 21st-century transportation system.
We want more projects like the I-405 carpool lanes to get started sooner and finished faster. Since passing Measure R in 2008, we've lobbied Congress for innovative transportation financing tools with a plan called America Fast Forward. Next week, I'm meeting with the U.S. Senate Environment and Public Works Committee on Transportation to ask for their support of my AFF plan which will help Los Angeles, and cities across the country, put nearly 1 million people to work now, rebuilding the roads, rail, and bridges of our future.
America Fast Forward is making important progress -- just recently we learned our subway from Koreatown to Westwood is a finalist for federal support that will expedite this Westside subway extension and support 300,000 commuters sooner than originally expected. And last year, we were awarded a $546 million low-interest federal loan for our Crenshaw/LAX Light Rail line, the first Measure R project to receive AFF funding.
Now some in Washington will say there's no money to fund transportation building projects but I say let's redirect the $126 billion we've been spending in Afghanistan, and invest it in our unemployed workforce here at home. Unemployment for veterans is up to 13.3% and there's no better way to honor our vets than with a job back here at home.
Every day we're putting Angelenos to work building more carpool lanes, doubling the miles of rail, adding 1600 miles of new bike paths, synchronizing our traffic signals and improving our bus service. This weekend alone, thousands of Angelenos will be hard at work building a better future for LA by constructing a 10-mile northbound carpool lane that fills the last remaining gap of carpool along one of the most congested freeways in the nation. When it's done in 2013, commuters will have carpool lanes from Orange County all the way to the San Fernando Valley saving carpoolers a minute per mile.
With the public's cooperation this weekend, I'm confident we can minimize the impacts of the closure. To everyone who drives and commutes in Los Angeles: plan ahead, avoid the area, or stay home this weekend. Shop LA is encouraging residents to get out of their cars and walk or bike to their local shops.
For those who decide to commute, enhanced Metrolink rail services will be available and extra buses will be added on the Orange Line, Sunset, Santa Monica, Fairfax and Ventura Boulevard. Metro will also be providing free rides on the Metro Orange, Red and Purple Lines, and will make 26 Metro Bus Lines free of charge. Amtrak has also partnered with us to provide low fare train service.
Remember to plan ahead, avoid the area, or stay home. Most of all, enjoy LA. We are getting one step closer to the world-class transit system our region deserves.
For more information on the closure, visit Metro.net. or call 511. For real-time updates on Twitter, follow @I_405. And for a list of fun things to do in Los Angeles without a car, visit my Facebook page.
Popular in the Community