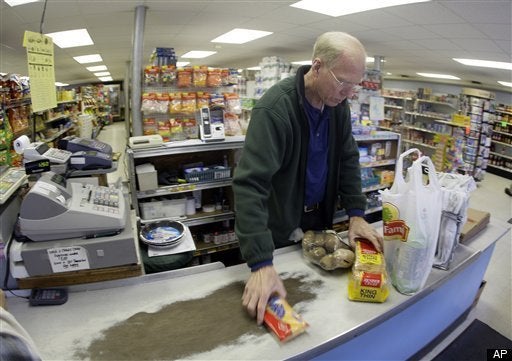 Kentucky state Rep. Lonnie Napier (R-Lancaster) has introduced a bill that would enforce random drug testing for all adult Kentuckians receiving welfare, food stamps or Medicaid, which he told HuffPost would "get people off drugs" and save money for the state.
"I believe there is a place for public assistance for those that really need it, but I don't think there should be public assistance for those using it to buy drugs," Napier said. "It's widely known here and all over the country that they'll take the food-stamp card and buy good groceries with it, and then swap them for illegal drugs. My deal would only be random testing, and this would put the fear in people to keep them drug-clean because they would lose their public assistance if they show up with illegal drugs in their system."
Under Kentucky House Bill 208, public-assistance recipients who fail the random drug test would immediately lose their benefits, which Napier said will save the state government "millions and millions and millions" of dollars.
"The public-assistance program is one of the most expensive things we have," he said. "This is gonna save us a lot of money, because there's gonna be a lot of people showing up on illegal drugs and they will lose their assistance. If the working people in Kentucky have to be randomly drug-tested, why not those who are receiving the public's money?"
Napier's legislation was cosponsored by House Speaker Greg Stumbo (D-Prestonsburg), who told HuffPost he views the bill as an opportunity to curb drug use in general. "As Attorney General and as a legislator, I have done all I can to curb illegal drug use in the state. I view this issue in that light, and that's why I signed on as cosponsor," he said.
The idea of drug testing those on public assistance is not a new one, as HuffPost's Ryan Grim pointed out in June after U.S. Sen. Orrin Hatch (R-Utah) introduced legislation that would have mandated drug tests for Americans receiving unemployment benefits. But an early experiment with such a policy in Michigan proved ineffective, experts say.
"A decade ago, Michigan implemented mandatory testing in three welfare offices. Out of 258 new and continuing applicants tested, 21 tested positive for illicit substances. All but three of these women tested positive for marijuana only. In light of such experiences, few states have chosen to pursue similar efforts," said Harold Pollack, the Helen Ross Professor of Social Service Administration at the University of Chicago.
Napier said he has no intention of drug-testing all of Kentucky's unemployed -- only those who receive "free handouts" from the state. He said he wants critics of the bill to know that he does care about his low-income constituents and that he views this legislation as a way to help them beat their drug addictions.
"I'm not a hard-hearted person -- I'm compassionate. However, I think it's time somebody stepped up to the plate and tried to help people get off of drugs," he said. "If you're continuing to let people have free handouts and they're using it for illegal drugs, then I guess we're helping them do it."
Popular in the Community