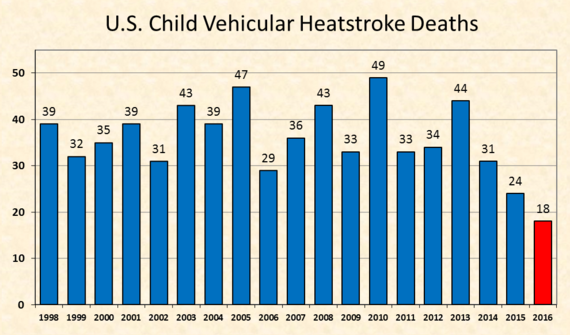 Suddenly, she realized her child was sitting alone in a car that was turned off, with no air conditioning to keep it cool. And she was locked out. Frantic, she called 911 and summoned help from a bystander to break the window and rescue her 7-month-old baby. Less than five minutes elapsed. The child was OK.
Sadly, these stories are not as uncommon as you might think. During the first 192 days of this year, 18 children died from vehicular hyperthermia after being found in hot cars. That's one child every 10.7 days. At that pace, we will surpass last year's total of 24 deaths and approach the national average of 37.
More than half of these incidents happen after a parent or caregiver becomes distracted and forgets a child in a car. Heatstroke occurs when an individual's body temperature exceeds 104 degrees; a child's body temperature rises five times faster than an adult's. Thermoregulatory mechanisms become overwhelmed, and people die in minutes.
Glass windows allow the sun's energy to pass into a car, heating up objects inside. Because this energy is trapped, heatstroke deaths can happen in almost any climate (cases have been reported in 49 states). Scorching temperatures are a factor, but not a requirement for heatstroke incidents.

A 3-year-old perished on a 96-degree day in Houston on June 16 after accessing an unlocked vehicle. Six months earlier, a 13-month-old succumbed on a 52-degree day in Rossville, Ga. The child was left in a vehicle with the heater running on Jan. 12 - in the middle of the winter months.
• Avoid heatstroke by never leaving a child alone in a car, not even for a minute
• Create reminders (put your phone or you left shoe in the back seat with your child)
• Take action (call 911 if you see a child alone in a car)
Our children are our most precious cargo. Let's take an extra 'look before we lock' and make sure we never forget about them.
Deborah A.P. Hersman is president and CEO of the National Safety Council