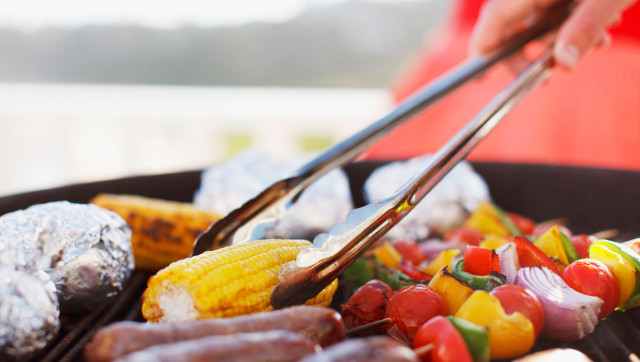 As Labor Day approaches, families should look for the union label when buying items for their party or cookout.
Over many years, America's workers battled for the right to have a voice at work. Labor Day should be a celebration of the labor movement's accomplishments -- the weekend, an end to child labor, the eight-hour day, Medicare and safer workplaces, among them -- and a reminder that there are still workers struggling to improve life for their families, communities and society. Conscientious consumers can help strengthen the labor movement, lift workers out of poverty and expand the middle class by buying union-made products.
Fortunately, a union-sponsored website, Union Label, helps consumers identify union-made products.

Need a new grill for your cookout?

Both Weber and Thermador grills are made with union hands.
Need something to grill on your new union made Weber or Thermador? Look for:
Butterball burgers and franks
Johnsonville brats and sausage
Wenzel's sausage
Smithfield sausage
Oscar Meyer hot dogs
Boars Head hot dogs
Ball Park Franks
Hebrew National franks
Foster Farms fresh chicken
Hormel Red Franks
Nathan's Ball Park hot dogs
How about a bun? Buy:
Wonder brand
Alfred Nickles Bakery
Stroehmann
Arnold
Francisco
Need toppings?
Heinz Ketchup
Open Pit
French's
Gulden's Mustard
Frank's Red Hot
Vlasic brand pickles
Something on the side?
Munchos
Funyuns
Rold Gold
Frito-Lay
Doritos
Chex Mixes
Something to wash it down with?
Adult beverages
Miller beer
Shock Top
Budweiser
Labatt's Blue
Mad River
Michelob
Non-Alcoholic beverages
Welch's juices
Minute Maid
Hawaiian Punch
Mott's
V8
Sprite
Mountain Dew, Pepsi, Diet Pepsi
Coke, Diet Coke
Happy Labor Day!
Peter Dreier teaches politics at Occidental College and is author of The 100 Greatest Americans of the 20th Century: A Social Justice Hall of Fame, published in July by Nation Books.
Calling all HuffPost superfans!
Sign up for membership to become a founding member and help shape HuffPost's next chapter