Frequent flier status allows us to board flights just behind the folks sitting up front and families with small children, which in turn allows us to observe our fellow passengers as they amble down the aisle. We know the golden age of air travel is long gone, but we are shocked at the amount of workout gear that we see on airplanes. Offhand we can only think of one person who wears the same grey T-shirt all the time, claiming it allows him time to focus on other things, and that person only flies private.
Guys, you should never embark on a trip looking like you are headed for the gym when your actual destination is Paris. You only have one chance to make a first impression, and your seatmate could be a potential love interest or your next boss. We often proceed straight from the plane to a wine tasting, business dinner, or TV studio with little time to change, and even if the first item on our travel itinerary is a nap we always check in looking our best. We have discovered a few articles of clothing and accessories that we find indispensable for stylish travel in a multitude of settings, and we want to share our finds with you.
lululemon Commission Pant: Although you could play basketball or ride your bike in these snazzy chinos, slip into a pair of Commission Pants and you will actually look like you are you your way to a board meeting. Water-repellent stretch fabric with Lycra keeps its shape even after a night in a tight seat, and having one pair in each color covers all your fashion bases.
Grovemade Wood Watch: Grovemade wooden watches do one thing: Tell time. There's no fussing with multiple functions when you move through time zones; just set your destination time on this understated work of art and you're good to go. Available in walnut and bamboo, the Grovemade watch is an attractive analog response to our ever-moving digital world.
Helly Hansen Ask Canvas Duffel Coat: This nautical-inspired lightweight raincoat fits over a sport coat, but is light enough to easily fold into an overhead compartment. With unpredictable weather patterns the world over, you will be glad you have this sleek but masculine coat with you at all times.

Twillory SafeCotton No-Iron Shirt: Any other no-iron cotton shirt you have ever owned has been treated with formaldehyde; Twillory SafeCotton keeps you safe from harmful chemical finishes. This is the prefect travel shirt -- it doesn't wrinkle whether it is on your body or crammed into your carryon. Fly in one of these, and then add a dapper Twillory tie to polish your look for your breakfast meeting.
Royal Robbins Traveler Blazer: Quick drying and wrinkle resistant, the Royal Robbins Travel Blazer is made of nylon with UV protection factor of 50+. The lightweight sport coat is loaded with pockets, and you can flip the collar up and button it for protection from the elements. This versatile blazer can take you from the airport to early lunch, and it is ideal if your business often takes place outdoors, such as construction projects, development sites, or vineyards.
PlusUs Lifecard Phone Charger: Barely thicker than a credit card, the PlusUs Lifecard is a portable power pack that keeps your phone running without adding extra bulk to your outfit. The thinnest and most compact charger on the market, this good-looking sliver of metal features a built in charging cable and power indicator.
Motorola Droid Turbo 2: There is a lot to love about the Verizon Wireless Motorola Droid Turbo 2, especially its ShatterShield display (guaranteed not to crack or shatter), long-life battery and 21-megapixel camera. What makes the Turbo 2 extra-special is the Moto Maker customization feature, which allows you to design your phone in a variety of colors and finishes, including sophisticated pebbled leather. There are over a thousand different style combinations, and you can also design a Moto 360 smart watch to match.
lululemon Core Polo: Don't you wish everyone on the plane would show up wearing clothes made with anti-stink technology? The handsome Core Polo from lululemon is made from sweat-wicking fabric with extra stretch, and it keeps you looking good on the golf course, your bicycle, or for a casual day in the city.
Grovemade Minimalist Wallet: You are not going anywhere with a bulky back pocket wallet. Keep up to five cards -- including credit cards, Priority Pass, and airline loyalty card -- organized and easy to find in this modern and elegant wallet made of brass and vegetable-tanned leather.
Helly Hansen Highlands Jacket: This fully waterproof yet breathable jacket from Helly Hansen offers 4 pockets and a concealed hood. Its classic cut goes well anything from hiking gear to office casual. Weighing next to nothing, it will keep you looking your best while keeping rain and wind at bay.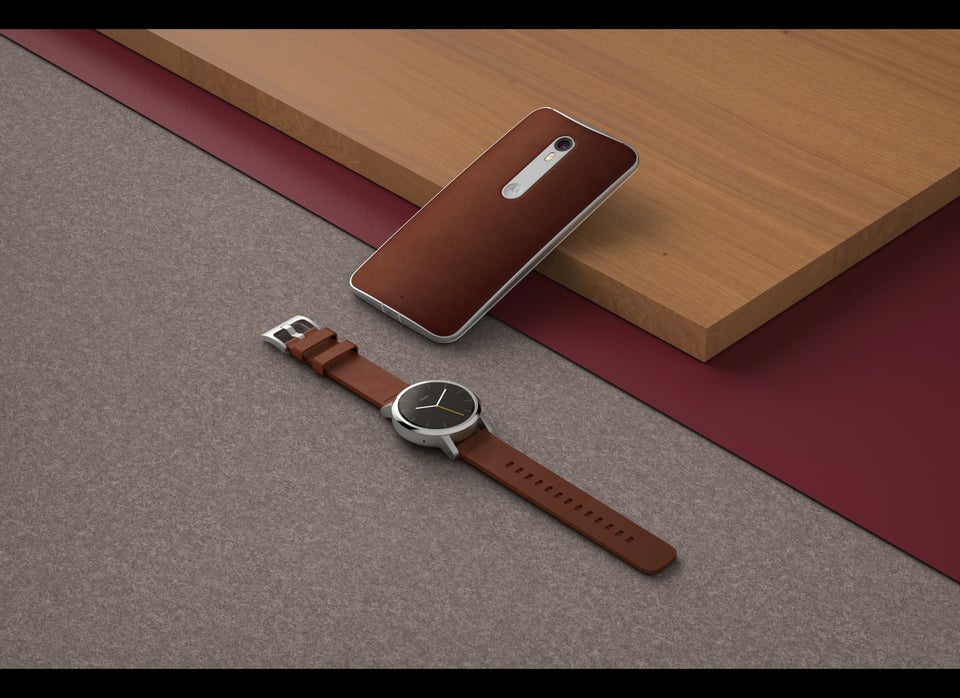 Look Like a Billion, Even in the Back of the Plane