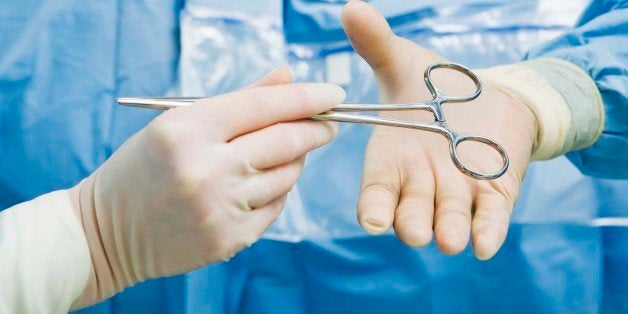 I met Mr. X at the beginning of my thoracic surgery rotation my intern year of general surgery residency. He was an unfortunate, elderly gentleman with esophageal cancer who had undergone major surgery to remove part of his esophagus. He had a rocky postoperative course keeping him in the hospital for several weeks. At the end of the month as I transitioned off the service and said goodbye, he looked at me and asked, "Are you training to be a nurse?" I was flabbergasted. I had been taking care of this gentleman all month, rounding on him at least twice a day, listening to his lungs, telling him the daily care plan, and even once, obtaining his written consent for surgery, and after all of this, he assumed that I was training to be his nurse. When I told him I was already a doctor he beamed at me and said that he was "so proud of me," almost as if he couldn't believe it.
This scenario has followed me throughout residency. I have had patients literally laugh in my face when I introduce myself as "doctor." I cannot tell you how many times I have walked into a patient's room to find him/her on the phone and hear "Hold on honey, I have to go, the nurse is here." And then there is the classic "You don't look like a surgeon," which always seems to me a backhanded compliment.
I tried to ignore it, to not let it get to me. As surgeons, we are taught not to complain, not to talk back and to not to make excuses. There is a strict hierarchy and even more so, there is a feeling of pride in doing our job despite adversity. We relish in the challenge, the adrenaline and even the fatigue. But why should we stay quiet about gender bias? Why do we have to accept that challenge as fact?
Enter Heather Logghe and her brilliant #ILookLikeASurgeon campaign. Inspired by the success of the #ILookLikeAnEngineer campaign, she tweeted "Hashtag aims to break gender stereotypes in engineering- Is #ILookLikeASurgeon next?" Momentum built over the next day as women (and men!) began posting their pictures on Twitter with the now famous hashtag. Within 2 days the hashtag had gone "viral" with over 2,000 tweets. Photos ranged the gamut from surgeons scrubbed into cases, hiking, posing with their kids, dressed up for a night out, running and more. My Twitter feed was a stream of surgeons of every shape, size, color, race, and gender. Soon the campaign received support from the American College of Surgeons (ACS), Association of Women Surgeons (AWS), Society of American and Gastrointestinal and Endoscopic Surgeons (SAGES), American Board of Surgery (ABS), the Today Show, The British Medical Journal (BMJ), and more.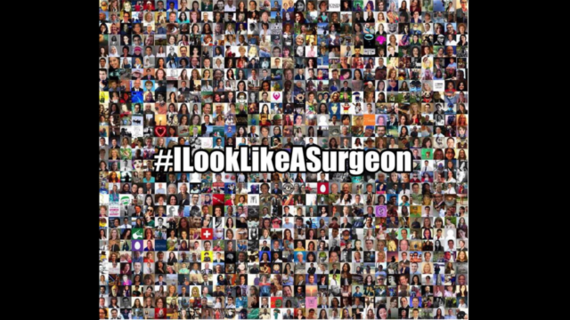 It has been several weeks since the Twitter campaign started and we are still going strong. But some may ask, why continue, what are we accomplishing, what is the point?
The first obvious goal of this campaign is to challenge the stereotype that women cannot be surgeons. If you talk to any female surgeon (or female doctor, for that matter), you will hear countless stories like the one I told above. While we endure this quietly and try to "get used to it", the time has finally come to speak up and try to change the stereotype. #ILookLikeASurgeon gives us a voice and a platform to challenge this stereotype visually, worldwide through social media.
In addition to championing women as surgeons, this campaign has also created virtual social media role models, mentors, and camaraderie. Many of the tweets have come from young women inspired by seeing our pictures on social media, excited to have found female role models, even if virtually. For these women who may not have role models where they live, especially globally, this movement is their beacon. I have "met" so many amazing women in the past week and have even formed a new online surgery group of mentors- something that would not have been possible without this campaign. In a specialty that has a tendency to "cut you down" (pun intended), building camaraderie, amongst women and men, is integral to moving forward as a specialty.
What many may not realize is that #ILookLikeASurgeon goes well beyond gender stereotypes. It is not just about women. It is about challenging the stereotype of what a surgeon should look like. Historically white men dominated medicine, especially surgery, and this is what many visualize when they hear the word "surgeon." While this is slowly changing, women and non-white physicians still fall into the minority amongst surgeons. Women may feel bad when getting mistaken for the nurse, but many African American and Hispanic physicians recount being mistaken for the janitor. #ILookLikeASurgeon helps to challenge this stereotype by showcasing faces of surgeons of all genders, races and ethnicities.
Finally, this campaign helps to humanize our profession. Every specialty has a stereotype and surgeons are no exception. We are often seen as "rude" or "blunt" with no "bedside manner" because all we want to do is operate. My friends outside of medicine are often surprised to learn that I actually talk to my patients- in fact, this is one of my favorite parts of being a surgeon. The field of surgery is changing, for the better. Gone are the days (for most) where the surgeon never leaves the hospital and life outside of surgery is non-existent. We are mothers, fathers, friends, wives, husbands, athletes, photographers, chefs, artists, researchers, entrepreneurs, etc. We are humans who care about our patients, our families, our friends, and our lives outside of the hospital and these #ILookLikeASurgeon photos demonstrate and celebrate this.
It is time for us as surgeons, to break out of our stereotype and embrace the changing field. In the words of Dr. Andrew Warshaw, former Surgeon-in-Chief at Massachusetts General Hospital, and president-elect of the American College of Surgeons, "We all look alike in the OR. It's quality, not gender, that counts."