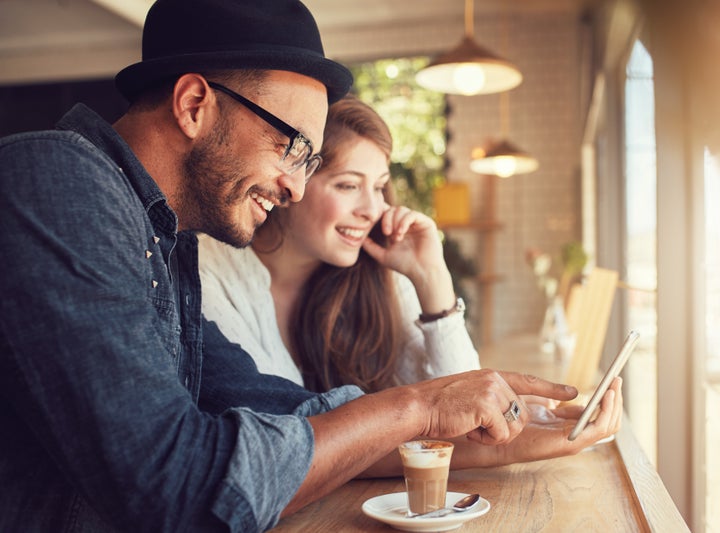 The video begins and immediately oozes L.A.'s laid-back California vibes.
Then appear the cool kids, achingly beautiful "it" models Anwar Hadid and Lucky B. Smith, decked out in head-to-toe Tommy Hilfiger, which is reinventing itself thanks to the eldest Hadid's latest design collaboration.
As the they saunter along the city sidewalks and abandoned pools, you think, "Wow, I looooooove his jacket. I must buy it for my bf, like, now."
Well, now you can see it, and buy it now. No remembering or saving for later. The designer's latest European campaigns integrate shoppable video technologies so that loyal fans and a new generation of customers alike are only a couple of clicks away from buying items from the new spring collection. The pouty lips and come-hither stares, however, are on you.
Behind the Scenes: The Technology of Shoppable Video
If you thought buying directly from video was cool, the technology behind it all is just as fascinating. Enter Clicktivated, the platform behind the latest Tommy Hilfiger campaigns. Clicktivated integrates its proprietary technology to videos, turning them into interactive learning and shopping experiences. Take its work for example, on Tommy's Rollersquad video:
"Our technology is seamlessly integrated within virtually any video, to create a truly immersive and interactive experience," says Clicktivated Founder and CEO Chris Roebuck.
"We know that a majority of people won't stop to watch, let-alone click on an intrusive banner or popup. But when they're able to engage on their own terms, we've seen 12 to 18 times the increase in engagement, which is defined in the industry as anything that makes the case stronger, and is counted as soon as the viewer clicks on a product or item in our videos."
Since launching in 2013, the company has produced other shoppable video campaigns for household names such as BMW, Abercrombie & Fitch, TAG Heuer, and Kohl's.
"We hatched this idea around five years ago, but over the last year we've seen a spike in demand from brands who are now getting the importance of the 'see it now, buy it now' or 'need it quick, need it now' revolution for their customers," says Roebuck. "Our clients also love our consumer-first mentality, the simplicity of our process, and our speed to market distribution. Having the most user-friendly experience is also key, which is why we're beating out bigger technology providers head-to-head."
Fashion isn't the only space the where the company provides interactive videos. "The possibilities are endless and we're just getting started," says Roebuck.
The Future of Advertising
Now, just as seamless payment apps make it easy to spend more money at point-of-sale, big brands and retailers are jumping head-first into the shoppable video revolution.
"As eCommerce slowly becomes the default and preferred way to buy things, and with the average U.S. shopper spending over $1800 per year, we're seeing the opportunity for all screens around us and content to become active parts of the booking funnel," says Tom Goodwin, Head of Innovation and Executive Vice President at Zenith Media.
As a follow-up to last October's "Mission Impeccable" campaign, which, according to the company, reported a 35% rise in e-commerce over the festive period, fashion label Ted Baker also rolled out a second shoppable video campaign this spring.
"We now live at a time where personal data like our delivery addresses, credit cards, and even fingerprints, are stored in laptops, mobile and tablets, so buying anything can be as fast as the press of a finger," says Goodwin, citing Apple Pay's growth at 50% year-over-year.
"This now changes the nature of buying; the purchase funnel lasts one second, so we're also starting to see how anything and everything can become shoppable."
So the next time you find yourself coveting a gadget or outfit from your favorite TV show or video, give it a tap or click—you might very well be able to see it, and buy it now.
Video credit: Clicktivated Technology
Related
Popular in the Community