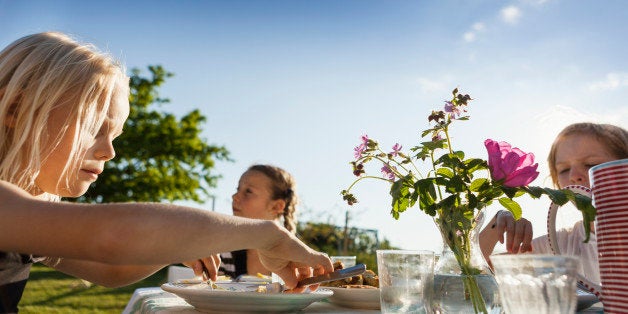 Four years ago, when I told everyone that I was moving to Northern Europe to study the Mediterranean diet, people thought that I had a screw loose, especially because at that time I was living in Florence, a city close to the Mediterranean Sea...
Only slightly disturbed by those raised eyebrows, I packed my stuff, jumped on a plane and moved to Gothenburg, Sweden. There I started working at the local university on a project aimed at assessing the health effects of a Mediterranean-like diet in the Scandinavian population. My decision to move to Northern Europe worked out pretty well, because I ended up working on different cohort studies and managed to publish a good number of scientific papers. These describe the association between following a Mediterranean-like diet in Scandinavia and increased longevity, reduced cardiovascular and cancer risk as well as reduced childhood overweight and obesity.
The latter paper, in particular, describes the most interesting and unexpected results I have obtained in Sweden. After analyzing data from children aged 2-9 years and recruited within the framework of the EU-funded 8-country IDEFICS study, my colleagues and I surprisingly discovered that Swedish children were the ones characterized by the highest adherence levels to this pattern. At the same time, the children living in Cyprus (an island in the Eastern Mediterranean Sea) showed the lowest adherence rates. Although these results might sound rather tin-eared to many, they did not surprise my colleagues from Cyprus, who knew that the diet of children living in their country is unfortunately moving away from traditional habits. Swedish children turned out to be eating the highest frequency intakes of fruit, nuts, vegetables and cereal grains of the whole cohort, whereas Cypriot children had hamburgers almost every day! Also, we found that the lowest frequency of vegetable intake was consumed by Italian kids, a disappointing result that I also expected.
Our analyses also revealed that high consumption of fruit, nuts, vegetables, fish and cereal grains (and low consumption of dairy and meat products) was inversely associated with the likelihood of being overweight or obese. Notably, having these habits at the time of recruitment inversely predicted high changes in body mass index and waist circumference over time.
Children's dietary data were obtained by interviewing parents and the children were sampled in one city per country; therefore our results cannot necessarily be considered representative of the whole population. However, there is a lack of studies comparing the diet of children from different countries and our results will hopefully stimulate further research on this topic.
The Mediterranean countries have the highest childhood overweight and obesity prevalence in Europe and the recent economic crisis can only exacerbate the situation, due to the known link between overweight and a lower socio-economic status. If confirmed by other studies, the fact that the diet of children living in these countries is less healthy compared to that of their North European peers should be taken as a wake-up call for public health experts and politicians from South European countries. They should feel urged to find effective solutions to improve a situation that risks culminating in a serious burden on the health care system. As a matter of fact, an overweight child today is at higher risk of becoming an obese adult tomorrow compared to a normal weight child. It is therefore expedient to act now before it is too late.
This post is part of a series produced by The Huffington Post and the Harvard School of Public Health, in conjunction with the "Mediterranean Diet and Workplace Health" conference (September 27-28 in Boston at HSPH). This event will feature lectures, panels, select chef-supervised meals and a Greek food and wine exhibition to increase awareness, appeal, and understanding of Mediterranean dietary habits as a vehicle for improved workplace and school health. For more information about Mediterranean Diet and Workplace Health, visit here.
Related