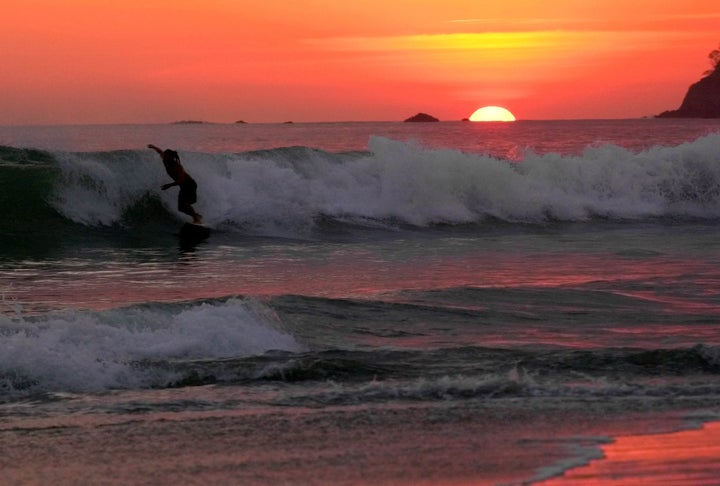 Attention adventure-lovers: Imagine flying through the air head-first like a speeding bullet over a 250-foot-deep gorge in the Costa Rican jungle. The ride lasts about a minute and carries you nearly a mile -- dangling from straps hooked to a metal cable -- to the far side of the gorge.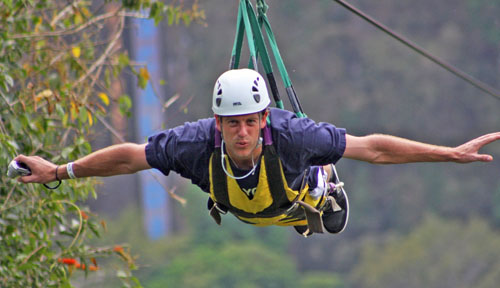 Usually, the so-called "Superman" ride is sure to get your adrenaline pumping. If it doesn't, try the "Tarzan" swing at the end of a long rope over a crocodile-infested river. Or you can whisk up and down the cliffs on a "Spiderman" rappelling adventure.
For visitors not into death-defying fun, there's a few miles of standard zipline rides above the jungle canopy, and, for real wusses, hops over the gorge in six-person gondolas.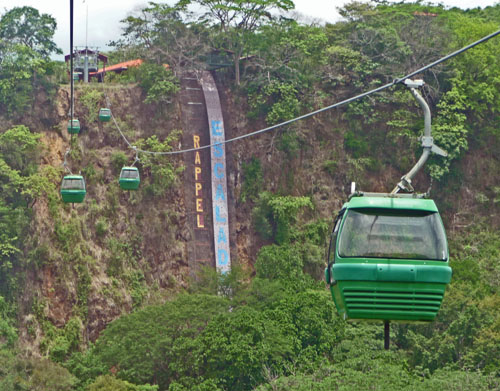 You'll find all this at Turu Ba Ri Tropical Park, around an hour's ride west from Costa Rica's capital of San Jose half-way across the country. Spread out over nearly 600 acres, the park also offers miles of forest trails, exotic flower gardens and lots of attractions for youngsters such as an iguana zoo and an insect laboratory.
Most visitors to parks like Turu Ba Ri come in groups -- often vacationing families -- put together by tour operators in San Jose. (Few who've experienced the capital's notorious traffic jams and seemingly rule-less driving venture away in rental cars unless they absolutely have to.)
Another Treat: Live Volcanoes
Among other popular tours from San Jose is a half-hour trip north to the Poas Volcano National Park. A stop at the volcano's rim -- said to be the world's second largest in diameter -- offers a view of the bubbling crater that's nothing short of awesome.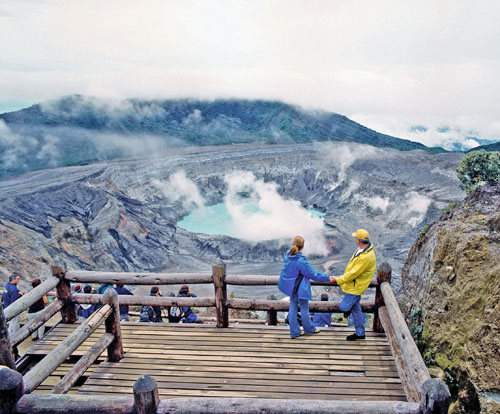 Also on the Poas agenda is a walk through the famous Doka coffee farm where you'll get a course on coffee growing 101. While you're there you'll learn how coffee is graded for sale back home. A surprise: The "Breakfast" label doesn't mean the coffee is blended for breakfast; it's just a way of identifying a high-end grade.
A little north and east of Poas is the Sarapiqui area, another Costa Rican hot spot (literally) where you can get immersed in all kinds of things preceded by eco and bio. If it's tropical and it walks, crawls, hops, swims, slithers, paddles or flies, chances are you'll find it living there, either nibbling on its buddies or on 2,000 kinds of plants, shrubs and bushes. Tours of the area visit coffee, sugar cane and macadamia nut plantations and flower farms.
Another five-star tour takes you 85 miles east of the capital to a region called Turrialba. Here, rafters and kayakers enjoy a sort of whitewater heaven while hikers and mountain-bikers ascend the heights of the Turrialba volcano. Explornatura, a Turrialba tour operator, offers a half-dozen treks around the area ranging from "canyoning" (rappelling cliffs and waterfalls) to shooting the rapids in "duckies" (inflatable kayaks).
Staying there: Most adventure-seekers stay in hotels in San Jose where day tours can be booked at travel desks in their lobbies. Among top hotels is the 200-room Aurola Holiday Inn, the second tallest building in the city. Its El Mirador dining room on the 17th floor offers a spectacular view of San Jose.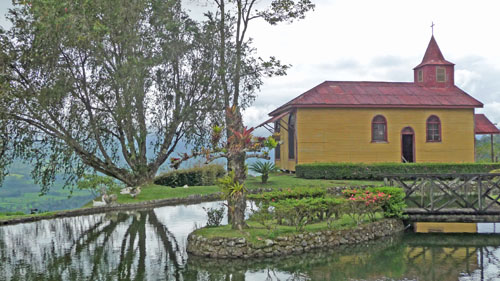 Some tours offer stayover options at the destinations, such as at the luxurious Hacienda Tayutic on a hilltop overlooking the Turrialba Valley. Guests staying in the hotel's half-dozen individually decorated rooms can explore on-site sugar, coffee and macadamia processing mills, an orchid nursery and a 150-year-old restored church often used for weddings -- but no ziplines.

More info: Visit the Costa Rica Tourism Board at http://www.visitcostarica.com.

Photo credits: Turu Ba Ri Park (first image); Costa Rica Tourist Board (third image); Bob Schulman (second and fourth images).