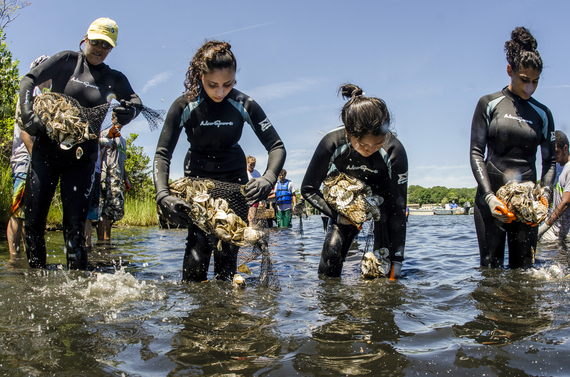 Mark R. Tercek is the president and CEO of the Nature Conservancy and author of Nature's Fortune. Follow Mark on Twitter @MarkTercek.

The negotiations room wasn't the only place at the U.N. climate convention where leaders made critical progress.
As negotiators hammered out a historic global agreement for reducing carbon emissions, unlikely allies--government agencies, private companies and conservation organizations--forged partnerships and made commitments of their own.
As these parties looked for ways to collaborate, a bold theme emerged--saving nature is the smartest investment we can make.
But to realize the full potential of those commitments and to expand beyond our current partnerships, we need to make the best possible case for why protecting nature is such a smart investment--for climate, for businesses, for communities and for the environment. We need compelling case studies, strong scientific evidence and sound economic analyses. We need to know as much about so-called green infrastructure as engineers know about gray--manmade--infrastructure.
And we need more leaders who are willing to step up and make that case.
Technology that Makes the Business Case for Nature
That's why my organization, the Nature Conservancy (TNC), worked with engineering firm CH2M and the World Business Council for Sustainable Development (WBCSD) on a new online tool called the Natural Infrastructure for Business platform.
This tool, created in partnership with more than 30 companies such as the Dow Chemical Co., presents a strong business case for investing in natural infrastructure.
It provides interested companies with suggestions of cost-effective natural solutions that come with co-benefits for both society and the environment. It includes case studies from different industries that demonstrate how organizations can leverage various ecosystem services. And it offers tools, such as a cost-benefit analysis instrument, to guide business decision-making.
Going forward, when we want to argue that a restored oyster reef, for example, will perform better and cost less than a seawall for purposes of protecting coastal communities from storms, this platform provides the solid evidence we need to make the case.
The goal is that by 2020, all 300 WBCSD member companies will systematically assess natural infrastructure options when investing in new sites or projects. This broad participation by the private sector will go a long way toward protecting, restoring and creating ecosystems, such as marshes, floodplains, forests, coral reefs and coastal wetlands.

Companies Reap Benefits from Protecting Nature
As we launched the new tool at an event in Paris, Neil Hawkins, Dow's Chief Sustainability Officer, told a story that resonated with me.
Some years ago, he explained to the audience, a courageous engineer at a Dow facility on the Gulf Coast decided to restore and expand a nearby marsh area instead of investing in a costly water treatment facility. He knew the marsh would filter runoff and clean the water efficiently.
There were many skeptics, but he pressed on. Over the life of the plant, Dow will reap more than $200 million in water filtration services from the marsh. The marsh provides other co-benefits, too--improved wildlife habitat and protection from storms by breaking waves before they could hit the shore and potentially damage the facility.
Since then, Dow has gone on to work with TNC on an ambitious six-year collaboration to fully incorporate the value of nature into decision-making throughout the entire company.
At the same event in Paris, Brandy Wilson, CH2M's Global Sustainability Director, recalled an oyster reef-building project we hosted together on the Alabama coast. She recounted the end of that day, when the last members of our building team stood waist deep in the water, thinking about the hundreds of Lego-like "oyster castles" we had stacked below the surface to foster oyster growth.
In about a year, small oysters would attach to the castle and begin growing. The reef would break waves and absorb storm surges, protecting shoreline communities; provide valuable habitat for oysters, fish and other species, benefiting biodiversity and local economies; and filter water, enhancing local water quality.
As we contemplated the reef's potential, a CH2M engineer suddenly exclaimed, "Take a look at the waves breaking over the reef--it's working right now!"
Hearing these stories again was a great reminder of the many tangible ways we're seeing cost-effective natural infrastructure benefit both people and the environment.
Investing in Nature Emerges as Solution
Investing in nature has been a priority at TNC during the past few years, and I was encouraged to see the idea gaining traction in discussions and events at the Paris climate convention. And partners such as Dow and CH2M have been instrumental in championing this idea by sharing their success stories.
I personally am so convinced that these solutions are the way to solve many of the world's challenges that three years ago I wrote a book, "Nature's Fortune," describing the ways nature can benefit both business and society.
The discussions and events I attended at the climate convention reaffirmed for me that we have the know-how and the technology to implement natural solutions around the world to mitigate and adapt to climate change.
I left Paris last week confident that we can tackle the climate challenge from every sector--and that nature will play an essential role in charting our path to a low-carbon and resilient future.
Photo: Nature Conservancy LEAF interns build oyster reefs in Ninigret Pond, Rhode Island. © Heather Perry
Popular in the Community