Winehouse took home the trophy, but the then 18-year-old Swift's career was set to skyrocket.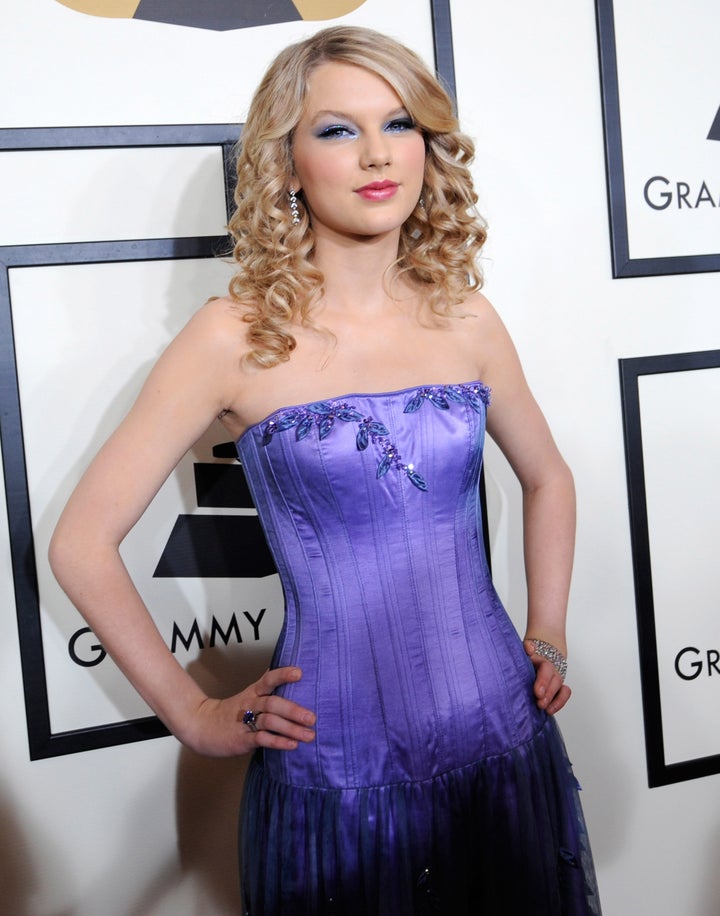 Swift soon soared to the top of the musical charts with her country hits like "Tim McGraw," "Teardrops on My Guitar," "Our Song,""Picture to Burn" and "Should've Said No" off her debut self-titled album. But it was her second studio effort, "Fearless," which earned her the most attention. She was praised for writing or co-writing every track on the album, something many popular artists still fail to accomplish. 
"I went through a period of time when I really didn't have friends at school and the one thing that I had to look forward to was going home and writing a song about it," she said in an interview with iTunes in 2009, "and that was the way I started dealing with my problems."
"I think it's going to be really crazy to look back when I'm older and look at these albums as these diary entries from different times in my life," she added.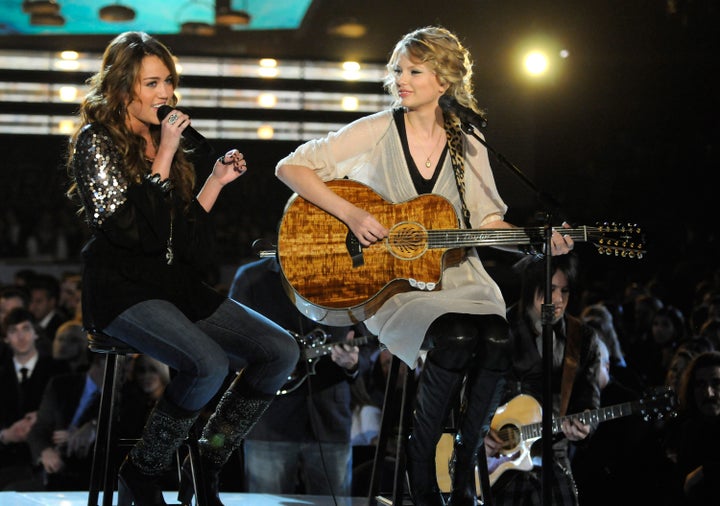 Eventually, all those diary entries earned Swift eight Grammy nominations in 2010, with "Fearless" winning both Album of the Year and Country Album of the Year and her single "White Horse" being honored as Best Female Country Vocal Performance and Best Country Song. (Side note: "Fearless" beat out Beyonce's "I Am ... Sasha Fierce," Lady Gaga's "The Fame," The Black Eyed Peas' "The E.N.D." and Dave Matthews Band's "Big Whiskey & the GrooGrux King.")
Swift's 2011 album "Speak Now" earned her two Grammys in 2012, both for the track "Mean," which was named Best Country Song and Best Country Solo Performance. But she slowly ended up moving past her twangy vibe, giving her albums since then more of a pop twist.
In between working on her solo projects, Swift won a Grammy in 2013 for her collaboration with The Civil Wars on the "Hunger Games" track "Safe & Sound." At the time, she said of the win, "I really want to thank Suzanne Collins for writing 'Hunger Games' and Jennifer Lawrence for portraying a character that was so fun to write from the perspective of." 
Swift hasn't won a Grammy since, but her 2013 album "Red" -- and some songs, including "We Are Never Getting Back Together," "Begin Again" and "Highway Don't Care" -- was nominated for Album of the Year and Best Country Album. She also attended the 2015 Grammys, as her song "Shake It Off" was up for three awards. 
But many say this is Taylor Swift's big year. The now 26-year-old's latest album "1989" scored rave reviews when it was released in 2014 and has been garnering praise ever since. It was a far departure from her past work, as she totally ditched country and experimented with a 1980s pop music feel. (Ryan Adams even covered the entire album.)
"Everyone, in and out of the music business, kept telling me that my opinion and my viewpoint was naive and overly optimistic -- even my own label," Swift told Billboard following the release of the album. "But when we got those first-day numbers in, all of a sudden, I didn't look so naive anymore."
Will this be TSwift's biggest Grammys night ever? Stay tuned on Feb. 15 at 8 p.m. EST on CBS to find out. 
PHOTO GALLERY
Taylor Swift's Grammys Past
Calling all HuffPost superfans!
Sign up for membership to become a founding member and help shape HuffPost's next chapter