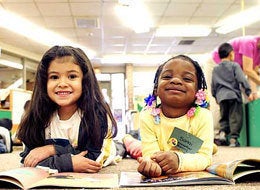 It's hard not to think of incoming president George Bush's 2000 pick of Houston superintendent Rod Paige right now. Like Paige, Arne Duncan comes from a big city with a success story that the national press failed to figure out was mostly a mirage. Like Paige, Duncan will soon find out that he will be a figurehead who answers to instructions from campaign veterans who are already installed inside the D.P.C. Like Paige, Duncan may find himself frustrated and outflanked by powerful stakeholders (Congress, Republicans, national teachers unions) he hasn't really had to deal with before in Chicago.
Looking back at Duncan's record, the specific moments that concern me the most include (a) last year year when Duncan went along with a cynical and failed Mayoral effort to link citywide gang violence with the school system -- even though little of the violence was taking place in school, (b) Duncan's stubborn resistance against N.C.L.B. transfers, tutoring, and accountability requirements that he will now be enforcing, (c) Duncan's insistence on closing buildings down for a year to turn them around, and (d) his failure to revamp the teachers' contract, which gives annual raises but still calls for an extremely short day and short year.
The bottom line is that, given sweeping powers over schools and a powerful political patron, Duncan's efforts failed to convince more white and middle class parents to send their kids to public schools, and failed to convince downstate legislators to revamp the state funding system despite Democratic control of the legislature and the Governor's mansion.
Duncan wasn't just a caretaker of the school system, but he certainly wasn't really all that bold or inspiring. He was a safe choice. A mayoral appointee in a one-party town, there's not that much in Duncan's record to suggest he has been able to wrestle diverse factions into concerted action. [Note that the local teachers union is having a press event at 12:30 local time -- no word from them yet about what stance they're going to take.]
That being said, Duncan is a hard-working, good guy, non-confrontational and non-ideological by and large. I'm glad the selection process is over -- it had gone on too long. Duncan doesn't make people crazy. He's avoided stepping into unnecessary side debates, by and large. And he's an underdog -- always being underestimated and usually exceeding expectations. So maybe he'll surprise us all.
In the meantime, I hope that the national press will look a little bit deeper into the Chicago miracle, and take a moment to ponder why the folks they're quoting are saying such nice things about him. No one's looked at Chicago's lame N.A.E.P. scores or anemic charter program. Most of the folks who are gushing about him don't really know him (or Chicago) that well, or hope to work for him in the near future, or are approving of him because they think that they can beat him in D.C.
Next up: wondering whether Duncan, who currently sends his daughter to public school, will transfer her to a D.C.P.S. school or to a private one.
Calling all HuffPost superfans!
Sign up for membership to become a founding member and help shape HuffPost's next chapter