"Nobody Loves You" is probably not a phrase you want to hear, especially when kicked off a reality dating show in front of millions of people. But writers Gaby Alter and Itamar Moses and director Michelle Tattenbaum are hoping Nobody Loves You is a show you want to see. Their new musical comedy, set behind the scenes of a fictional reality show of the same title, opens off-Broadway this week at Second Stage Theatre. The story follows a philosophy graduate student who auditions for the reality show in order to chase after his ex-girlfriend, only to find himself an unwitting contestant without her.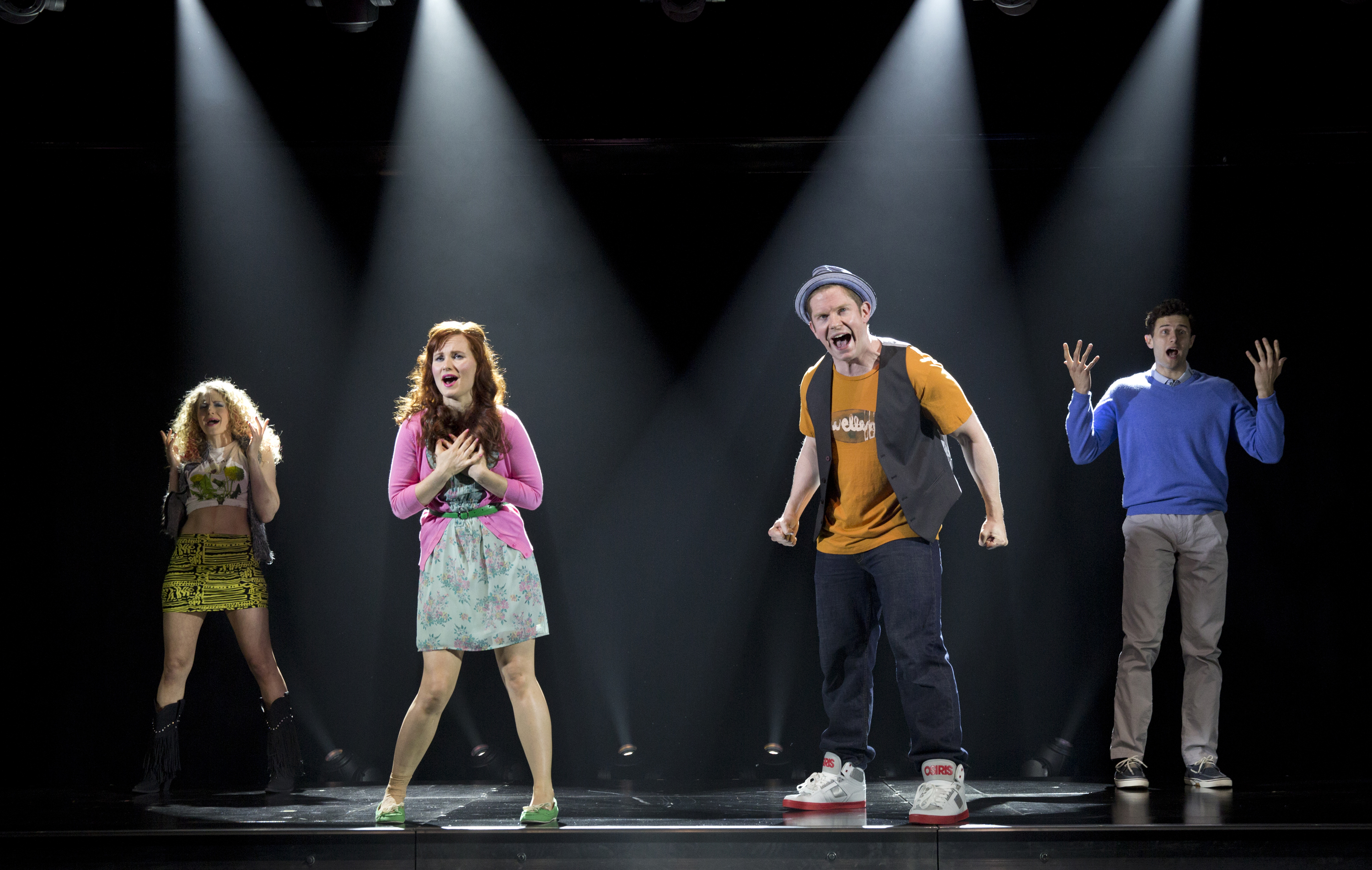 The cast of Nobody Loves You at Second Stage. Photo by Joan Marcus
The musical has had a long and somewhat unusual gestation period. The writers brought Tattenbaum on as director close to the beginning of the writing process, and she has stayed with the show through its off-Broadway premiere. Typically, writers only work with a director for a reading, workshop, or production and often use different directors as the show develops, but Alter and Moses committed to Tattenbaum. "Michelle is an amazing dramaturge and was instrumental in shaping the piece," Alter said in a phone interview. "We would show her a draft and she would have all these questions.... She was able to look at what we had from a directorial and dramaturgical point of view, and point to implications of the text that we couldn't see."
Tattenbaum's early arrival in the process stems from her longstanding collaboration with Moses. They worked together in college where she directed him as an actor in three shows. As Moses started making a name for himself as a playwright, Tattenbaum directed many of his early readings as she was also working in musical theater development. "I watched as her sense of how to shape a new musical just got keener and keener," Moses said in a recent email.
Moses and Tattenbaum aren't the only collaborators with a history. Writers Alter and Moses were childhood friends in Berkeley, California. When Alter moved to New York in 2003, they began hanging out in Brooklyn and talking about writing together. Moses soon approached Alter, a composer-lyricist, with his idea for a musical about the behind-the-scenes of reality television. "It seemed silly not to do a project together because we have such a shared sensibility," Moses said. "Perhaps as a testament to that shared sensibility, Gaby liked the very first idea I pitched him."
"We just started doing it, not realizing that it would be years of blood, sweat, and tears," Alter said.
They started writing in 2007, and it wasn't until the spring of 2012 that the show premiered at The Old Globe in San Diego. In that time they had many readings, including one at the Cape Cod Theatre Project, but it took time for interest in a musical about reality television to grow. "We were sending the script out places, but nothing was happening," Alter recalled. "It was discouraging."
At last, former Old Globe Executive Producer Lou Spisto took a chance on the show and slated it for the 2011-2012 season. "I honestly don't know where we'd be [if he hadn't]," Moses admitted. "Probably looking for a movie star to be in it."
When the show opened at The Old Globe, it received rave reviews in Variety, The New York Times, and The Wall Street Journal and moved quickly to off-Broadway at the Second Stage Theater in midtown.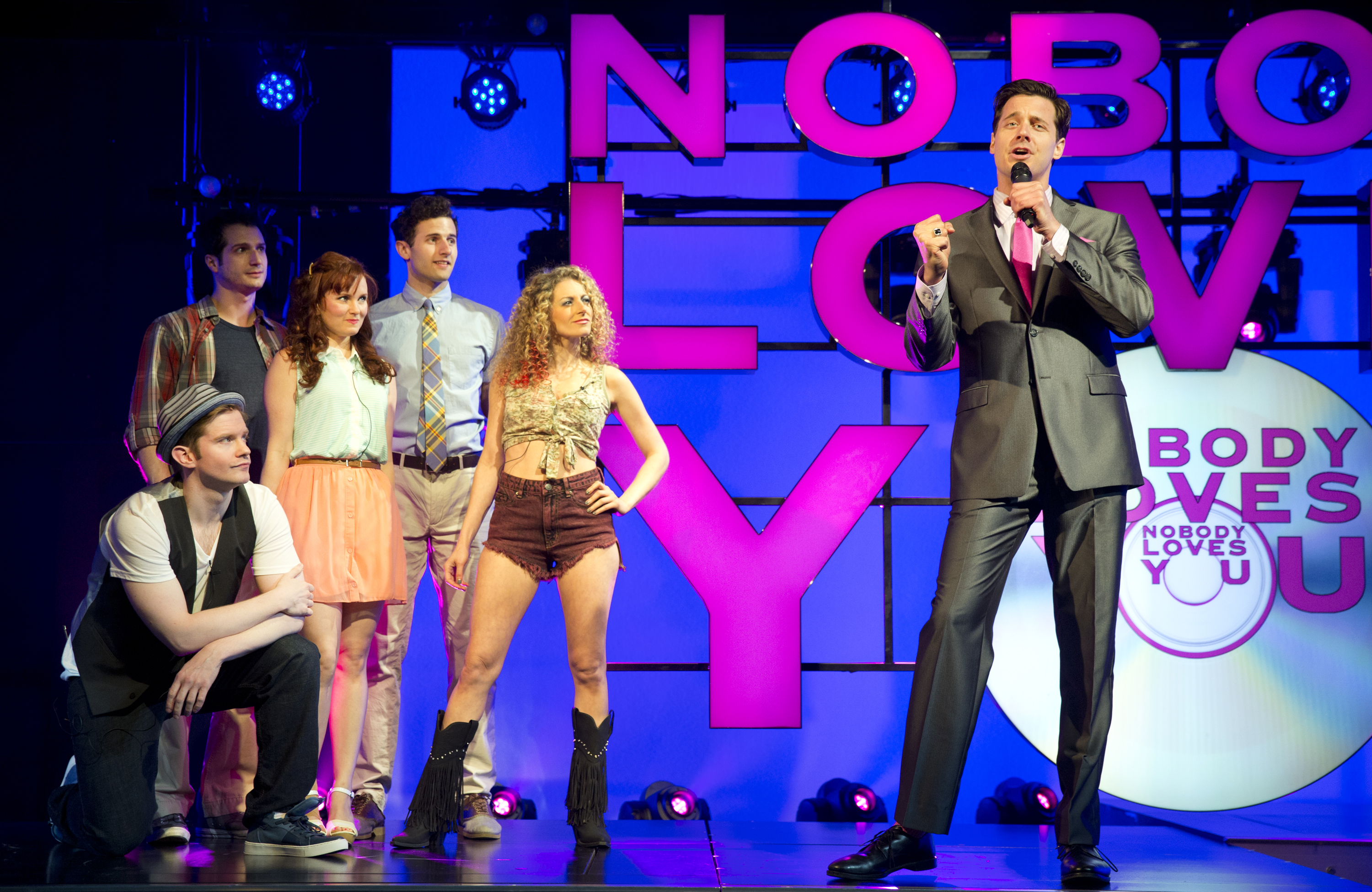 Photo by Joan Marcus
Even with the reviews, however, the creators wanted to make changes. "We never ever wanted to rest on our laurels," Tattenbaum said in an email. "We learned so much about the show at the Old Globe, and we weren't able to implement all the changes we wanted to while we were out there.... Once you do an overhaul like that, there are ripples throughout the show that demand more changes." The off-Broadway production also has new cast members (only two remain the same from San Diego) and a proscenium stage instead of one in the round. A group number was cut, a new song was written for the heroine, and the ending was revised, among other changes.
The current theater environment can be hard on new musicals, and the writers are sometimes amazed the show has come this far. "We did everything wrong," Moses said. "We wrote an original show, not an adaptation. I am not famous, and Gaby is not a rock star. Michelle does not have five tony awards already. We went to a regional theatre as part of their subscription season with no commercial backing. And we didn't put any TV or movie stars in the show. We did literally the opposite of everything you're supposed to do to guarantee your show a life."
And it paid off. Not only has Nobody Loves You had a life on both coasts but the writers have brought humor and sweetness to a television genre many people (myself included) often despise. Tattenbaum isn't surprised audiences can relate: "You don't need to have ever seen a reality television show to be aware that it is difficult for people to connect on a deep, personal level in our hyper-mediated, hyper-public world."
Calling all HuffPost superfans!
Sign up for membership to become a founding member and help shape HuffPost's next chapter