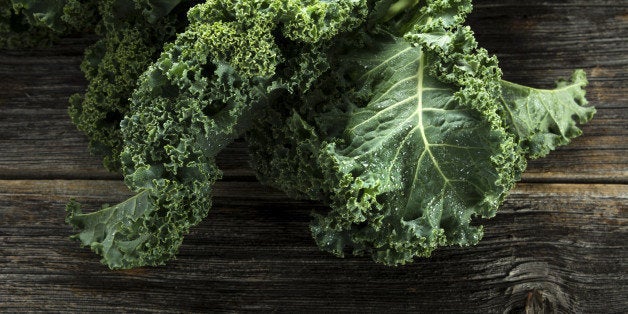 It's been really cold out. Still, every weekend I go to local Greenmarkets to stock up for the week. If our local famers can get up in this weather (and often conditions are far worse points north or west of the city), then I surely can travel the city mile or two to patronize them.
I hunt for green, curious to see what remains as temperatures drop and options narrow. Last week, there was still broccoli coming from Gajeski Produce out on the island. A miracle! I counted 7 green vegetables including broccoli rabe, arugula, cilantro, parsley, kale and mustard greens.
This week, after a few days of freezing temperatures, slim pickings: leeks, kale, cabbage, spinach, herbs, microgreens and hydroponic lettuce. There were some anemic last bunches of celery edged out by heartier storage crops. (More on these stalwarts next time.)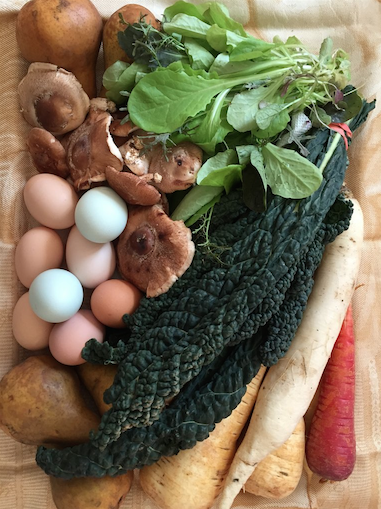 Hudson Valley Harvest, an aggregating agricultural enterprise that carries produce and value-added products from many local farms had this to say in its "Sunday Produce" report:
"It's been zero degrees up here. Things happen, heaters go down for a moment and you lose a greenhouse. Hoop Houses and cold frames tip to the point of no return. It only takes a moment for something to die and once it's gone you can't bring it back."
So, where do the various winter veggies come from and how much green will you be able to find?
The majority of local greenhouses are air-heated, an expensive proposition especially during really cold snaps. It's like heating your house, only the walls are layers of plastic and air. Sunny days are helpful as solar heat contributes to warmth and might be retained. Other greenhouses utilize radiant heat, which warms the ground and is suitable for specific winter crops like hearty low greens.
At Katchkie Farm, we have radiant heat and utilize discarded cooking oil from Great Performances to fuel the greenhouse boiler. A small handful of greenhouses are hydroponic -- growing produce in nutrient enriched water, which requires a well-heated environment. Another choice for greenhouse winter cultivation is micro-greens grown on tables, not in-ground.
But think about how crops grow differently in a greenhouse environment: spinach seeded in a springtime field takes 50 days to mature. In a winter greenhouse, it takes 95 days from seed to plate.
Look for: mustards, Asian greens, spinach and some salads.
Hudson Valley Organic always has a delicious variety of sprouts (no soil, no leaves) such as mung beans, broccoli or radish sprouts.
There is a wide range of mostly green microgreens in the market. Monkshood Nursery features micro cilantro, pea shoots, sunflower shoots and mizuna. Delicious! I enjoy looking at the selection from Windfall Farms including micro kale, buckwheat greens, sunflower, Hong Vit radish, ruby red chard, tatsoi and shungiku! Prices (are you ready?) are from $12 for 1/4 lb!
Operating on the principle of a greenhouse, with a more temporary structure, hoop houses capture heat from the sun, trapping it under the plastic and prolong the season for hearty crops like kale and winter greens. Root vegetables get sweeter after frost and can hang in until the ground freezes (and they can't be harvested). Hoop houses are more economical to build and are great season extenders for early spring planting as well.
Look for: Kale, mustard greens and other veggies depending on the weather. Might also include small root vegetables, they won't grow big in the cold.
Once harvested, many crops will last for months under good storage conditions. Root cellars at homes and small farms did just that -- their cool and steady climate providing predictable shelter until the next growing season. Barns offer storage spaces and are subject to temperature changes. We use our barn's walk-in coolers, but farm manager Bob Walker carefully monitors them, sometimes putting a heater inside because they, too, are not impervious to the cold.
Look for: Less green, more colors. Carrots, beets, winter squash, apples, pears (for a while longer), cabbage, Brussels sprouts, onions, turnips, daikons, leeks, potatoes and other hearty root veggies or what Farmer Bob calls "Thanksgiving Food."
Fresh lettuce bought from local rooftop or rural farm greenhouses is going to be expensive. A very small head -- salad for one -- is about $4. Indeed a luxury! Treat yourself to a frozen container of pesto from Monkshood Nursery, or flash frozen greens from Migliorelli Farm, and find creative ways to make a little green go a long way!
Here are some recipes for the heartier greens in the market, supplemented with other winter storage crops.
Kale Salad with Red Cabbage, Carrots & Pumpkin Seeds
Ingredients:
1 tablespoon olive oil
1 tablespoon Dijon mustard
1 teaspoon apple cider vinegar
Sea salt and pepper
3 cups kale and red cabbage, shredded
1 carrot, peeled and julienned
¼ cup fresh parsley leaves
2 tablespoons red onion, diced
6 tablespoons pumpkin seeds, chopped
Method:
1. Whisk together olive oil, mustard, and apple cider vinegar. Season with salt and pepper.
2. In a separate, larger bowl, mix together the kale, cabbage, carrot, parsley, red onion, and pumpkin seeds.
3. Season with salt and pepper, drizzle on dressing, and serve.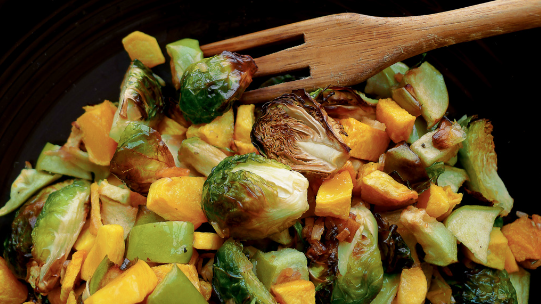 Sylvia's Table Brussels Sprouts with Butternut Squash & Apples
Ingredients:
2 cups Brussels sprouts, trimmed and halved or quartered, depending on their size
2 cups butternut squash, peeled and cubed
2 cups (2 large) apples, roughly cubed
1 shallot, diced
2 tablespoons olive oil
Salt and freshly ground pepper
1 tablespoon maple syrup
Method:
1. Preheat the oven to 375 degrees.
2. Toss the Brussels sprouts, squash, apples, shallot and olive oil in a large, shallow, baking dish. Season with salt and pepper.
3. Place the dish in the oven and bake until the vegetables and apple are wrinkled and slightly brown, and the edges of the squash are beginning to crisp, 45 minutes to one hour.
This piece was originally published in Our Town.