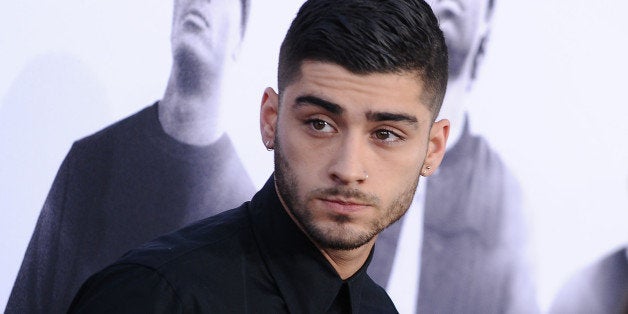 Icona Pop has left the stage and the temperature of Met Life stadium climbs a few degrees as an estimated 60,000 phone screen battle of for signal threads and an estimated 60,000 hearts start beating a little faster in anticipation of the main act: One Direction.
Harry gallops down the platform in all black, absorbing all of the terrifying, youthful energy in the stadium and refracting it back out in a thousand rays. The crowd erupts as Louis and Liam join him, Niall bringing up the rear with his guitar. Like a Phallinx, they have banded together without so much as a crack in their armor. They know this fame they have is precarious and losing a member would be enough to topple any band. Everything about the show has to be right.
I've been anticipating this evening for roughly four months, since one of my dearest friends invited me to go on April 1. Zayn had already been split up from the group for six days at that point, but I honestly don't think it hit me until now that he's gone.
Five years is a long time for a band to run, and overnight it's as if Zayn never existed. His face has been utterly wiped from the 1D image, every photograph expunged, every non-dance re-choreographed from pentagons and pentagrams to squares and diamonds. Only the marked-down t-shirts in the corner of the merchandise stand whisper that the band once had a fifth member.
I didn't really like Zayn and am surprised to find myself compelled to look for him, but then again, it's a basic human impulse to search for someone we have lost. We look for them in the strangest places -- on the subway platform, on a crowded street. We can mentally know someone is gone and still be filled with the need to search for them in our immediate life. Tonight there are four where there should be five, and as well as my brain understands that, my heart can't wrap around this simple subtraction.
So often the trouble that winds up ending a relationship is present at the beginning. Going back to the X Factor days, there is a marked openness in the four current members of 1D that Zayn never shared. His eyes are unreadable as he mutedly thanks the judges post-Mario solo audition, which stands in sharp contrast to Niall flirting with Katy Perry as a lede in to "So Sick," Harry rattling off Law, Sociology, and Business as his three college majors before nailing "Isn't She Lovely," Liam prowling across the stage as he detonates "Cry Me A River," and Louie's sweet, shit-eating grin after getting a triple yes on "Hey There, Delilah."
The rise of this group was meteoric, the first true global musical phenomenon created by social media. The 2013 documentary, This Is Us, also went a long way in promoting the boys' down-to-earth-all-about-the-fans-we-don't-dance image. But watching it now knowing what I know is going to happen, I can see the film in a very different light. Although the movie-makers did a very good job creating the impression of a fully-integrated group, Zayn sets himself apart throughout and is noticeably absent from several key group shots. The filmmakers would have us believe it's because he has such a hard time waking up, but is that all it is?
Halfway through the movie, Liam and Harry are lounging around on a ferry--meditative scenery for a reflective moment -- and they casually discuss how at one point Zayn just didn't show up to a group meeting at a coffee shop, and they all seriously considered kicking him out of the band. They had no idea that within a few years Stephen Hawking would be referring to their current reality as part of an alternative universe in which, "Zayn is still in One Direction."
At Met Life Stadium, the lights dim and the arena fades to a cobalt blue dappled with the light of 60,000 phone cameras. The lads are artfully chilling around an apparatus mid-catwalk that looks like a cross between a handicap accessibility ramp and a jungle gym, wending their way through "Story of Our Life"--one of a handful of quiet numbers in the show. Harry, who cried at a performance the day after Zayn left the group, fills in for him now as if the bridge of the song has always been his.
For a quarter of their lives, their story has been that the members of One Direction are five best friends. Zayn's decision to leave effectively forced the group to change that story, and everyone who believed in it, to grow up overnight.
So why did Zayn do it? The PR statement released by the band in March cites wanting to return to the life of a normal 22-year-old as the reason. And yet, Zayn signing with RCA two weeks ago and announcing on his twitter "I guess I never explained why I left , it was for this moment to be given the opportunity to show you who I really am! ‪#realmusic ‪#RCA!!" doesn't come as a total shock.
Back in the day, Simon Cowell didn't have faith that the boys would have the ability to make it on their own, hence he put them all in a band. There is a threat implicit in that move: split up and lose your shot. Evidently, regardless of whatever differences in temperament there were and whatever small kerfuffles happened along the way, none of the boys failed to grasp the fact that their best chance at becoming pop stars was to stick together.
Looking back, one could surmise that Zayn was never all that into One Direction. While the other boys smiled and played nice for the camera, Zayn did his due diligence, but was clearly more interested in talking about how he worked with his stylist and his graffiti room than the band. Maybe his decision to part ways is something he's long wanted to do but was unable to execute because the cost would have been falling back into oblivion. Perhaps his decision to quit now merely reflects the fact that he finally feels like he has enough support to make it on his own.
Still, five years is a long time to stay with something and not really like it at all. Maybe he tried to like it and in the end, just didn't want to be in a boy band, and never had. Maybe it really is what he said: he wants to show everyone who he really is (or imagines he could be) -- not someone who tries to dress like Louis, or joke around with Niall, or sing under Liam's rule in a band that Harry named.
When something ends or doesn't end well, there is such a strong tendency to discount it completely. When we lose a friend or a relationship, it feels like the whole relationship has been voided -- we do this to protect ourselves from the pain of contrast. But just because a friendship ends doesn't mean it never happened. Just because a friend is gone doesn't mean they were never there. Just because you outgrow a friend doesn't mean you never loved them.
I think for us, Zayn leaving is hard because it spells the inevitable beginning of the end of One Direction as we know them. But the truth is, the end would be beginning anyway. At Met Life Stadium, I watch Harry wander up and down the catwalk teasing audience members who may or may not be there, Niall drop the word "shit" and grab his crotch, Louis half-jog around the stage as though weighed down by his impending paternal responsibilities, and Liam croon, self-satisfied and glutted with his celebrity -- in short, the boys are getting older. Zayn leaving has merely shown a light on the other changes that were already in motion. And yet, his leaving is painful just the same.
The saddest part of looking at the end of a relationship is remembering how much potential there was at the beginning. From the outset, these boys represented youth and possibility in a refreshing way -- there was no nepotism in One Direction. The footage of them in their auditions is so genuine, even "Uncle Simon" can't help but fall in love with them. You can tell Liam takes it the most seriously, Harry is having the most fun, Zayn is the shyest, Louis is trouble, and Niall is just so grateful to be there -- then again, they're all just so grateful to be there. It's impossible to be cynical watching them stand together as 17, 18, 19 year-old lads in front of the judges waiting to be told whether or not they get to be rockstars for another night. They have no idea what's to become of them -- for all they know, they will just wake up back in their villages this all having been a dream.
Was Zayn a dream? I search the stage. Even six months later, a sense of someone missing still hangs like a backdrop behind the soundstage. In so many cases, the thing that isn't said is the thing that's most important. Tonight, the thing that no one will say is that there used to be a fifth member of the band, that what we see before us used to be something else.
It just wasn't what we thought it was.
Calling all HuffPost superfans!
Sign up for membership to become a founding member and help shape HuffPost's next chapter