About a year into his cardiology practice, David Sabgir had seen enough.
The young doctor who'd been so sure he could get patients to exercise regularly discovered that he couldn't. People who left his office vowing to get moving were coming back as sedentary as ever.
This gnawed at him. He had a long career ahead and he couldn't imagine this dance continuing to play out. Something had to change; he just had to figure out what ... and, how?
For weeks, this consumed his thoughts. The answer, he believed, involved the doctor-patient relationship and some ideas were percolating around that when, all of a sudden, it happened. Seeing another patient with another broken promise, Sabgir blurted out:
What if I meet you at the park one Saturday morning and we walk together?
The look on the face of his patient and nurse let Sabgir know he was onto something.
After months of planning, the first walk with a doc event was a success. He then launched an organization called Walk With A Doc, with chapters all across the country -- and the globe. In 2015, the organization and its founder were recognized by the Surgeon General for extending and improving countless lives.
As 2016 dawns, many Americans are aiming to make this their healthiest year yet. Perhaps Dr. Sabgir and his organization can help, or at least help steer you or a loved one to a more active lifestyle.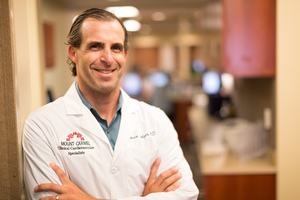 Why walking? Of all the options available in our high-tech world, why build a program around something so basic?
"Because walking is the miracle drug," Sabgir said. "What I mean by that is, if you could put in a pill everything that it does, you'd never be able to afford it. The benefits are ridiculous!
"There's the immediate benefits of your body releasing serotonin, endorphins and those other wonderful things that make you feel great. It also cuts your risk of heart disease and stroke by 50 percent. And it cuts your risk of breast cancer by 50 percent. And it cuts your risk of Alzheimer's and dementia by 50 percent. And anxiety, nervousness and depression can drop 40, 50 or 60 percent. The list goes on and on; there are about 45 or 50 diseases dramatically affected by this. Nothing can come close to touching that.
All it takes is investing time.
The American Heart Association recommends at least 150 minutes per week of moderate exercise or 75 minutes per week of vigorous exercise. An easy goal to remember is 30 minutes a day for five days; you can even break it into segments of 10 to 15 minutes per day.
Sabgir's a-ha moment that spawned a movement came in October 2004. Things moved quickly from there.
The nurse who witnessed the breakthrough conversation offered to provide blood pressure checks. More people from across the community volunteered to help, including the head of marketing for a major fast food company based in the area. Once local media heard about this, the grassroots effort really picked up speed.
Still, the success or failure of the first event depended on how many people showed up.
"Based on what we see in the office, people are sedentary more because of their excuses than a lack of motivation," Sabgir said. "It's hard to change from this current state of not exercising to embarking on this. There's fear. So we tried taking away every barrier."
Can't find time during the work/school week? We'll do it on Saturday.
Don't like waking up early? We'll start at 10 a.m. And we'll give away coffee.
Is Saturday morning usually family time? Bring them!
"It became like an internal game in my head: How can I keep a patient from telling me no?" Sabgir said.
Anyone who showed interest was added to an email list. Instead of a "save the date" note, potential walkers received a newsletter every Friday morning.
"The president of our group is a brilliant cardiologist, but a pretty reserved guy, a man of few words," Sabgir said. "About a month before the first walk he said to me, `In 19 years of practicing medicine, this is by far the best idea I've ever heard.'"
Sabgir heard so many comments like that he figured it couldn't be solely his. So he frequently asked Google to help him find examples of something similar.
"I have to admit, I was pretty excited that there wasn't," he said. "I knew then that this could be a really fun ride."

***
The first event drew 101 people to Sharon Woods Park in Westerville, Ohio, on April 9, 2005. Doctors enjoyed it as much as patients did; ditto for sponsors and media.
So it became a weekly event. Soon, they branched out to other doctors at other parks. It remained mostly a regional event until the first blip of national publicity.
In 2008, Cooking Light magazine asked Sabgir for some tips. He included Walk With A Doc and about 50 people called to see about starting their own chapters.
"To say we were ill prepared is an understatement," he said, laughing. "We didn't have anything."
They soon landed a sponsor, Anthem BlueCross BlueShield, which enabled Sabgir to hire an executive director. Next came funding for toolkits and other infrastructure that now makes it easy for anyone to have everything they need to launch their own chapter.
More media has followed, such as write-ups in the Wall Street Journal and AARP Bulletin. They've been honored by the TV program CNN Heroes, and recognized by the Milken Institute and Robert Wood Johnson Foundation. In September, Surgeon General Vivek Murthy mentioned Walk With A Doc during a national call to action on walking; in October, Murthy presented Sabgir with an award. (Sabgir also is now the AHA's board president in the Greater Columbus, Ohio, area.)
There are now about 200 chapters and roughly 100,000 walkers.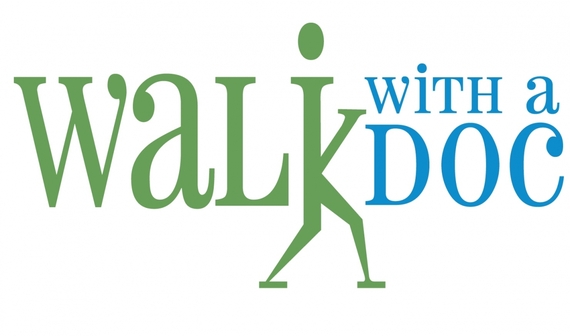 Chapters are required to meet at least once a month. The majority gather weekly or every other week.
"We don't do annual events," Sabgir said. "We kind of want to be the opposite. We want to be a regular part of your routine. There's no fundraising or other barriers. Just show up. From our experience, the walkers like when it's more regular."
Chapters are based around a doc. It's their opportunity to, symbolically, show solidarity with their patients and, more importantly, hang out with them. Clad in athletic gear instead of a white coat, doctors may give a speech to everyone at the start, then chat with individuals along the route.
"I think camaraderie is the secret sauce," Sabgir said. "And it's not just with the doc. Relationships develop between the walkers. They know they're going to see each other and hold each other accountable. The doctors sometimes become interested bystanders."
Some walks have 10-15 walkers, some have 100. Some have sponsors, some don't. Some are led by cardiologists; many aren't. All types of docs are welcome.
"What defines a successful chapter to us is that the doc is happy, content," he said. "We want the doc who has been banging his or her head against a brick wall to start paying down on principal vs. interest -- to start adding exercise to the patients' life, not medicine."
Sabgir and executive director Rachael Habash celebrate the uniqueness of each chapter. Still, a few stand out, such as:
In Hilo, Hawaii, Dr. Craig Kadooka began a weekly event in May 2014. Nearly every week, he sends an enthusiastic email with the highlights of their latest walk, usually attended by 70-100 people. A few months ago, they made this video to show how "Happy" walking makes them.
In New York City, Joan Dorn -- the former head of the Physical Activity Branch of the Centers for Disease Control and Prevention -- leads a chapter dubbed the first Walk With A Future Doc, as it involves medical students at the Sophie Davis School of Biomedical Education/CUNY School of Medicine at the City College of New York. Located in Harlem, they're getting members of their community involved as well as the med students who may one day have their own Walk With A Doc chapters.
And, of course, there's the original chapter, which has brought in local celebrities such as former Ohio State football star Archie Griffin and offers pedometers so walkers can track their steps. Said Sabgir: "We have some people that come out and just walk 5 or 10 minutes; they're there for the social component. We encourage everyone to go at the pace and distance they're comfortable."
Sabgir believes that once people get walking -- once they start taking that miracle drug -- they'll want to keep savoring the benefits. He's a big believer in targeting 150 minutes per week.
"That is the fountain of youth," he said. "300 is better than 150, but the increment of improvement is very small. There's a much bigger difference in going from 60 to 150.
"Make a commitment to yourself to understand this is very doable. Start small. Go up by 10 percent each week. If you start at 60 minutes, you will be at 150 before you know it."
As he approaches the 11-year anniversary of the first event, Sabgir is in awe of how far they've come.
"Our heart is full all day long," he said. "We feel we have a responsibility to live up to the potential of what this could be."

Related