KOSOVO -- On a sultry summer afternoon in downtown Pristina, some two dozen ballet dancers in various combinations of sweats, track pants, leotards, and tights arrive in a narrow practice room to prepare for an evening performance. As they gather à la barre to warm up, a recording of piano music, playing the Cheers and Flintstones themes, "I Will Survive," and other American classics, accompanies them. Afterward, the dancers spread across the floor to stretch feet, hamstrings, arms, backs and to take turns practicing leaps and turns. The mood is boisterous; the dancers clap and whistle along to the music while their fellow performers whirl.
Yet amid the good cheer are signs of the difficult existence of this company, the Kosovo National Ballet. There is a line of ragged tape down the middle of the floor where two panels were sealed together. Spare furniture has been shoved haphazardly to one side of the room. A piano sits unused under a burgundy drape. The practice room has only three windows and no mirrors, save a small one trimmed in yellow that leans against the wall in a corner. One or two dancers, if standing relatively still, can see themselves in it at a time. Downstairs is a room with mirrors built some time ago to improve the dancers' practice conditions, but as holes quickly appeared in the floor, the group was obliged to move back upstairs. One of the dancers later remarks that a new building would be "the most magical thing that could happen for us."
Kosovo's ballet has existed for 40 years; this September, there will be a party to mark the occasion. Yet conflict and ethnic cleansing in the 1990s forced the troupe to disband for a decade. Its new iteration came into being just eleven years ago, soon after NATO bombing ended the war between Kosovo rebels and Serbian troops. Since then, it has been a struggle to reestablish a ballet culture in this small country -- Kosovo declared independence from Serbia in 2008 -- that is grappling with countless post-war difficulties, from a sky-high unemployment rate to rampant corruption. "After the war, it was a big mess. People were just lost. I still cannot believe that people could start making art," says Sinan Kajtazi, a 24-year-old dancer and one of the principals in the company. "[But] I think art does a lot to educate the people. Without any, people will lose their soul."
The Kosovo ballet was founded in 1972, when Kosovo, which is mostly ethnic Albanian, was still a part of Yugoslavia. The "first generation" dancers, as they are known today, were educated at a school of ballet in Skopje, Macedonia (about two hours south of Pristina) and performed in Kosovo until 1991. That year, under the repressive thumb of Slobodan Milošević's government in Belgrade, which sought to diminish both Kosovo's autonomy and its Albanian identity, the dancers were forced to leave the theater in Pristina, Kosovo's capital city, in which they performed. What followed were years of strife that would eventually destroy homes and lives and generate hundreds of thousands of refugees. "They wanted us all to go to another state. [...] What I saw I will never forget," says Behie Murtezi, a gregarious, 25-year-old dancer. "Too many people in my family died."
In 2001, as the dust of conflict settled in Kosovo, one of the "first generation" dancers, Ahmet Brahimaj, decided to rebuild the ballet. He began to recruit young people at a Pristina high school specializing in music. "They saw my body and asked me to audition," Murtezi recalls. Another dancer, 25-year-old Vjollca Llugiqi, says her sister, who attended the school, encouraged her to try dancing: "She said, 'You need to come because you have so much energy.' I knew nothing about ballet." Kajtazi, whose father encouraged him to try ballet, has similar memories. "The only thing I knew was the people put their legs up here," he says, raising his arm straight above his head. "And I knew that it was hard."
And so a handful of teenagers, well past the age at which dancers typically begin training, became the new blood of the Kosovo ballet. Their first performance, which was held just a few months after the students began taking lessons, was a collaboration with the older generation of dancers. "It was all about the war and how we survived. It was called 'Transitions,'" Murtezi recalls.
Since 2001, three classes of dancers have completed Brahimaj's ballet program. The first class, which finished in 2005, forms the core of the troupe. The members of the company will be the first to admit that, given the ballet's recent revival, their level of skill is not up to par with many other troupes around the world. There are hopes, however, of soon opening a school for younger students, so that new cohorts of dancers will have the opportunity to train from an earlier age.
The company performs primarily at the National Theater in Kosovo, a small, unassuming building downtown where tickets sell for only three euros, but they have also traveled to Albania, Macedonia, and, just last year, Switzerland. Unique among the dancers, Kajtazi has performed at a ballet festival in Olomouc, Czech Republic and with La MaMa theater in New York City. (Kosovo nationals face tight visa restrictions that make international travel difficult.) During his trip to New York, Kajtazi saw a classical ballet performed live for the first time: the American Ballet Theatre's production of Swan Lake. He calls it "a good start, a great start" to his career as an international ballet-goer.
Foreign choreographers have come to Kosovo as well to work with the ballet, from as far away as the United States and the Netherlands. "People who come and work with us talk about us," says Kajtazi. "So people in the world know we are existing." But even in Kosovo the ballet faces an uphill battle for its existence. Funded modestly by the Ministry of Culture, Youth, and Sport, with some support from foreign embassies in Pristina, the ballet lacks many basics. In addition to the problems with the practice room, there is no orchestra to accompany the troupe -- or an orchestra pit in which one could play -- so they typically dance to CDs. Recently, a CD began malfunctioning in front of a live audience, and Kajtazi had to rush to find another so that the company could finish its performance.
Many dancers also have to find ways to supplement their income, which ranges from about 250-300 euros per month. Llugiqi and Murtezi teach ballet classes to small children. Kajtazi, who is one of nine children and hails from Mitrovica, a town in northern Kosovo still divided between Serbs and Albanians, plays the clarinet and saxophone with his brother at cafes and weddings. "The tradition here is... family holds family, brother holds brother," Kajtazi explains. Still, it can be hard to get by. "We joke that you cannot dance on one burek a day," Kajtazi says, referring to a traditional, inexpensive Balkan pastry stuffed with meat and cheese, "but if you have to, buy a yogurt, too."
Then, there is the ballet's publicity problem in a country where the arts are not always priorities, either for the government or the general population. "I tell people I am in the ballet, and they say, 'Kosovo has a ballet?'" Llugiqi says. Yet she has something of a retort prepared: "If someone asks, 'What does Kosovo have that is very good?' -- we can say ballet. We can represent our country."
After the recent afternoon warm-up, the female dancers cluster into their dressing room to don costumes, remove belly-button rings, curl hair, wax legs, and apply each other's makeup. The ballet this evening, called Dasma (Wedding), tells the story of a young man and woman from two warring cultures who fall in love but are disrupted by a villainous character, The Politician, who insists that they cannot be together. It ends happily, however, with the couple uniting amid lively, traditional Albanian music and dancing.
Once she is ready to perform, Murtezi reflects on why, despite the challenges the Kosovo ballet faces, she and many of the company's dancers would not want to leave for a job in a far-flung locale like New York or London. "I like dancing here because these are my people. [...] We grew up together," Murtezi says. "We have to stay because the ballet needs us. We only dream of dancing in other states. In our hearts, we have to stay here."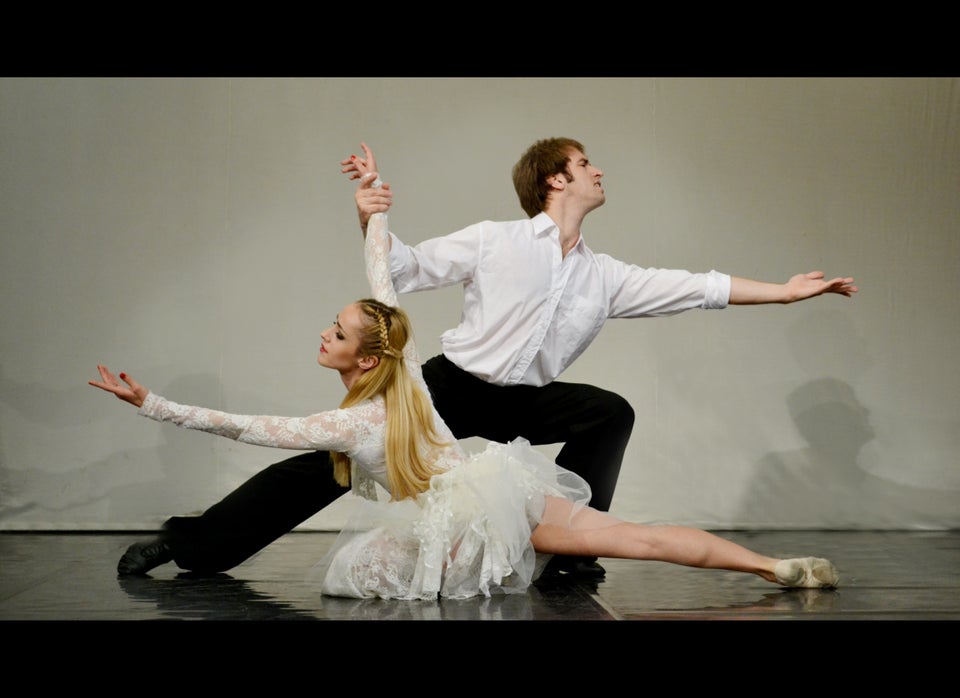 Seyward Darby
Popular in the Community