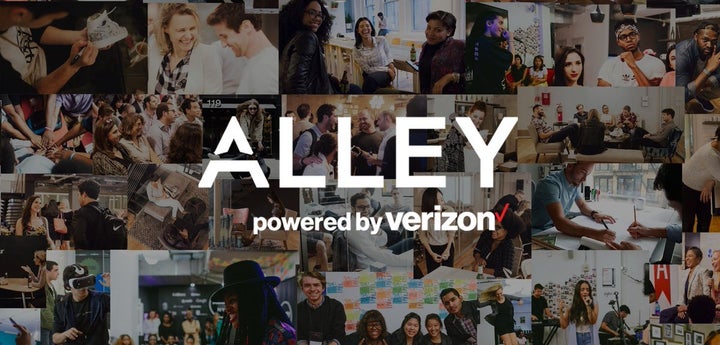 "I've always believed that human beings were designed to engage in community and relationship. By adding these two dynamics into the work experience, not only do you foster growth but the entire process becomes more meaningful." -Jason Saltzman, CEO & Founder of Alley
I'll be the first to tell you, when it comes to startups and technology trends, I am not the most informed person in the room. But, what I do know is that almost every time I read about an innovative product or service, it was developed by an emerging startup company. The actual definition of a startup is simply a newly established company working to solve a problem where the solution is not obvious and success is not guaranteed.
With the growth of the startup ecosystem, work culture as we know it is evolving and everyone wants to be on board. People are no longer interested in working nine to five jobs for corporate conglomerates until they retire, forcing existing companies to adapt by allowing flexible schedules, work from home options, and shared office spaces for multiple companies.
I first heard about the coworking concept from my friend who is a graphic designer. A few months ago, she invited me to a coworking space so we could work together and I literally had to google the term.
After walking through the door, I quickly realized that

how

people are working,

where

people are working, and

why

people are working are all drastically changing. Startups are literally disrupting aspects of the commercial real estate in Manhattan with the development of coworking spaces for entrepreneurs.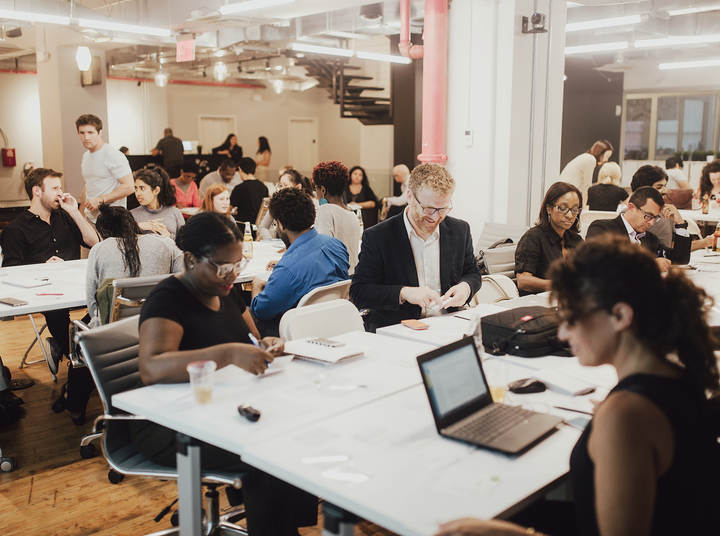 My interest was fully piqued and I wondered what was the biggest startup company in New York City? The answer: WeWork, a 10-year old company providing coworking space to startups. I was shocked to learn that WeWork is valued at $17 billion after just ten years. Given the notoriously "hot" real estate market in NYC, WeWork has to be the most valuable real estate company. But if there's one thing that we know, it's that where there's success, there is always competition.
Where there is a Coke, you will find a Pepsi. Where there is an Uber, you will find a Lyft. And more appropriately, where there is a WeWork, you will find an Alley.
Alley is a coworking space that was established in New York City by Jason Saltzman, an entrepreneur to his core. While he has built over forty different startups since the age of seventeen, it is no question that Alley is his best yet. To Jason, Alley is not about selling real estate, it's about creating a community. Two weeks ago, Alley joined forces with Verizon which could propel them to the top of their niche. The expansion is underway with the opening of two new offices in Boston and Washington D.C. This new partnership combines the best of both worlds with Verizon providing ample office space to accommodate countless entrepreneurs and Jason maintaining a supportive environment that contributes to the success of emerging companies.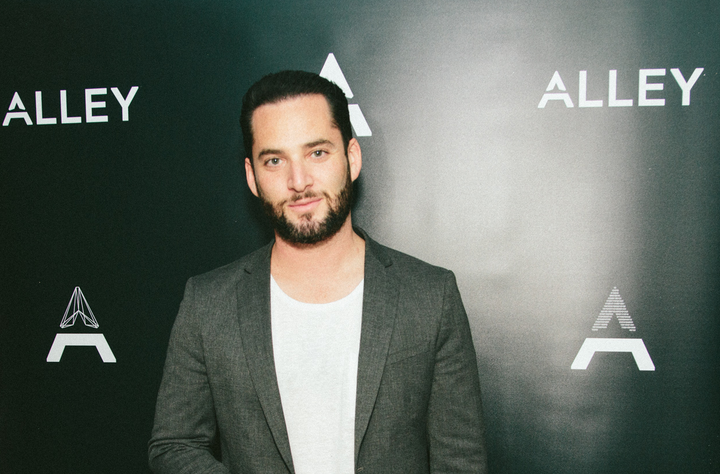 Saltzman now oversees over 1400 members and more than 70,000 square feet of co-working space across 4 New York City locations. He currently serves as a special adviser for Entrepreneurship and Technology for the United States government and, most recently, filmed a documentary about growing a startup ecosystem. Additionally, he mentors young entrepreneurs through the TechStars program and is a contributor for Entrepreneur Magazine and the Wall Street Journal.
After interviewing Jason, I am convinced that he is pioneering the way startup communities are being built and I am excited to share the underdog story of his company, Alley.
Bhavna: When I told a couple of people that I was interviewing the founder of Alley, the most popular response was to ask you how Alley got started. Let's start with that, how did you start Alley?
Jason: In 2011, my partners and I were pitching our tech company SeamlessDocs, for venture investment. We noticed these cool workspaces that were popping up in Lower Manhattan, but more importantly, what caught my eye were the communities that were starting to form within them. Because I am from a real-estate marketing background, it didn't take much for the wheels in my head to start spinning. I did a quick snapshot of the potential financial opportunity that this could be. These spaces were packed! WeWork had only one space at the time but had a massive wait list to get in. I also noticed that none of these spaces were located in Midtown. I am originally from Long Island so I know what a huge pain point it would be to travel all the way to downtown to join one of these communities. The light-bulb went off in my head for me and my business partners. It just came down to three things for us: money, location, and marketing. I pitched my idea to David Galanter who is a great friend of mine, a past investor, and a commercial real estate genius. Needless to say, he was all in. After some initial opening pains, we launched Alley (formerly AlleyNYC) in 2011 and within 60 days, we were completely full. It was at that point that I started to really get involved with the curation of the community and worked with some of the most innovative companies at the time. Companies like as Skift, RocketHub, Jukely and Lean Startup Machine were some of the original members. I focused heavily on the curation of the community, only wanting to work around people who wanted to be a part of a team. We built things, we failed, we succeeded, we cried, we laughed, we partied… we did it all. It was obvious at an early stage that we were building something special.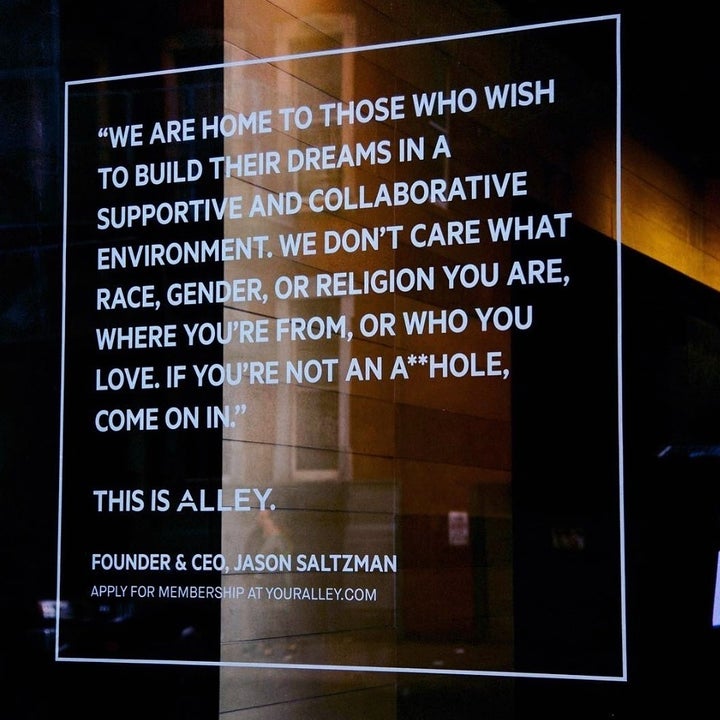 Bhavna: Ok, so if you share a similar coworking model to WeWork, what is the differentiating factor between Alley and WeWork?
Jason: First of all WeWork is amazing. I absolutely have nothing but respect for what Miguel and Adam have built. As a matter of fact, I am a very close friend of Jesse Middleton who co-founded WeWork Labs. They paved the way for the industry and inadvertently assisted me with the capital I raised for Alley.
That being said, there is more that meets the eye when it comes to coworking spaces. Much like any product, the differences are in the brand and what it represents. In my view, WeWork is GREAT office, where we differ is that we are a curated community. What that means is, we vet every member that comes in with an application process to insure that we are bringing everyone together who share the same value of growing an ecosystem based on support and collaboration. We are not exclusive in terms of your investors are or financial stability. We look at who you are, to evaluate if our community can help you and if you can in turn, help the community. I never wanted to put the same people in the room, with the same backgrounds all working on the same things because I knew it would be one boring experience. Curating the community gives us really amazing results. Approximately sixty-three percent of our members are women entrepreneurs and the community is comprised of people from all over the world and from all different backgrounds working in all different industries. Alley's companies have collectively raised over one billion dollars in funding and we are very proud of that.

Bhavna: During my research, I noticed that Alley was an already established and successful brand here in New York City. Can you explain the thought process behind developing that brand that attracted a big conglomerate like Verizon?
Jason: I've always been inspired by branding especially the way a brand engages with its consumers. When you see a pair of Nike shoes for example, you automatically think about running in those shoes and it motivates you to take action. Even their motto makes you want to take action. Suddenly, it's not just a shoe company but a health and wellness company. I love that. To me, a brand is like a person with a pulse that engages with its audience; that is how we created Alley. I've always wanted people to feel that Alley is like their best friend who will help them through the toughest of times and celebrate the best of times with them. Our members look at us as an investment rather than an expense because to them, the interaction and support at Alley is priceless.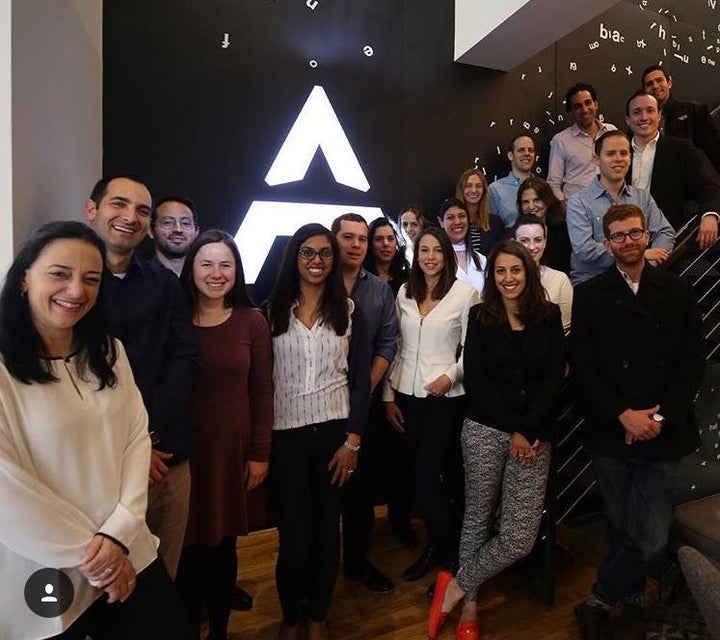 Bhavna: And, how did your collaboration with Verizon occur?
Jason: Since this collaboration is the first of its kind for Alley and the community, Verizon approached me with very clear initiatives. They had the foresight to do something innovative with their real estate assets and wanted to create an impactful environment that supports and highlights emerging technology and the entrepreneurs creating it. With this goal in mind, we helped them identify why Alley was the best collaborator to help them accomplish this. It resulted in two unique deals with Verizon which allowed us to scale the business physically and expand the tight-knit community we've been curating over the past five years. First, we worked with the Verizon Open Innovation Team to lead the initiative of building out an entire floor in our Chelsea headquarters. Alley and Verizon's second floor is an innovation-centric space filled with augmented and virtual reality, a media studio and an amazing event space. Secondly, we activated their existing real estate in Cambridge and D.C. to transform them into dynamic 'Alley powered by Verizon' workspaces. We're helping everyone, whether they are a corporation or a startup, change the way they work.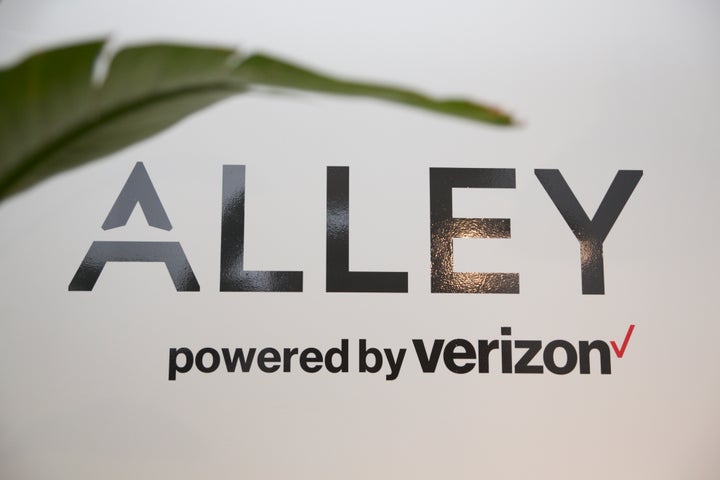 Bhavna: What can we look forward to regarding the future of Alley?
Jason: We currently have over 1400 members. With Verizon as a huge supporter, we are on our way to doubling that number and launching brand new locations. We have already opened two new locations in Cambridge and Washington D.C. With the increase in locations, we are also working on building more services and amenities to offer our community. Another focus is to offer digital services to our international clientele which is slowly growing. Millions of people come to our website every single day so we are figuring out ways to help those who are beyond our walls. On our end, we see the need for collaborative spaces continuing to grow. With that increase, there is a greater desire for community and meaningful relationships. I've always looked at real estate as a way to get people in the door but Alley is focused on not only giving them a space but fostering their growth. Our logic is simple, if we care about our members, put their needs first, engage with them, and support them then we will both create great products that people love.
Bhavna: Lastly, how can anyone reading this connect with both you and Alley to learn more?
[1] Neil Blumenthal. Co Founder & CEO of Warby Parker
Editor: Shanna Simon & Hannah Lowe-Corman