LACOOCHEE -- It was a mundane start to Kevin Wehling's Sunday morning. But the way it ended -- him in a ditch and grappling with a kangaroo -- was anything but dull.
Wehling, 46, helped end the hourslong pursuit of a kangaroo in Pasco County that began late Saturday night when residents called 911 to report the animal in the road.
A criminal investigation has been initiated by the Florida Fish and Wildlife Conservation Commission, which it expects to complete by Thursday, said an agency spokesman, Baryl Martin.
No one has claimed the 5-foot, 200-pound animal, FWCC officials say, but if that happens, they likely will be charged with a second-degree misdemeanor of improper caging, which can carry a fine of up to $500 and 60 days in jail.
An FWCC permit is needed to own a kangaroo.
"Anytime any type of animal that requires a permit to be held escapes, it turns into a second-degree misdemeanor of improper caging requirements," Martin said.
Sunday morning, Wehling's two children, Brandi, 15, and Dustin, 13, were on Facebook when they saw posts about a kangaroo spotted near Cumber Road and U.S. 301 in Lacoochee. Wehling thought nothing of it until a friend, a Hernando County firefighter, posted the same news on his Facebook wall.
"I said, 'Well, do ya'll wanna run down there and see what's going on,'" Wehling said. "We were bored to death anyway."
After its capture, the kangaroo was held in a cage at Cumber Road and U.S. 301 and later transported to a kangaroo breeding farm on Mickler Road.
The owner of that farm, John Chatfield, has told investigators the kangaroo does not belong to him. According to the Florida Fish and Wildlife Conservation Commission, more than 50 kangaroos are housed at the Mickler Road farm.
Telephone calls to Chatfield were not immediately returned.
The kangaroo was spotted near 38316 Mickler Road, the location of the kangaroo breeding farm, and was apprehended by Wehling and members of the Pasco County Sheriff's Office and FWCC about one-quarter mile away.
In a recorded call released by the sheriff's office Monday, a caller tells the dispatcher: "A kangaroo is almost getting hit on the highway. We are trying to keep him out of the highway."
The call came in just before 1 a.m. Sunday.
When Wehling and his wife, Shirley, and their children pulled up near the large pasture on Cumber Road near 301 just before 11 a.m. Sunday, he saw deputies chasing the kangaroo.
He said the marsupial had been shot with a tranquilizer dart at least three times. He also saw that a stun gun had been used on it and a net thrown over its head, all to no avail.
After about two hours, Wehling felt the need to help.
"I backed on to Cumber Road, and I told my wife, 'I'm done. This has gone far enough,'" said Wehling, a former Zephyrhills High School wrestler.
"It came running by us, and it was bleeding a little (from the tranquilizer darts). I said, 'I've watched enough of this,'" Wehling said.
He told his wife if it came near them, he would tackle it.
Shirley Wehling wasn't keen on that idea.
"I said, 'You're crazy,'" she said, laughing. "There ain't no way!"
The kangaroo left the pasture and began racing east on Cumber Road. Authorities managed to get the animal turned around and headed west, right at Wehling, all 5-foot-8, 192 pounds of him.
The kangaroo tried to dash to Wehling's right, toward a fence. Wehling pounced.
"Kevin kind of tackled him and pushed him to the fence and held him against the chain linked fence," Shirley Wehling said. "I don't know if the kangaroo went to bounce or if Kevin rolled it, but they went off the sidewalk and into the ditch."
Seconds later a deputy jumped on top of the kangaroo, she said, and others involved in the chase did the same moments later.
Jamie Lopey, who lives in Trilby, was on his way to his grandmother's Lacoochee home that morning when he witnessed the commotion. Toward the end of the ordeal, he saw his buddy, Kevin, who said his back is still a bit sore, spring into action.
"I keep telling everybody (Kevin) did a John Lynch, the old Tampa Bay Buccaneers," Lopey said, laughing. "Man he tackled that thing and sat there and held him down. . The kangaroo was kicking, and I was like, 'Man, Kevin, you're crazy.'"
The kangaroo was hogtied using duct tape and carried away.
"I didn't want this kangaroo getting hurt," said Wehling, who commended the deputies and FWCC officers on their efforts. "I don't know if it was going to hop on the road and end up on the highway. I would have felt terrible if I would have just went on home and found out there was a wreck and somebody swerved and hit a pole or something."
Anyone with information about the kangaroo should contact the Florida Fish and Wildlife Conservation Commission at (813) 404-3922.
Twitter: @EDanielsTBO ___
(c)2013 the Tampa Tribune (Tampa, Fla.)
Distributed by MCT Information Services
Related
Before You Go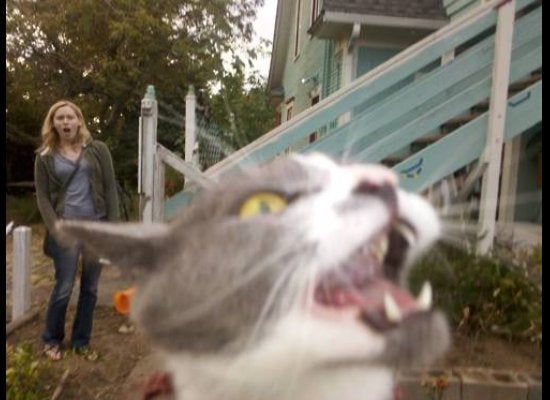 125 Animal Photobombs
Popular in the Community