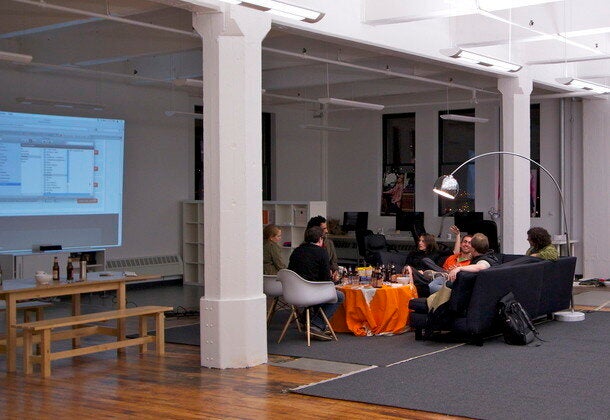 This post is part of a new series from HuffPostTech, Socialized, that will profile a different social startup--from apps to services to websites--every day. Want to be featured on the site? Email us about your startup, which should have a social media component and be less than two years old, at socialized@huffingtonpost.com.
Why work from a crowded coffee shop or your lonely living room when shared office spaces exist all over the world? These days, entrepreneurs and artists plug their laptops into coworking sites from Detroit to Dubai, sharing WiFi and ideas with the fellow self-employed.
Enter Loosecubes, a new online network that connects people looking for workspaces with those who can offer it. Campbell McKellar launched her digital endeavor late last year to further gel a growing community of transient workers, and now, the website features over 1,200 open spaces in more than 270 cities.
What it is: Billed as a "professional community that connects people who have great workspace with those who need it," Loosecubes is the online go-to for anyone looking for a spot to work or with a spare desk to share. McKellar believes the coworking model -- using communal spaces to work on independent projects -- is an ideal way to foster collaboration and connectivity. "We're highly connected online, but otherwise, we live in a really dislocated society," she told HuffPost. "To be able to know your neighbors is a really special thing."
As such, McKellar believes every office should offer up at least one empty desk for freelancers, entrepreneurs and workers-on-the-go to use in lieu of a coffee shop or couch. And true to her philosophy, Loosecubes' Brooklyn headquarters doubles as a coworking space. "We've hosted everyone from a contributor to 'The Onion' writing jokes for Jimmy Fallon all day to a woman building her own soup company," said Anthony Marinos, who handles Loosecubes' marketing and outreach but goes by the catchier job title of "Captain Awesome."
How it works: Loosecubes uses its extensive online network to connect people looking for a place to work with those who have a desk to spare. The company catalogues a network of coworking spaces across the country and all over the world, with recent additions in Panama, Sweden and Italy.
Those looking to share their digs can fill out a brief online profile describing their space, listing what types of independent professionals they'd like to share it with (from designers to developers) uploading some pictures and adding the street address.
Others seeking a place to park their laptop can search for available workplaces by zip code, popularity or price. Costs run the gamut from free to a daily drop-in rate to a monthly membership or even a private office. Loosecubes headquarters offers its space for no charge, with one caveat: Visitors must smile for a quick snapshot and answer the question, "What are you working on today?" so the team can chronicle their ever-evolving guests on the company blog.
Why you'd use it: Whether you're looking for a place to work or have some room to spare at your office, Loosecubes works for any professional with a penchant for collaboration. McKellar and her cohorts can provide countless tales of individuals who have discovered partners, stumbled upon innovative ideas or reaped surprising rewards simply by spending the day in a coworking space.
A group of artists, for example, recently stopped by the Loosecubes headquarters to build installations for an exhibit, and ended up leaving one of their creations -- a modern take on a Civil War tent -- behind. McKellar has since fashioned the tent into a conference room and lounge area.
"Loosecubes is for the new workforce," McKellar said. "It's networking without the networking. It's for anyone who's trying to innovate."
How to get it: Visit Loosecubes.com to find a place to work or share your own space.
Calling all HuffPost superfans!
Sign up for membership to become a founding member and help shape HuffPost's next chapter