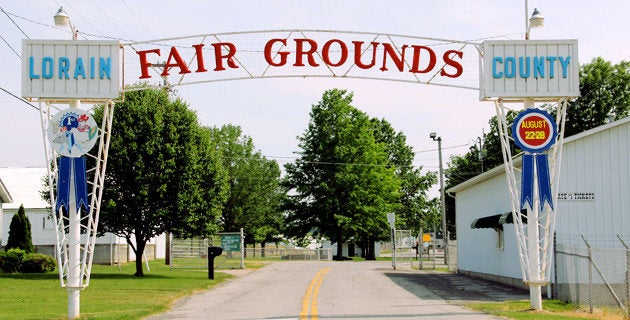 Small-Town Flavor
Lorain County lies on the northern edge of Ohio, along Lake Erie just to the west of Cleveland. Most of the county's inhabitants live in small cities and towns or rural areas. For a week in late August every year, the fair highlights the community's small-town flavor, highlighting agriculture and local crafts. The fair has been held at the Lorain County Fairgrounds since 1941, when it merged with the Wellington Independent Fair.
Horse Shows And Agriculture Exhibitions
In addition to the agricultural shows, including hundreds of farm animals, poultry birds, pigeons, grains, soil and produce, the Lorain County Fair features
at the fairgrounds racetrack. There are also plenty of horse exhibitions, including shows for ponies, miniatures and draft horses.
Contests Galore
at the fair include a horse-and-pony pull, tractor pulls, a pickup truck derby, a combine derby, a kiddie pedal pull and the always-popular demolition derby. Visitors with a sweet tooth will enjoy cake decorating, canning and candy competitions in the culinary arts area. There's also a competition for homemade wines.
Antiques Show
The Lorain County Fair's antiques show has categories for everything from furniture to toys. Entrants show off their collections of artifacts in the hopes of taking home Best of Show honors. Fairgoers can spend hours perusing and marveling over the prize-winning treasures.
Arts And Crafts
Arts and crafts are a big part of the fair. Amateur and professional artists from the surrounding communities showcase their paintings and drawings. Craft displays include flower arrangements, ceramics and dolls. There's even a
.
Country Music
Country music is a well-known staple of county fairs. The Lorain County Fair embraces that tradition with an annual fiddle contest -- offering $1,200 in prize money -- that is not to be missed. For an additional ticket fee, fairgoers can check out country music artists at the grandstand. In 2011, the fair hosted Billy Currington and Easton Corbin, who joined the extensive Lorain County
alongside past performers such as Loretta Lynn, Hank Williams Jr. and Roy Rogers.
Affordable Fun
Fair admission is very affordable, with adult admission $4 and weeklong passes $20. Weeklong passes entitle Lorain County residents age 21 and older to vote for fair directors. Children younger than 8 and active military personnel pay no entrance fee. Seniors age 60 and older enter for free on Thursdays. Carnival rides require tickets, which can be purchased individually. All-day stamps for unlimited rides are also available.
The demolition derby is a fixture of motorsport entertainment at the Lorain County Fair.
What's your favorite county fair in Ohio?