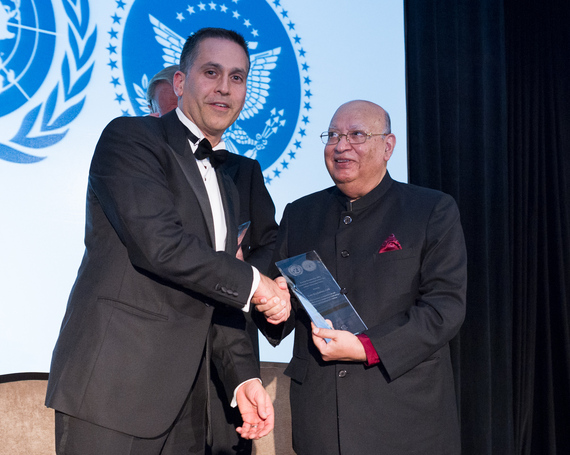 Lord Loomba, CBE, receiving his lifetime achievement award from Abid Qureshi, President, UNA-NY
Photography by Melanie Quinn Photography; Used with permission from the United Nations- New York

"Be the change you wish to see in the world." -- Ghandi
Last month, I had the honor of attending the United Nations Association of New York Humanitarian Awards Dinner. The theme of the evening was Empowering Women: Promoting Peace and Progress. Lord Raj Loomba, CBE was honored for dedicating his life to doing just this -- empowering women. More specifically Lord Loomba, CBE, has promoted the empowerment of widows and their children across the globe. As Founder and Chairman of the Loomba Foundation, he has personally taken on the plight of widows and their children by shining a light on their challenges and developing initiatives to support their needs.
I first met Lord Loomba, CBE, at his office in London, England. Lord Loomba is humble despite his vast accomplishments. In 2011, Forbes India presented him with an NRI Philanthropy award, and earlier this year Northampton University bestowed upon him an Honorary Fellowship. Lord Loomba is kind and generous. It was during this meeting that he asked if I would like to be his guest at the United Nations Humanitarian Awards Dinner where he was due to receive his lifetime achievement award.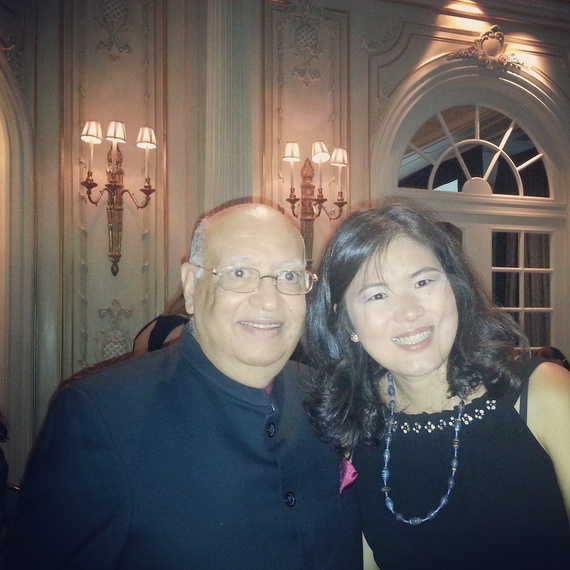 Lord Loomba, CBE and I at the United Nations 2014 Humanitarian Awards Dinner; I am wearing a necklace made by a widow in Kenya. Photo is property of Kristin Meekhof
We met a few weeks later at this dinner which also honored Mr. Stefan Persson and Dr. Phumzile Mlambo- Ngcuka. The room was quiet when Lord Loomba shared his own story. He was eloquent in speech and explained how he used his personal loss to transform an entire group of widows and their chidren across the globe. He witnessed his own mother's grief and suffer with the status of "widow" after his father died from tuberculosis. He was just 10, but still remembers that his mother was blamed for his father's death, and within hours of his death she was asked to remove her bindi. Equally as troubling was when his mother was asked to wear all white and was no longer able to dress in her colorful clothing. Essentially she was stripped of her dignity.
One of Lord Loomba's goals is to restore a level of respect and dignity to all widows. His tireless determination knows only the boundaries that governments have established, and even there he worked to bring about change. Lord Loomba spent five years campaigning with the United Nations to have June 23 recognized as International Widows Day. This date was chosen because on this date in 1954 Lord Loomba's father died from tuberculosis leaving his wife a widow and single mother of seven children.
The United Nations uses the Loomba Foundation's report, titled "Invisible Forgotten Sufferers" published in 2010, as their handbook to understanding the plight of widows and their children. The publication says, "One of the main reasons why widows continue to be subjected to gross human rights violations is that although they number 245 million, there has been no comprehensive research or attempt to gather information on a global scale about their existence." Often overlooked are widows for example who are living in Kenya, Rwanda or Uganda. The publication addresses the needs and challenges of these widows.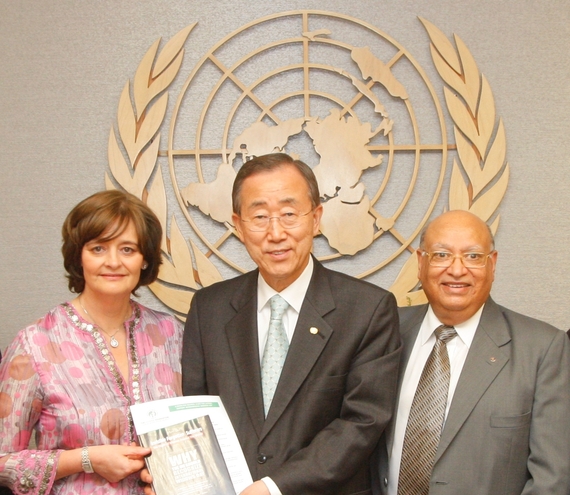 Cherie Blair, HE and Ban Ki Moon at the Widows Research Study presentation- United Nations, New York Photograph used with permission from The Loomba Foundation
With the Foundation, Lord Loomba, CBE has created a number of initiatives, such the Punjab sewing machine project whereby helping 10k widows. This project has a tremendous reach; it helps 100,000 individuals. In London Lord Loomba, CBE told me that when you help a widow the "impact is tenfold. You empower economically and the widows are empowered socially." When widows obtain a job or skill, not only do they support their children but often teach others the craft.
The foundation also recognizes the value of education. Lord Loomba said, "Rual India is hardest hit. There the widows are poor and undereducated." In India alone, the Loomba Foundation has provided educational scholarships, for a minimum of five years or longer, to over 9,000 children of widows, and supported over 50,000 family members.
Equally as impressive are the number of notable individuals who have lent their support to the foundation. Lord Loomba has garnered the respect from political figures and celebrities, such as Cherie Blair, CBE, QC, His Excellency Ranjan Mathai, Sir Richard Branson, Yoko Ono, and Sir James Bevan KCMG.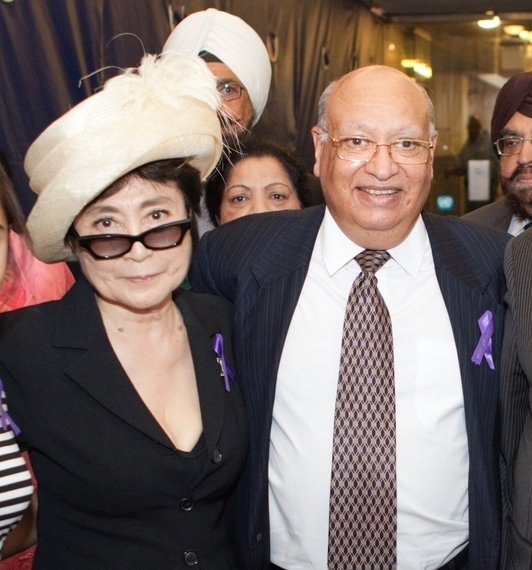 Lord Loomba with Yoko Ono; she supports The Loomba Foundation. Photograph used with permission from The Loomba Foundation
There are vey few who have Lord Loomba's spirit of generosity and passion for those who are first to be overlooked. He has embodied the change he wishes for the world to be.
In 2007, Kristin Meekhof was widowed. Her upcoming book for widows of all ages will be released in the Fall of 2015. You can follow her here http://www.kristinmeekhof.com/