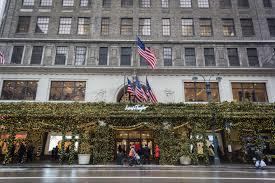 WeWork just announced that it's taking over the New York 5th Avenue space occupied by iconic retailer Lord & Taylor. There was a time when Lord & Taylor WAS New York retail and there was a time that the 5th Avenue store WAS the embodiment of that. There WAS a time, way back when.
I guess that time is no more. The time is now WeWork! Really! How ironic that it's being replaced by a WeWork location…the entrepreneurial beehive where those who don't want/need solo office space yet don't want to work from home gather to share assets and build their businesses. The wave of the future takes over the wave of yesteryear?
Entrepreneurs take over what was once racks of dresses?
Yup. Sign of the times? Yup. Is it fair to ask if WeWork is more relevant to our culture than a big 'ole department store?!?
Lord & Taylor isn't the first to fall off of 5th Avenue. FAO Schwarz went down years ago. Ralph Lauren shut down earlier this year. And 5th Avenue isn't the only shopping destination to go through radical change. Lower 5th (from 23rd Street to 14th Street) was once a more affordable version of luxury shopping and it's almost completely changed over. Bleecker Street is all but dead. Marc Jacobs and Ralph Lauren abandoned that once lucrative street. And lower Broadway (14th Street to Houston) is basically all sneaker shops now.
I guess it's all sneakers and WeWork. And we all wear sneakers to WeWork so maybe there's a connection?!?
The connection is that how we work and shop and live our lives has changed. Not just for the Millennials, but for all of us. Big retail destinations are only reserved for those who serve a great experience.
I dunno, but I guess Lord & Taylor on 5th wasn't delivering that experience anymore? By the looks on my social feed, although many were sad to see it go, they also hadn't been there in years. Years! I fall in that category myself. I didn't really have a reason to go, and hence the WeWork.
I guess the days are also gone of browsing and longing and pondering over the perfect item within a brick and mortar environment. We do that online now. So the behavior is still there, but now it's on our own terms, on our own devices, and in our own chairs…wherever those chairs may be. Maybe those chairs are even at a WeWork.
I think the problem is that these retailers in these locations haven't kept up. They haven't created a shopping experience valuable enough for us to come visit. So it's easier to shop online, even for an expensive outfit or bag.
Why go out of the way? Indeed.
So dare I say that the fate of Lord & Taylor 5th isn't the last we'll see. Shopping malls are next. Imagine a WeWork or a water park or a 50+ community in one of those?
I don't think we'll have to imagine much longer.
REAL LIFE. REAL NEWS. REAL VOICES.
Help us tell more of the stories that matter from voices that too often remain unheard.
This post was published on the now-closed HuffPost Contributor platform. Contributors control their own work and posted freely to our site. If you need to flag this entry as abusive,
send us an email
.