Lorde may be one of the biggest entertainers in the world, but even she sometimes needs help getting through a set.
The "Royals" singer told fellow singer-songwriter David Byrne about one of the unique ways she works to fight off her "really bad stage fright."
"I don't have a good answer for that. It's a real problem that I'm trying to get on top of. I try to write something down," Lorde told Byrne for Rolling Stone, via a People magazine exclusive on Friday.
"I tape little notes to the stage for myself, so I would go over and be able to read something that me from the past is trying to tell me from the future," she said. "But it's a real struggle."
She added that she also does "a lot of puzzles on tour."
"I'm often applying a piece right when it's time to go, which maybe doesn't help the stage fright. That's too much of a change of mood," the entertainer added. I'm still looking for the puzzle at the first song."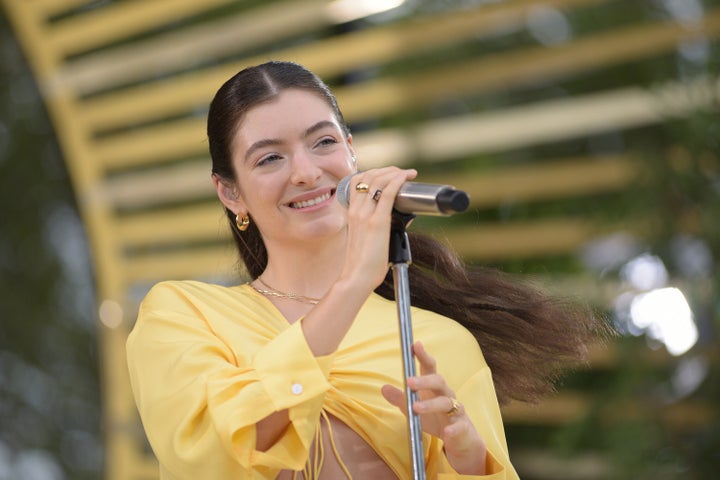 The "Solar Power" artist previously told Vogue that her personality and temperament make her day job tough.
"I'm a highly sensitive person. I'm not built for pop star life," the 24-year-old revealed. "To have a public-facing existence is something I find really intense and is something I'm not good at. That natural charisma is not what I have. I have the brain in the jar."
Which might explain why the singer performs for a few years, and then retreats back to her native New Zealand.
"For whatever reason people have allowed me to say, Okay, I'm going to come and do the thing — do the shoot, do the red carpet, speak to the journalists, put the music out — and when I've done it to the point of total exhaustion, when I have completely quenched that thirst, I'm going to go home, and you're not going to see me for two or three or four years," Lorde told the magazine.
Popular in the Community