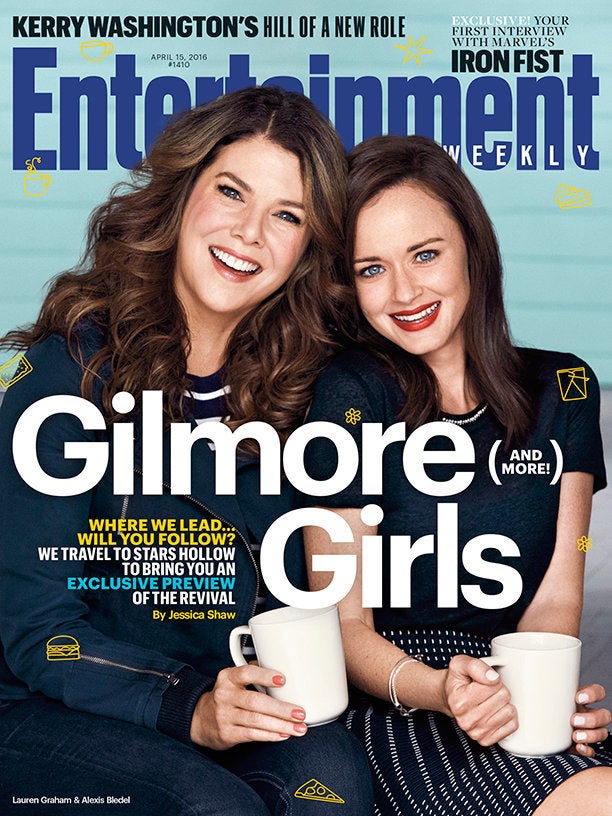 Someone send an edible arrangement to Entertainment Weekly's offices because this week's cover story is what "Gilmore Girls" dreams are made of. No, not the Madeleine Albright kind. 
During the filming of the highly anticipated revival, the cast and crew took a break between coffee sips and Stars Hollow shenanigans to talk Netflix, those final four words and how Alexis Bledel is secretly Lauren Graham's real-life daughter. 
Just kidding about that last part, but how is it possible that they look even more alike nine years after the series wrapped? The issue doesn't hit newsstands until Friday, but we did get a sneak peek at some of the "Gilmore" goodies in store.
According to one half of the fast-talking mother-daughter duo, returning to Stars Hollow was a second chance to appreciate a once in a lifetime opportunity. 
"You know how you finish college and you're a few years older and you're like, 'I wish I could go do this now 'cause I would appreciate it so much more and understand it and get more out of it'?" Graham told EW after filming a scene with her on-screen mother, Kelly Bishop. "That's the opportunity I have this with and I appreciate every day that I'm here."
But for some, slipping back into the series' rapidly paced dialogue and famously long scripts wasn't as easy. 
"I struggled with it at first," said Scott Patterson (Luke Danes), according to the "Today" show. "I remember looking at our dialogue coach and going, 'I don't know if I can pull it off. But when I walked in the diner the first time, everything felt better. It was like no time had gone by."
"Amy didn't realize that I didn't know them, so we hadn't really talked about it," the "Parenthood" actress revealed. "For some reason, my first question was, 'Who says them?' Because I assumed it was one character, when it's two. It's not as resolved as I thought they would be. I thought they would be 'Honey, I'm home!' or something like 'Goodbye, small town!' So I was like, 'Oh, really?'"
REAL LIFE. REAL NEWS. REAL VOICES.
Help us tell more of the stories that matter from voices that too often remain unheard.
BEFORE YOU GO
PHOTO GALLERY
The 18 Most Important "Gilmore Girls" Episodes