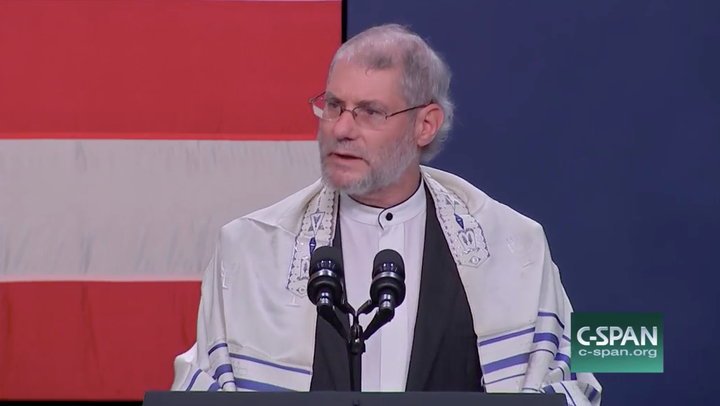 The Christian "rabbi" who offered a prayer for the weekend's victims of neo-Nazi terror at a rally with Vice President Mike Pence on Monday believes that Jews who do not accept Christ as their savior go to hell.
Wearing a Jewish prayer shawl, Loren Jacobs invoked "Yeshua," a Hebrew word for Jesus, in his prayers for Republican candidates at the start of the Oakland County rally, near Detroit. Pence later called on Jacobs, whom he described as "a leader in the Jewish community here in Michigan," to offer a special prayer for the victims of the Pittsburgh synagogue shooting and their families.
Jacobs, who leads the messianic congregation Shema Yisrael in Bloomfield Hills, again invoked Jesus in his remarks.
"Lord, I pray that we would see fewer and fewer horrible tragedies like this. And I pray this 'beshem Yeshua' — in the name of Jesus," he concluded.
The choice of Jacobs to pray for the synagogue victims rankled many Jews. Within American Judaism, there is an overwhelming consensus that "Messianic Jews," a subset of whom identify as "Jews for Jesus," are not Jews at all ― but simply Christians by another name who use Jewish language and ritual to evangelize for Christianity.
Jacobs was not ordained by a recognized Jewish rabbinical school, according to his congregation's website. Instead, his web biography states that he graduated from the Jewish studies program at the Moody Bible Institute, a Christian institution, and holds a bachelor's degree in biblical studies from Northeastern Bible College, another Christian institution. He was raised in a conventional Jewish household and became "messianic" — embraced Jesus as his personal savior — in 1975, according to the bio.
In an essay on the Association of Messianic Congregations website, Jacobs argued that Jews who do not embrace Jesus as their savior cannot go to heaven when they die:
Incredibly, there are many so-called Christians, and even some Messianic Jews today, who suggest that Jewish people don't need to believe in Yeshua in order to be saved! They teach that since the Jewish people have a covenant with God, they don't need the New Covenant of the Messiah; or they teach that all religions will get everyone to Heaven. Little could be farther from the truth!
No Jewish person is going to appear before God and say, "Judge of the whole Earth, I'm not responsible for not believing in the Savior you sent to us. I never knew." Or, "Master of the universe, I didn't like the way Yeshua was presented to me. Besides, my Rabbi told me not to believe in Him, so it's not my fault." These excuses won't be accepted! We are responsible for choosing the spiritual leaders to whom we listen. We are warned not to listen to false teachers. If the blind mislead the blind, so that both fall into a pit, both are responsible.
In another essay on his congregation's website, Jacobs makes the point more explicitly:
Humanity is fallen, lost, far from God, perishing, without eternal life, headed to the Second Death and Hell, and in the most desperate need of the salvation provided by God and Messiah Yeshua.
The American Jewish community, which consists of about 5.7 million people ― more than 40 percent of the Jews in the world ― is riven with multiple religious denominations, as well as political and philosophical differences. But one thing that Orthodox, Reform, Conservative, Reconstructionist and secular Jews generally agree on is that belief in Jesus as the messiah is fundamentally antithetical to Judaism.
Attempts to cloak Christianity in Jewish garb or co-opt Jewish language and rituals are typically seen as efforts to convert Jewish people. Jacobs' personal view that Jews who do not accept Jesus as their savior do not go to heaven may well mean that he views proselytizing to the Jews as a theological obligation.
As a result, Jacobs' appearance at a rally alongside Pence and the vice president's designation of him as a "leader in the Jewish community" a mere two days after the worst massacre of Jews in American history was upsetting to many American Jews. Some of them voiced their displeasure on social media.
Danya Ruttenberg, rabbi in residence of the Jewish social justice group Avodah, called on Pence to "stop pretending and appropriating my people."
Pence was not the one who invited Jacobs to the event, the vice president's office said. That was Lena Epstein, a Jewish Republican candidate in the hotly contested race for Michigan's 11th Congressional District, according to Pence's staff.
Epstein was outraged by the later criticism of Jacobs' appearance.
"My family's history as Jews and my commitment to my Jewish faith are beyond question," the candidate said in a statement posted on Twitter. She noted that she is a fourth-generation member of Temple Beth-El, a Reform congregation in Bloomfield Hills.
"I invited the prayer because we must unite as a nation ― while embracing our religious differences ― in the aftermath of Pennsylvania," Epstein continued. "Any media or political commentator who is attacking me or the Vice President is guilty of nothing short of religious intolerance and should be ashamed."
Jordan Acker, a Jewish Democrat running for the University of Michigan's Board of Regents, tweeted in response, "Nobody thinks you're not Jewish. They think that you're deeply insensitive for bringing a group on stage [whose] entire mission is to convert Jews 3 days after the worst anti-Semitic attack in American Jewish history."
Before You Go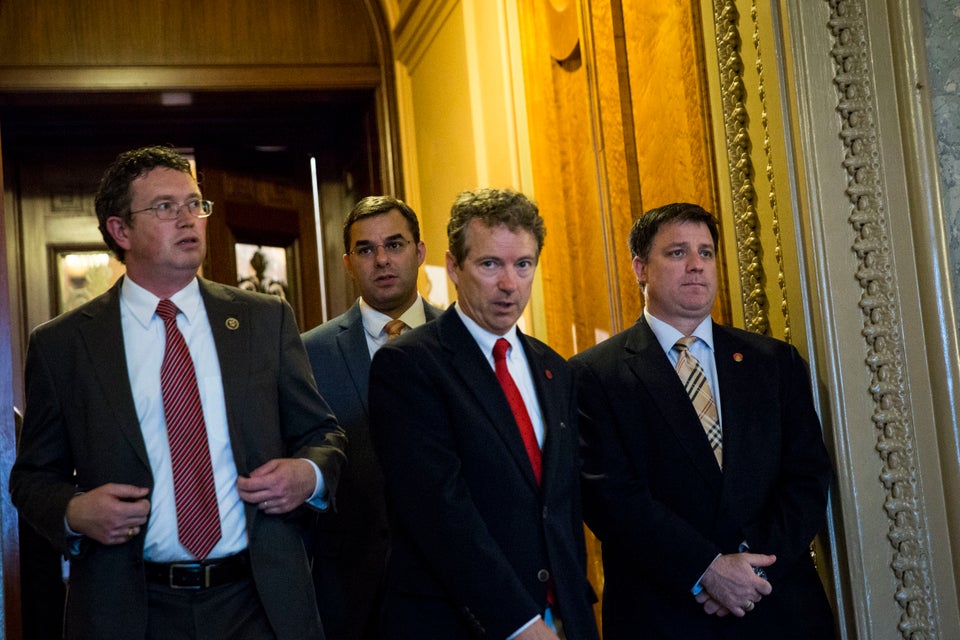 Scenes From Capitol Hill
Popular in the Community