WASHINGTON -- Attorney General nominee Loretta Lynch attempted on Wednesday to tread a fine line on immigration, telling senators she believes President Barack Obama acted within his powers on deportation relief, but that she would respect the courts if they find his actions unconstitutional.
Her confirmation hearing before the Senate Judiciary Committee comes at a time when Republicans are fighting Obama's November executive actions on immigration. Lynch, currently the United States attorney in Brooklyn, was not part of that decision-making process, but had to answer repeatedly as to whether she believes Obama acted within his powers.
She also tried to differentiate herself from current Attorney General Eric Holder, a controversial figure among Republicans, who has defended Obama's use of executive authority to keep some undocumented immigrants from being deported.
On the issue of executive action, though, Lynch indicated that she agreed with Holder. She told senators she had reviewed the Office of Legal Counsel's report to the Department of Homeland Security from November that laid out the legality of Obama's policies.
"I don't see any reason to doubt the reasonableness of those views," she told Judiciary Committee Chairman Chuck Grassley (R-Iowa).
Obama announced in November a series of executive actions on immigration, which the White House said fit within his authority under the basis of prosecutorial discretion. One of the most controversial is a program that will allow undocumented parents of U.S. citizens and legal permanent residents to apply to temporarily stay in the country and work legally. Along with an expansion of the Deferred Action for Childhood Arrivals policy, which confers similar relief to undocumented immigrants who came to the U.S. as children, Obama's policies could allow up to 5 million people to remain in the country and work.
Sen. Jeff Sessions (R-Ala.), a strident opponent of the policies, says the actions are unconstitutional and will hurt American workers because employers might hire undocumented immigrants rather than U.S. citizens.
He brought up comments made in 2013 by Holder, who said that creating a pathway to citizenship for undocumented immigrants is "essential" and said immigration was "a matter of civil and human rights."
Sessions asked Lynch if she agreed. She said she hadn't studied the issue enough to come to a legal conclusion, adding that she thinks "that people who come to this country in a variety of ways can rehabilitate themselves and apply, but that would have to be something that would be decided on a case-by-case basis."
Pressed further, she said she did not know of any civil right to citizenship for undocumented immigrants recognized by jurisprudence.
"I think that citizenship is a privilege," she said. "Certainly, it's a right for those of us born here. I think it's a privilege that has to be earned."
Democrats repeatedly said that immigration should not be the focus of the hearing, but asked Lynch some questions to push the message that the president did have the authority to take executive action.
Sen. Chuck Schumer (D-N.Y.), who supported the move, asked Lynch how she would respond if legal challenges to Obama's immigration actions succeeded. Twenty-six states have now joined a lawsuit contending the policies are unconstitutional, and the House is considering taking legal action.
Lynch said she would respect the court's decision if it strikes down executive action, and if Congress passed a law prohibiting the policies, she said, she "will commit to following all the laws duly executed by this body."
UPDATE, 3:50 p.m. -- Sessions pressed Lynch later Wednesday afternoon for a yes or no answer on whether she thinks Obama's executive actions on immigration were legal and constitutional, and he got one: "As I've read the opinion, I do believe it is, Senator," she said.
Before You Go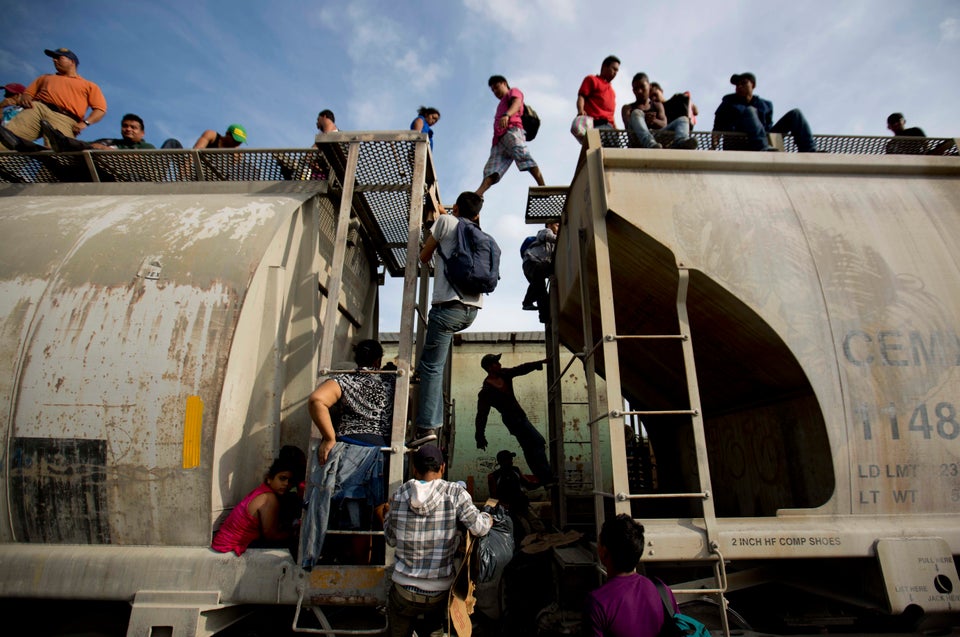 Why Latin Americans Really Come To The U.S.
Popular in the Community