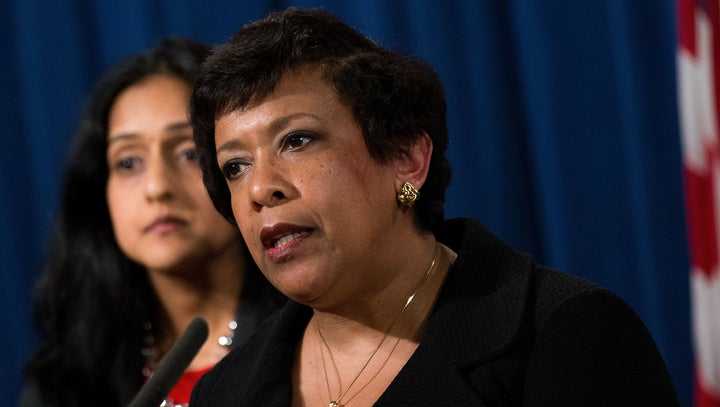 U.S. Attorney General Loretta Lynch called the Orlando shooting "an act of hate and terror" Sunday, emphasizing that the lesbian, gay, bisexual and transgender community continues to be the target of attacks in this country.
"We're moving quickly; we're trying to uncover everything we can about this killer's motivations, what led him to this particular place, this particular club," Lynch said in an interview on CBS' "Face the Nation. "Why did he target the LGBT community, a community that so often is the victim of hate crime, in both an act of hate and terror?"
Early in the morning of June 12, Omar Mateen killed 49 people at a gay nightclub in Orlando, in what is now the deadliest shooting in modern U.S. history.
Much of the debate in the wake of the shooting has focused on terrorism -- what needs to be done to stop more attacks in the name of the so-called Islamic State on U.S. soil.
Mateen had pledged allegiance to ISIS, but his father believed his son may have had a different motivation for the attack, noting that Mateen had recently become angry after seeing two men kissing in front of his family. Some of Mateen's friends said they believed he was gay -- but not open about it -- and may have tried to pick up men on gay dating sites. 
In the wake of the shooting, many in the LGBT community have called on politicians to examine the effect of their homophobic rhetoric and policies. 
Most notably, Florida Attorney General Pam Bondi (R) has been grilled about how her sympathetic post-Orlando rhetoric squares with her long fight against LGBT equality. 
"But you were arguing [in court] that gay marriage -- if there was gay marriage, if there was same-sex marriage -- that would do harm to the people of Florida, to Florida society," Cooper replied. "Are you saying you do not believe it would do harm to Florida?" 
Bondi said that's not what she was arguing.
"The question has now been called upon the people of Florida: Will you uproot this toxic dehumanization of the LGBT community," said Nadine Smith, executive director of the LGBT advocacy group Equality Florida, "or will you, by action or indifference, allow us to be treated as inferiors in laws that protect our basic rights?" 
REAL LIFE. REAL NEWS. REAL VOICES.
Help us tell more of the stories that matter from voices that too often remain unheard.