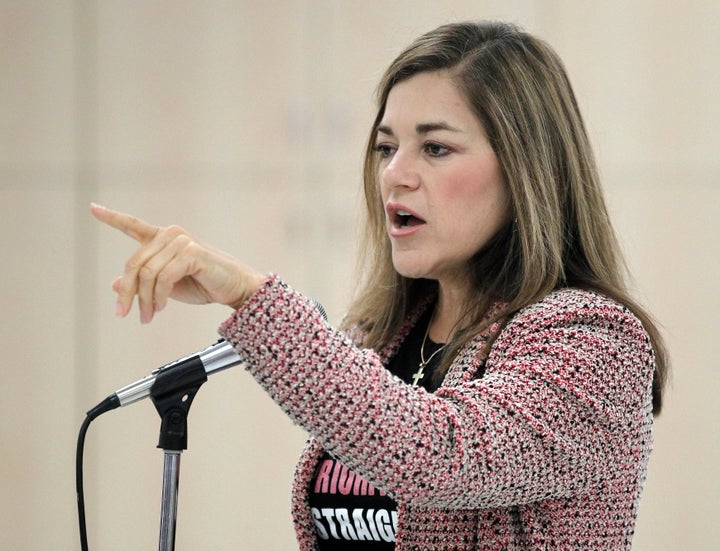 Rep. Loretta Sanchez (D-Calif.) discovered her campaign funds were wiped out after her treasurer, Kinde Durkee, was arrested on suspicion of mail fraud.
Durkee -- a longtime Democratic campaign treasurer who has worked for dozens of California's local, federal and state politicians -- has been accused by the FBI of trying to defraud a state representative out of $677,000. She is currently in jail in California.
Talking Points Memo reports that the money stolen from Sanchez's campaign account amounts to $379,000. Adrienne Elrod, the congresswoman's chief of staff, confirmed to Politico that "our account has been nearly wiped out."
Elrod addressed the situation in a statement to the Orange County Register.
"We are extremely disappointed to learn of the alleged actions of our campaign treasurer Kinde Durkee, and are in the process of assessing the damage and removing Durkee and Associates from any and all of our campaign activities," Elrod said in an email. "Kinde was someone whose services and counsel we trusted for many years. These charges if true are disheartening and a betrayal by a long time Democratic treasurer for many candidates and committees."
Elrod said Sanchez's office would release no further comments on the matter at this time.
According to Politico, Sanchez sent the following email to her constituents addressing the situation:
As you may have heard, my campaign treasurer, Kinde Durkee, was arrested earlier this week on charges of stealing more than $600,000 from one of her Orange County based clients.

Unfortunately, upon reviewing my campaign account, I too am a victim. Nearly all of the funds my team and I worked hard to raise this year have been wiped out.

This is a disheartening betrayal by a trusted associate. The records Durkee & Associates sent to me on a weekly basis accurately reflected our internal records -- including the amount we raised, the incoming and outgoing funds from our accounts, and our cash on hand. In reality, our accounts have but a few thousand dollars.

But I am moving forward. Fighting for each and every one of you is and will always be my top priority. I am confident that through the help of friends, colleagues, and you, we will rebuild and be stronger than ever.
Other clients of Durkee who have said they believe their funds have been affected include California State Sen. Lou Correa and California State Assemblyman Jose Solorio, according to news reports.
Other possible victims include Congresswomen Linda Sanchez, Laura Richardson, Susan Davis; Senator Dianne Feinstein and a number of state assemblymen, state senators, city councilmen and political action committees, including the Golden State PAC, according to a review of documents by HuffPost's Paul Blumenthal. Durkee is also the registered treasurer for Marcy Winograd's failed special election bid.
REAL LIFE. REAL NEWS. REAL VOICES.
Help us tell more of the stories that matter from voices that too often remain unheard.