"Because of you, my five children get a chance to have a Mom. Because of you, I have a chance of living."
When I was diagnosed with Stage IV Triple Negative Breast Cancer I was told that I may survive a year with toxic levels of chemo. As a mother of 5, the youngest one being only 2-years-old, a sick-year wasn't a good enough. I set out in search of better options. I heard of a doctor who was performing lifesaving assay directed tests, which help identify which chemos have the best chance of killing the specific cancer instead of just guessing which toxic cocktail might work best. The doctors name was Dr. Nagourney. However, financially, we didn't have many options.
Fortunately, a woman with a Heart of Gold named Loretta Stamos had thought about people like myself. "Seeing Dr. Nagourney's success, I vowed that all cancer patients -- regardless of resources - should have the opportunity to benefit from assay directed therapy, just as my brother did," said Loretta.

So she started The Vanguard Cancer Foundation. This foundation is making it possible for people like me, who could not likely afford it without grants, to receive potentially lifesaving assay testing. I was a recipient of this grant, and am now receiving personalized care along with low dose chemo. I still don't know what my outcome will be, but I do know I'm in the best place I can be to survive, all because of the heart of Loretta Stamos.
I had the opportunity to meet this beautiful, generous spirit at a fundraiser for The Vanguard Cancer Foundation. I was asked to speak at the event and share my story.
I had the opportunity to share with Loretta Stamos, personally, how grateful I was to her for her heart and her dedication. She had a genuine desire to help others. It was a great honor to meet her and share one tiny moment with Loretta.
I watched this beautiful woman with her family. The love and bond that I witnessed between the entire Stamos family was pure and so genuine. It was beautiful to see the love that their family shared, and the charitable hearts of the whole family. Her heart will be so missed, but I know her Legacy will continue to live; not only with the lives she has affected trough her charitable foundation, but the the legacy of her heart will continue through her precious family. My prayers are with the Stamos family as they are grieving the loss of their Rock.
Loretta Stamos' wish was, "Maybe one day, we will live in a world in which assay directed therapy is considered a first line of treatment, saving valuable time, health and money in the process. Until then, the Vanguard Cancer Foundation will be here, empowering patients to take the fight against cancer into their own hands."
Thank you Loretta Stamos.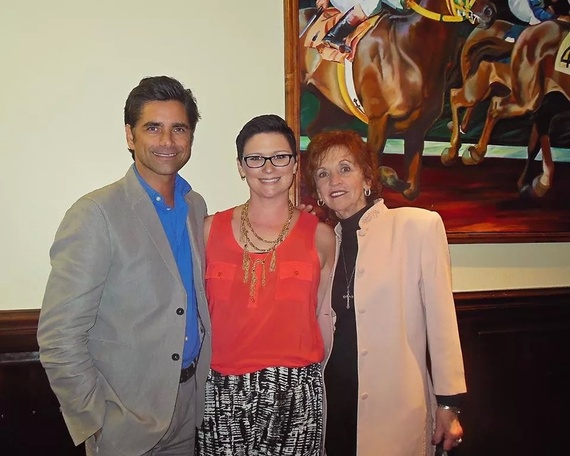 REAL LIFE. REAL NEWS. REAL VOICES.
Help us tell more of the stories that matter from voices that too often remain unheard.