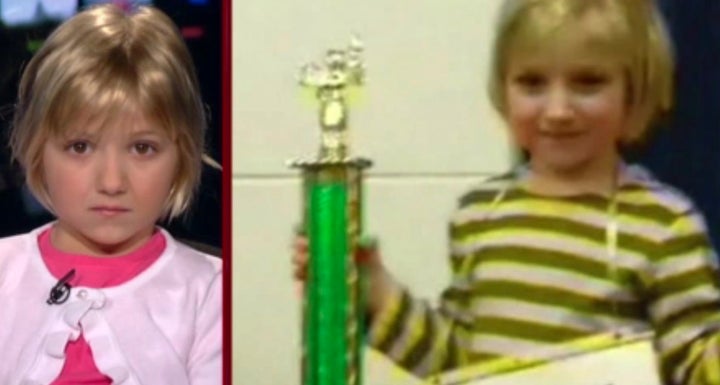 Lori Anne bested 21 other elementary and middle school spelling champs -- all of whom were older than her -- on Friday March 9th by correctly spelling the word "vaquero" (the Spanish translation of cowboy). Some children might have been intimidated by competing against spellers over twice their age, but Madison seemed unfazed. "I was confident because I have been in spelling bees with older kids before and I judge them by who they are, not about age," she said. Wise words from someone who's still four years away from double-digits.
But the miniature champion's spelling prowess didn't develop overnight. Her parents, Alex and Sorina Madison, have played a huge role in her education -- they home-school her. Instead of being pageant parents or "Dance Moms" the Madisons became Spelling Bee Parents, and helped Lori Anne practice her spelling skills continuously before the competition, including the word that she won with. "We practiced that word several times because she kept getting it wrong," her mother told InsideNOVA.com. "We really insisted on that word so I knew for sure she would nail it."
Mommyish writer Koa Beck points out that Lori Anne's awesome win should be celebrated for more reasons than her young age:
Acknowledging the awesome accomplishment of this little champion is not only called for given her merit. But Lori's big win also shows your little girl that you don't need to be a Kardashian to end up with some notoriety and a moment in the spotlight.
For now, Lori Anne seems content to revel in the feeling of a job well done. As she told a Fox News affiliate, "It's hard to put into words really ... but at least I felt great." (That's G-R-E-A-T, great.)
WATCH: Interview With Lori Anne Madison