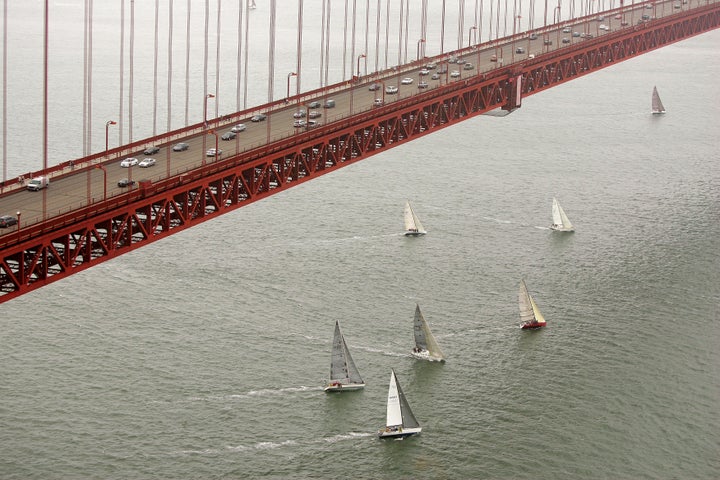 Lori Galina had a simple request: She wanted to bungee jump off the Golden Gate Bridge.
Galina, a former San Francisco resident now living in Pittsburgh, hoped to jump off the bridge as stunt to raise money for breast cancer and heart disease—afflictions besetting both of her parents.
Galina, who has never bungeed before and insists she's actually scared of heights, asked officials from the Golden Gate Bridge Highway and Transportation District for permission to leap off the bridge. Her request was denied.
District spokeswoman Mary Currie said the district will only issue special-event permits for intended uses of the bridge. The district has no qualms about opening up its public spaces for sanctioned events, such as cancer walks and road races, but bungee jumping doesn't fall into one of those categories. Last year, the district signed off on 38 special events, with most of them having to do with running or walking, Currie said.
While initially frustrated, Galina still has hope she'll be able to realize her dream. Curbed SF reports:
She said she's reached out to the Governor's Office for special permission, and she's trying to rally local support for her cause. "I've got my heart dead-set on doing this," Galina said [to the San Francisco Examiner]. "I want the people of San Francisco to show they have heart, too, by letting me jump off that bridge."
The penalty for jumping off the bridge, which falls under a trespassing statue because, as Currie pointed out, "it's using the bridge for something other than it's intended purpose of running, walking or driving," is a fine of up to $10,000 and a whole lot of community service. The penalty was sharply increased after actor Woody Harrelson, along with other members of the environmental group Earth First!, tied up traffic on the bridge for hours during a mid-1990s protest against the destruction of old-growth redwood trees.
"If it's not legal, we don't approve it," Currie told The Huffington Post. "Not even for movie shoots."
Galina wasn't the first person to get the idea of taking a bungee-assisted dive off the iconic span. In 1979, the British "pranksters" of the Dangerous Sports Club bungee jumped off the Golden Gate Bridge with a makeshift elastic rope dressed in top hats and tuxedos.
The club originated the modern bungee jump earlier that year, leaping off the Clifton Suspension Bridge in Bristol, U.K. and their bungee off the Golden Gate Bridge was likely the first in United States history.
Probably the wildest stunt anyone has attempted on the bridge was when a group of Canadian engineering students from the University of British Columbia in Vancouver dangled a Volkswagen Beetle from a cable underneath the bridge in 2001.
The authorities cut the cable and the car now sleeps at the bottom of the bay.
Popular in the Community