Lori Laitman's opera, The Scarlet Letter, opens May 7, 2016, at Opera Colorado for a four-performance run. With a libretto by poet David Mason, this new work based on the iconic Hawthorne novel will be recorded live by the prestigious classical music label, Naxos.
Laitman is one of America's leading art song composers. Since writing her first cycle, "The Metropolitan Tower and Other Songs" (1991), she has composed more than 250 songs, earning praise for her melodic beauty and emotional resonance. In the words of Gregory Berg, "It is difficult to think of anyone before the public today who equals [Laitman's] exceptional gifts for embracing a poetic text and giving it new and deeper life through music" (The Journal of Singing, 2007).
Over the past decade, the composer has made a smooth transition to opera, creating oratorios such as Vedem and a children's opera, The Three Feathers, with poet Dana Gioia. Though The Scarlet Letter was announced for Opera Colorado's 2012-2013 season, funding issues caused its postponement for three years, but Laitman knew their general director, Greg Carpenter, was determined to premiere this work. When she spoke to me from Denver last week she said, "I cannot adequately describe how thrilling it is to have my music brought to life by such artists. Rehearsals are a pleasure--and I am so grateful to everyone."
The following is an edited version of our conversation.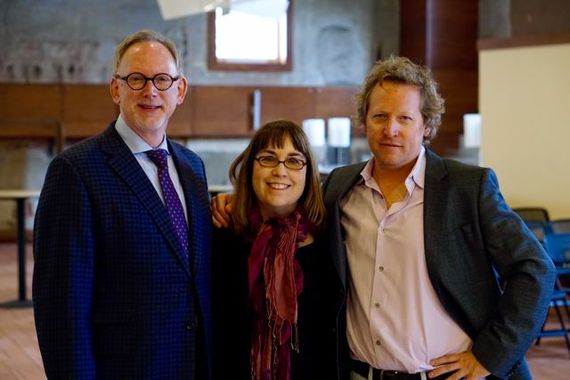 From left : Greg Carpenter, general director of Opera Colorado, Lori Laitman, and Ari Pelto, conductor and music director of Opera Colorado. Photo by Ben Werley.

Is your approach to composition the same for an opera as for art songs?
All of my vocal music has the same goal: to honor the text by creating dramatic music to illuminate and intensify the meanings of the words. I compose the vocal line first, emphasizing what I consider to be important, and take great care to compose a singable line. This allows the singer to effectively communicate the words to the listener. All other musical aspects of the composition (harmony, rhythm, texture, timbre, tempo, etc.) create additional layers of interpretation to the text, creating a unified musical portrait.
There are some important differences between composing for art song vs. opera. The use of leitmotifs in the larger canvas of opera helps to structure the work. In opera, with multiple characters, one must create distinctive music for each character, music that comments on the character's psyche. Timbre in opera is more of a factor than in art songs, as the larger orchestral palette allows me to further interpret the drama. In opera, I also try to build a dramatic musical arc within each scene as well as overall, to create different levels of emotional intensity.
Where did you meet your collaborator, poet David Mason, and why did you choose Nathaniel Hawthorne's The Scarlet Letter for your libretto?
The West Chester University Poetry Conference commissioned me in 2004 to set David Mason's poem "Swimmers on the Shore" -- but I had to miss the song's premiere as my opera Come to Me In Dreams was premiering with Cleveland Opera the same day. It wasn't until the next year's poetry conference that I met Dave, and we hit it off.
In 2007, I received a commission from The University of Central Arkansas through Robert Holden and UCA's opera program. My friend, poet Dana Gioia, who at the time was serving as chairman of the National Endowment for the Arts, suggested I ask David to write the libretto, saying "Dave was born to write a libretto." So I asked Dave, he accepted, and together with Rob Holden, we decided The Scarlet Letter was perfectly suited for opera. The story, first published in 1850, was also in the public domain, allowing us to move forward immediately.
David Mason is professor and chair of the English Department at Colorado College, and the poet laureate emeritus of Colorado. He is an amazing poet and librettist and his words often move me to tears. He was able to distill Nathaniel Hawthorne's work with complete clarity, using astonishingly beautiful verse. I consider the libretto a work of art, and it is published separately as The Scarlet Libretto. (See link below.)
How do the specific elements you've used for The Scarlet Letter [i.e. musical motifs for each character, rhythm, harmony, tempo, etc.] strengthen characterization and plot tension?
There are three main characters in this classic tale of love and hate, freedom and repression: Hester Prynne, a young seamstress; Dr. Roger Chillingworth, her estranged husband; and Arthur Dimmesdale, a "pale young minister" and Hester's secret lover and father of her daughter Pearl. I created different music for all the characters with an eye toward revealing their inner thoughts.
Hester Prynne, shunned by her Puritan community for bearing a child out of wedlock, has music characterized by very unique phrasing and harmonies, in direct contrast to the rigid rhythms and repetitions of the townspeople. Chillingworth is driven by an obsession to discover the secret father of Hester's child. His music is permeated with a specific rhythm and melody that always circles around a few notes, revealing his obsessiveness. It is only when he speaks of his past in England that the music softens. Dimmesdale is paralyzed by fear and guilt, and hides his true self for almost the entire opera. Thus, his music differs depending upon the situation and his mental state. When he has a breakdown, the music becomes jumbled, with themes mixing together. When Hester helps him become courageous, his phrases become more individualized and his harmonies lusher. Hester and Dimmesdale's love duet in the forest, away from the laws of man, is flowing and romantic.
The chorus has a dual role: as the community, they sing of the "One Law," expressing their fervent religious fundamentalism. As a Greek chorus, standing "beyond time" and commenting on the story, their musical sound world is completely different, with more dissonant harmonies and a sequential aspect to the theme which mirrors the passing of the years.
After The Scarlet Letter was staged by the University of Central Arkansas, opera director Beth Greenberg fell in love with your score and became an integral part of your creative team. What has Ms. Greenberg brought to the opera's development as you were preparing for its professional premiere?
Beth was trained as a musician and understands music in a very deep way. She has a vast wealth of experience, having been a resident stage director at The New York City Opera for 23 years. She has also worked with many other living composers. What makes Beth such a great director is that she interprets the music in a completely organic and honest way, and her ideas flow from what is in the score. From the look of the costumes to the towering set idea (which illuminates the claustrophobic rules of the town) to the inventive staging, her interpretation takes the music to another level completely. Both Dave and I feel incredibly lucky to have Beth as our co-creator.
What excites you most about the upcoming Opera Colorado production?
Opera Colorado is a wonderful company -- and Greg Carpenter, general director of Opera Colorado, has impeccable musical taste and great vision. Together with OC's fantastic music director and conductor Ari Pelto, they have assembled a superb cast and creative team to present the professional world premiere of The Scarlet Letter: Laura Claycomb (Hester Prynne); Malcolm MacKenzie (Roger Chillingworth); Dominic Armstrong (Arthur Dimmesdale); Daniel Belcher (Governor Bellingham); Margaret Gawrysiak (Mistress Hibbons); Kyle Erdos-Knapp (John Wilson); Beth Greenberg (director); Erhard Rom (set design); Robert Wierzel and Amith Chandrashaker (lighting design); Terese Wadden (costume design); Topher Blair (projection design); and Keun-A Lee (music staff).
This work has been finetuned over the years. I rewrote many sections to heighten the drama. I expanded the choral writing, making it more dynamic. I re-orchestrated the work in 2011 and as my skills grew, again in 2015. Most recently, in 2016, I added additional winds to provide a fuller and darker orchestral palette.
The piece also offers unusual casting flexibility, as I have created three distinct vocal lines for Hester. The original lines had been tailored for Elizabeth Futral, but when coloratura Laura Claycomb stepped in for Elizabeth, I rewrote the lines again to take advantage of Laura's extraordinary top range. Laura's floating soft high notes create moments of breathtaking beauty, and add to the complexity of Hester's portrait.
Many people know the story of Hester Prynne, a young woman in colonial Boston who wears a scarlet A on her dress after she's found guilty of committing adultery. You've said Hester is an inspiration to you and could be a role model for anyone. Can you elaborate?
Even though Hester is punished and ostracized by her Puritan community, she stands unwavering in her decision to protect her lover by not revealing his name as the father of her child. This core of strength and individuality of thought stands in contrast to everyone else in the story. Her lover, the young minister Arthur Dimmesdale, is so afraid of the community and of losing his standing that he hides the truth, and his hypocrisy and guilt eventually kill him. Hester's estranged husband, Roger Chillingworth, obsessed with discovering Hester's lover, becomes consumed with rage and hatred, leading to his destruction. I think Hester's strength is completely admirable, and in fact, in the epilogue of the novel and the opera, Hester is admired, not reviled, for her strength and her goodness.
When Hester refuses to name the father of her child born out of wedlock, she is shunned by her Puritan neighbors, circa 1642. Is the conflict between one's personal sense of morality and the community's perception of morality still a timely theme in 2016?
I think the themes of The Scarlet Letter are timeless, which is why since its publication in 1850, the work has permeated our culture. The story is about individual freedom in conflict with a judgmental and zealous community. As David Mason writes in The Scarlet Libretto: "There are big questions here about ontology and epistemology, and there is a humane awareness of passion and danger, ostracism and hypocrisy. The three major characters provide a perfect triangle of possibility and destruction abetted by an uncomprehending, uncomprehended world."
You wrote a one-act children's opera, The Three Feathers, with poet Dana Gioia which premiered in 2014. You're now working on a full-length opera, Ludlow, with David Mason, the tragic tale of the 1914 massacre of Colorado coal miners. How does composing opera in tandem with art songs influence the other genre? By the way, are you currently writing any songs--and if so, can you tell us about them?
As my approach to writing opera and song is so similar, there hasn't been that much influence. I suppose I truly appreciate the brevity of creating a song as opposed to the years involved in writing an opera. And previously, in my art songs, I felt that any voice type could deliver the text equally well, but I am probably more sensitive now to the inherent dramatic qualities of different voice types.
Currently, librettist Leah Lax and I are finalists for the Pellicciotti Opera Prize and we are crafting an opera, Uncovered, based on her memoir Uncovered: How I Left Hasidic Life and Finally Came Home. I am also working on setting Robinson Jeffers' poem "Hands" for an upcoming Robinson Jeffers conference.
You've mentioned that when you majored in music at Yale, you were not encouraged to write the gorgeous melodies that became your hallmark as an art song writer. Do you think this bias against musical beauty has changed since the 1970s? Will operagoers hear any lush melodies in The Scarlet Letter?
I think composers have much more flexibility to compose as they wish and I think there are many composers who now feel free to write melody. The Scarlet Letter is full of melody and contains six arias and one love duet.
Naxos plans to record The Scarlet Letter during its run in Denver. Having a recording seems like an amazing boon for a modern American opera. How did this come about?
I am so honored that The Sorel Organization in NYC, awarded me their 2016 Recording Grant, thereby enabling this recording. The organization is devoted to creating opportunities for women in music and in keeping musical excellence alive. Both Opera Colorado and I have a relationship with Naxos: they recorded Opera Colorado's Nixon in China some years ago, and I have several CDs out on the label.
On the near horizon, your new instrumental work, Unsung, will be presented by the Baltimore Symphony Orchestra as part of their BSO Centennial Commission project. Can you give us a preview of what we might hear this September 29 through October 1 at Strathmore Hall in Rockville, Maryland, and Meyerhoff Symphony Hall in Baltimore?
Ten composers were commissioned by the Baltimore Symphony to write a short piece commemorating the orchestra's 100th anniversary. Each composer had to pick an audience suggestion for their inspiration. My chosen suggestion was to feature the more unusual instruments of the orchestra as soloists. In my four-minute work, I feature English horn, piccolo, double bass, bass clarinet, contrabassoon, tuba, triangle, and timpani. My title Unsung has a double meaning: it refers to the more "unsung" heroes of the orchestra, but also the fact that this is a purely instrumental piece, a rarity for me.
To learn more about composer Lori Laitman, visit artsongs.com
Popular in the Community