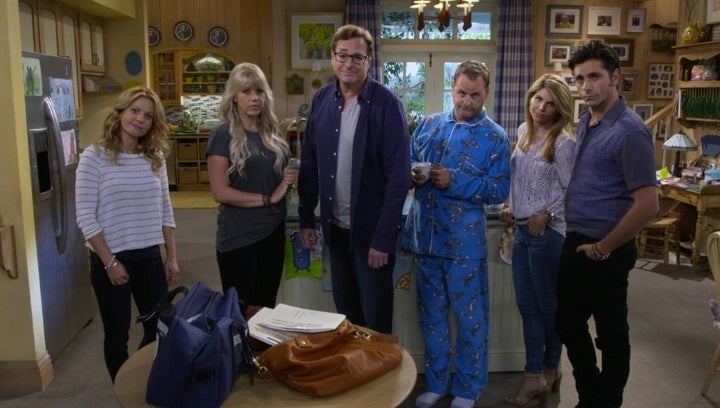 The Olsens were notably missing from Netflix's "Full House" spinoff, and it didn't take long for the show to address it with a very meta moment. After explaining Michelle Tanner was absent because she's running her fashion empire in New York, something the Olsen twins are actually doing, the cast looks directly (and judgingly) at the camera.
This is just the first of a few moments like this that happen on the show, another including Kimmy Gibbler (Andrea Barber) commenting on the prices of the Olsens' fashion line. Though many fans online have called it "shade," that seems like an overreaction when talking to Lori Loughlin, aka Aunt Becky from "Full House"/"Fuller House."
"You know, it's funny. I think I was only a part of one of those moments, and it was just fun and tongue-in-cheek," Loughlin told The Huffington Post.
"But again, creatively, it wasn't my decision," added Loughlin. "I just showed up, read my script and took direction."
The actress also shared what she could about the upcoming second season of "Fuller House," saying she hasn't heard "storyline-wise what's going to be happening," but she'll likely do only three episodes, just as she did in the first season.
As far as a possible Olsen appearance, Loughlin said, "I don't really know. I'm sure they'll always be welcome, though."
In addition to appearing on "Fuller House" and Hallmark Channel's "When Calls the Heart," the actress is teaming up with Emergen-C and charity: water to help bring clean and safe drinking water to people in Ethiopia. 
(Have mercy! Aunt Becky's been busy.)
Loughlin explained that women and children often walk hours every day to collect clean water in jerry cans that weigh up to 40 pounds when full. Because of that time-consuming task, many can't hold down a job or get an education.
In order to help, Loughlin explained you can use Twitter or Instagram to post pictures of yourself holding objects that are around 40 pounds, add the hashtag #40Pounds and tag @EmergenC. For each photo, Emergen-C will donate $5 to charity: water to help fund sustainable water in Ethiopia.
"In a lot of these communities, the water is underneath and you can't get to it, so charity: water comes in and drills, and they hit that water. Within one week, people have access to water. It's amazing," said Loughlin.
Wow! What do you think about that, Michelle?
REAL LIFE. REAL NEWS. REAL VOICES.
Help us tell more of the stories that matter from voices that too often remain unheard.
BEFORE YOU GO
PHOTO GALLERY
Jesse and the Rippers "Full House" Reunion