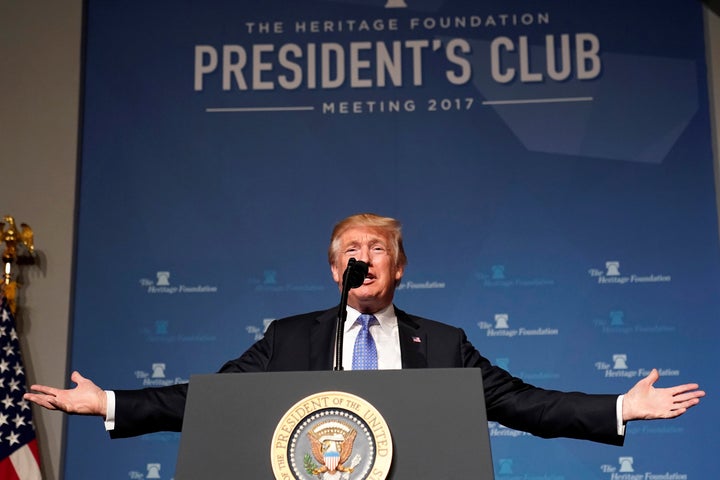 WASHINGTON — A political appointee at the Interior Department attended two private events hosted by her longtime former employer, the right wing Heritage Foundation, which appears to be a violation of federal ethics rules.
On Sept. 29, Interior Secretary Ryan Zinke gave a speech at Heritage about the administration's push for "energy dominance," where he snapped at a heckler and dismissed the controversy surrounding his use of private planes as "a little BS." Zinke's personal calendar shows that Mashburn was among several Interior Department officials in attendance at the event. A detailed schedule the department released as part of a public records request shows that after the public event, Mashburn joined Zinke and other agency officials for a private luncheon with several high-ranking Heritage Foundation employees.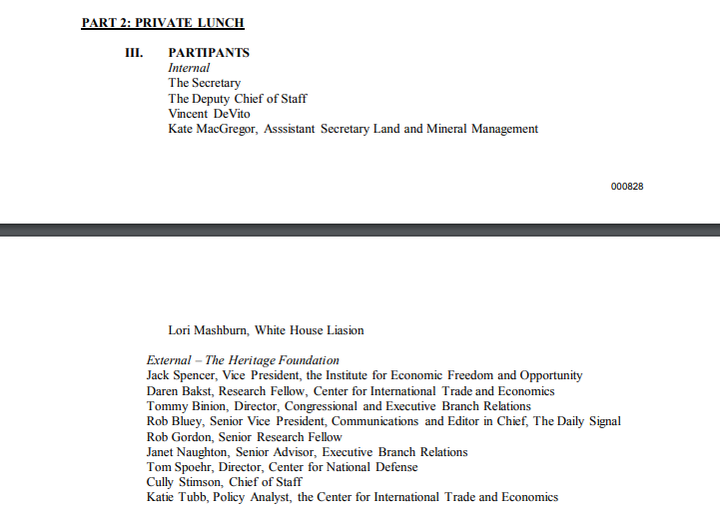 Mashburn also joined Zinke at a private Heritage affair on Oct. 16 at the Eisenhower Executive Office Building, a government building that primarily houses White House staff. On its website, Heritage described the event — part of the group's annual President's Club meeting — as "an exclusive briefing for members who support Heritage with gifts of $10,000+ annually or legacy commitments of $200,000+."


As a political appointee, Mashburn signed Trump's ethics pledge, which bars appointees in the executive branch from participating "in any particular matter involving specific parties that is directly and substantially related to my former employer or former clients." Prohibited interactions include "any meeting or other communication relating to the performance of one's official duties with a former employer or former client, unless the communication applies to a particular matter of general applicability and participation in the meeting or other event is open to all interested parties," according to the pledge.
Attending the private Heritage meetings appears to be a clear violation of the pledge, Brendan Fischer, a staff attorney at the Campaign Legal Center, said via email.
Like other government agencies, the Interior Department requires employees to recuse themselves from matters that present conflicts of interest or the appearance of conflicts. Specific situations requiring recusal include those that will have an effect on financial interests, when seeking other employment, and "when an employee's participation in a matter would create an appearance problem."
Executive branch employees are also generally prohibited from participating in matters involving former employers for one full year, commonly known as a "cooling off" period.
The federal standards of conduct provide more flexibility than the president's ethics pledge when it comes to government employees meeting with former employers.
Virginia Canter, the executive branch ethics counsel at Citizens for Responsibility and Ethics in Washington, another Washington, D.C.-based government watchdog group, said Mashburn's attendance at these events raises obvious red flags.
"The fact is, she's not supposed to be participating in meetings with Heritage under the ethics pledge unless [the meeting] is open to all interested parties," Canter said. And if Mashburn acted as the White House liaison to arrange for Zinke to address an audience of Heritage staff, members and donors, Canter said, that "seems to not be consistent with what her obligations are under the ethics pledge."
Canter and Fischer also said Mashburn may have violated the prohibition on using public office for the private gain of her former employees, if she used her office to help Heritage boost fundraising at the Oct. 16 event. Rules also prohibit government workers from accepting gifts, including meals, valued at more than $20, which raises questions about the Sept. 29 luncheon.
Furthermore, the exclusive briefing at a government building raises additional concerns for the White House, as it appears to have played host for an event limited to Heritage's largest donors, Canter noted.
It's unclear what role Mashburn played at these events or if Interior Department ethics officials gave Mashburn approval to participate, and on what grounds if so. The White House can and has granted waivers that exempt appointees from certain portions of federal ethics rules.
Mashburn and the Interior Department did not respond to several requests for comment, including specific questions about the events and Mashburn's participation. The Heritage Foundation and White House also did not immediately respond to a request for comment.
According to a ProPublica database, Mashburn is one of at least 27 Trump administration appointees that came from the Heritage Foundation or its related political nonprofit, Heritage Action. In a January release, Heritage noted that the administration had "embraced" 64 percent of the group's 334 policy recommendations in its first year.
This story has been updated to note that Mashburn signed the Trump ethics pledge.
Popular in the Community