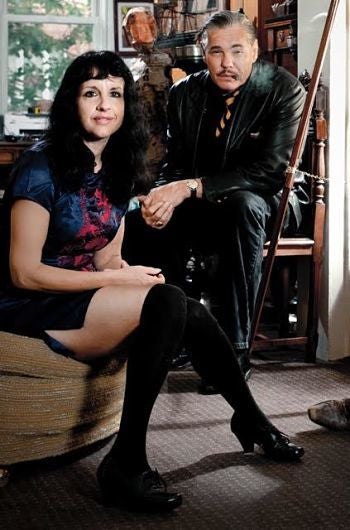 "I admire directors who really know what they want. My most recent film, The Transcendents - with Derek Ahonen – will be out in the fall. Derek knew exactly what he wanted from me. Everything in this video for Lorraine came to me instinctively …it felt natural. I knew the shots I wanted, and in the process, I discovered new shots. Having been with cameramen, and directors who actually gave me direction, I couldn't believe how quickly it all came together for us." Billy Leroy
"Billy does all my artwork. And when we filmed this video, it was magical because we have the same 'eye' --the same aesthetic, the same Gothic sensibilities… it was really a pleasure. After years of trying to find the right director to do a music video - it turns out that I'm living with him!" Lorraine Leckie
The husband and wife inmates (a play on words) have officially taken over the asylum! And you'll be able to watch it all unfold on film from now on.
Billy Leroy is no stranger to the camera. From Baggage Battles TV stardom, to acting in acclaimed indie films, to appearing regal and righteous in print and broadcast news reports detailing the rise and lamented departure of the now legendary Billy's Antiques on the Bowery, along with fashion ads, to cite a select few endeavors, he is among the most recognizable characters in an overly gentrified metropolis desperately seeking to reignite its eccentric charisma.
Technically, Lorraine Leckie is no stranger either. A fixture on the music scene for the past twenty-years as far as I have been counting, there isn't a stage in this town that she hasn't graced. The folk noir singer, songwriter, and international touring and recording artist even brought iconic New York City society chronicler Anthony Haden-Guest back to life for local indie rock audiences. Their collaborative effort Rudely Interrupted (2012) is one of the great New York albums in line with Lou and Patti.
Lorraine and Anthony's stage performances are intellectual mayhem, replete with melody, humor, and wicked shtick. Ms. Leckie's fiery Demons ensemble, featuring guitarist Hugh Pool (another local legend) and bassist Charles DeChants is second to none - above or below 14th Street.
At the Side Walk on Avenue A, where Lorraine Leckie and Her Demons raise the roof with a one- night per month residence, which I highly recommend, the twosome are aglow over their newfound artistic journey together.
Filming and conceiving a video for Lorraine's latest composition, "Send Me A Signal" may appear simple on the surface, but it's really been years in the making, especially for Billy. Leroy is professorial in his reverence for the craft of making moving images for the screen -detailing his admiration for Stanley Kubrick, John Ford, and Alfred Hitchcock. He is enamored with Charles Laughton's cult film The Night of the Hunter (1955) which was panned upon its release, however has grown in stature as a lost classic.
Leroy is determined to do things his way akin to the famed English actor, screenwriter, director, and producer. Billy's confidence also stems from his education at the Art Institute of Boston wherein he earned a degree in fine art. "You have to go with your gut," he notes matter-of-factly, "making films is just like drawing – you have to be able to do something with the basic elements. My success as an antique dealer, an actor, all comes from my training in fine arts. That taught me everything."
Lorraine cut "Send Me a Signal" in Prague with her longtime "European Demons" - violinist Pavel Cingl and bassist Jarda Kestranek. "The hook came first to me. 'Send Me a Signal' --so I thought what does that mean? I made it about a woman who wants a man to contact them. I have a lot of friends who aren't married, and they're dating and complaining to me 'the guy never called me back,' and I always feel that's so sad. So that was one of the things in play - 'send me a signal' can mean so many different things."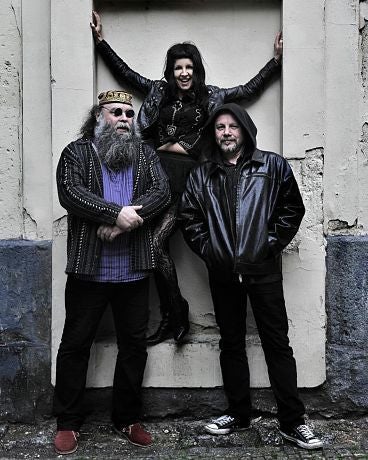 When Lorraine reveals that the recording session, waxed in what she claims was the smallest studio in the world, only cost $125.00 American dollars, Billy interjects "now that's how things should be done! Basics!"
Leroy continues "I love 'Send Me a Signal' because it's different than her rock and roll stuff or just Lorraine alone. It's got a European feel to it. A few people who have already seen the video tell me it's like London in 1880 ---Jack the Ripper is about to pounce!"
Shot it Brooklyn's McGolrick Park, Lorraine explains "when you're shooting anything it's like 'let's get together and see what happens.' You get the subject, you go wherever, and you let life come in. Let the shadows happen. Things that you never expect to happen are the things you are going to use, and that's the whole beauty of it, it's spontaneous."
Lorraine Leckie and Billy Leroy's "Send Me a Signal" can be viewed on www.LorraineLeckie.Com Videos and YouTube.Com
Photo of Jarda Kestranek , Lorraine Leckie, and Pavel Cingl is by Petr Nikl Fotograf
Photo of Lorraine Leckie and Billy Leroy is by Frank Ishman
Calling all HuffPost superfans!
Sign up for membership to become a founding member and help shape HuffPost's next chapter
This post was published on the now-closed HuffPost Contributor platform. Contributors control their own work and posted freely to our site. If you need to flag this entry as abusive,
send us an email
.