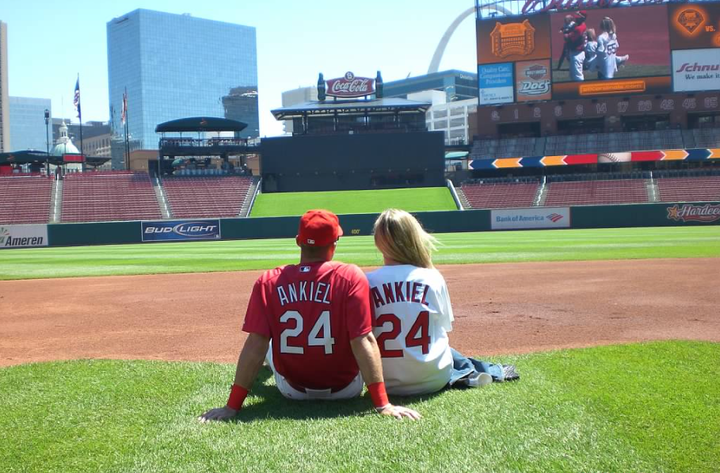 "You're joking," an exasperated Lory Ankiel said into the phone.
Nothing about Rick Ankiel's July 31, 2010, trade to the Atlanta Braves was amusing to his wife Lory, who thought the news was another one of his phone pranks. Pregnant and home alone with two dogs, Lory was anticipating Rick to cut his prank and tell her that that he'd be back after that night's Kansas City Royals home game against the Baltimore Orioles.
No punchline followed. Instead, duty called: Rick immediately flew out to join his new Braves teammates in time to start an afternoon game the next day in Cincinnati. It was just another trade in Major League Baseball. To Lory, however, it was a problem.
"I was newly pregnant and so sick that I immediately felt like I was very overwhelmed," Lory told The Huffington Post.
In an instant, the Ankiels had to uproot their settled lives in Kansas City and move to Atlanta. While Rick continued to live out his MLB dream, Lory was left to pack up the house and move the family halfway across the country to a city she'd never lived in before. Her anxiety pulsated with questions that didn't have immediate answers: How am I going to get a moving company at a fair quote so quickly? Where should we live? Which doctor should I see about my baby?
Lory found there was no guide to help her. The Braves helped where they could, but "their main focus is getting the guy on the field, not necessarily finding me a new doctor," she explained.
Throughout the relocation, Rick kept thinking, there's got to be a better way than this. For years, a hectic email listserv involving hundreds of players' wives provided the only centralized landing space for information about different cities. Digging through an inbox to find a trusted babysitter contact, however, is hardly an efficient means of finding and sharing.
Little did Rick know, his own wife was going to make a better way for on-the-move athletes and their families. Later that year, Lory, who had previously worked as a Miami Dolphins cheerleader and for an Internet technology company ("Google is my best friend," she said) created OurBaseballLife, a website and accompanying mobile app that serves as the exact kind of all-encompassing guide she could've used on Trade Deadline Day in 2010.
"There are a lot of times that can be difficult on families because the players are gone so much. A lot of the responsibilities for running the house fall on the wife," Lory told The Huffington Post. "OurBaseballLife wants to alleviate some of those responsibilities and make the transition smoother."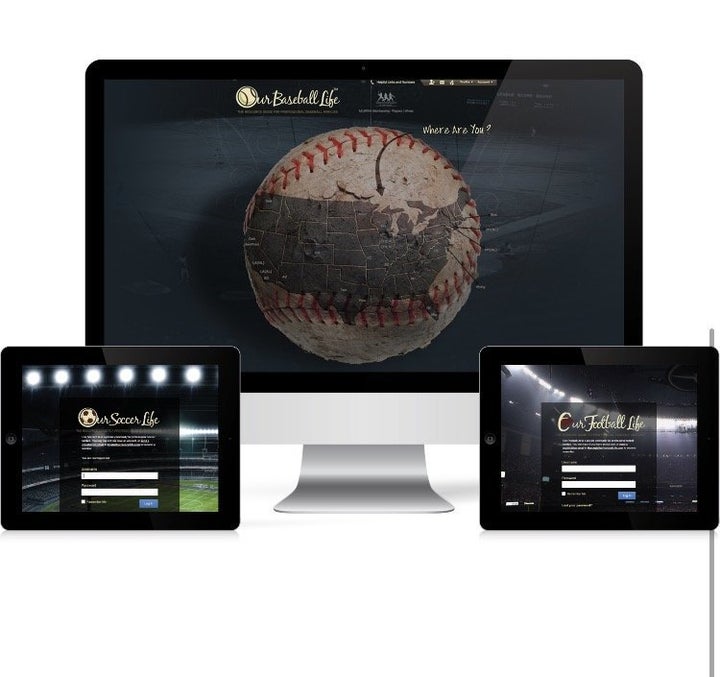 Available exclusively to professional baseball players and their families, OurBaseballLife is akin to the pro baseball version of Angie's List. Once players and spouses have been vetted and approved, they can access a database full of recommendations for local businesses in each Major League city written by players' families. There's even a forum that wives and players use to ask questions and seek advice. All one has to do is open the app and click on a city to find the resources available.
"Within 30 seconds, I have a pediatrician, know where to find a realtor, where to live -- and it's all recommended … It's not like seeing recommendations from people you don't know." said Joanie Ludwick, wife of free agent MLB player Ryan Ludwick. (Ludwick has played for six different teams.)
"At least you feel like you know the person who's telling you a recommendation that you know will work well," said Dallas Latos, wife of Mat Latos, who was traded to the Los Angeles Dodgers on Wednesday. Although Dallas is native to California, she said she still planned on using OurBaseballLife to help setup her family in LA.
"It's always good when you get into a new city to get information from someone who has similar interests to you," she added.
Having members-only recommendations populate OurBaseballLife is highly important to players' wives. Given the public knowledge that athlete salaries can scale into the hundreds of millions of dollars, players want to make sure that a potentially opportunistic contractor or plumber "won't go into your house and be starstruck or charge you an arm and a leg," as Marcia Wooden, the wife of former NFL player Shawn Wooden, put it.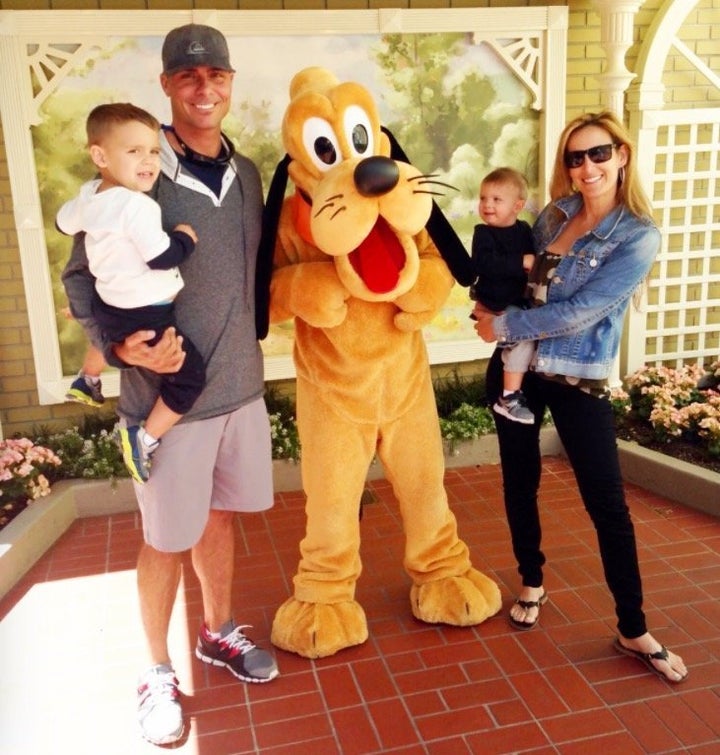 "Although we're lucky to have the opportunity to have baseball players follow their dreams, it's not always cupcakes and rainbows and butterflies," Lory added, noting that not all professional athletes are overnight millionaires.
Holly Lucas, wife of career Minor Leaguer and one-time Miami Marlin Ed Lucas, uses OurBaseballLife to help her find businesses and services that are not only affordable, but also respective of athletes who are part of their own industry's "99 percent."
"For every Giancarlo Stanton-type contract, there are hundreds of Minor League families who don't have that kind of money," she explained. "It's an extreme difference. Lory's done beautifully to create this resource."
The community Lory has helped cultivate from within specifically guards against opportunism. Everyone has each other's backs. To players' wives, the people on OurBaseballLife aren't just fellow members, but in many cases, trusted friends. Lory met Joanie when their husbands played Minor League baseball together in Memphis and became even closer when Rick and Ryan played for the Cardinals from 2007-2009.
"You definitely form bonds with them because they understand the lifestyle and they understand that you're by yourself when the guys are on the road," said Lory. "And God forbid if there's an emergency, those are the people you're going to reach out to to help you. You create great, lasting relationships."
"You have to have that community in order to survive and stay sane," agreed Joanie.
Through OurBaseballLife, the women of MLB have banded together to share information that'll make their lives easier. This symbiosis, along with the experience of enduring a difficult move, is what keeps Lory motivated to expand the website to cover all six major professional U.S. sports -- baseball, basketball, football, hockey, soccer and golf. Since Rick retired in 2013, she's been ramping up operations to meet this goal.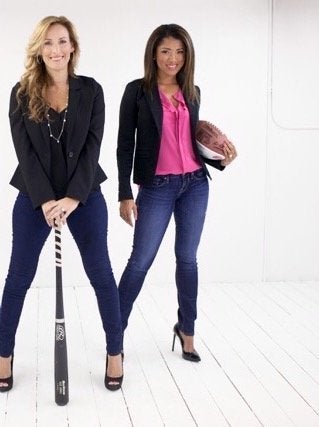 Lory's already recruited her friend Marcia, who she met when the two were Dolphins cheerleaders, to run OurFootballLife. On the soccer front, she's picked up Krista Thorrington, wife of MLS Players' Union rep John Thorrington, to run OurSoccerLife.
Krista had already seen the aforementioned baseball wives listserv through a friend whose husband played MLB and thought that MLS wives should have something similar. When the MLS Players' Union approached Lory to help start OurSoccerLife, Krista jumped at the chance to build a real digital service.
"It's what keeps driving me -- knowing that there's so much of a need," Lory said of her expansion plans. Eventually, she'd like to see an entire network of "OurLife" sites sharing and discussing the same resources and information.
With OurFootballLife and OurSoccerLife currently in "soft launch" stages and OurBaseballLife approaching 600 members (by comparison, there are over 800 active MLB players), Lory is hoping to secure outside investment to boost growth after five years of bankrolling everything with her own money.
Lory also wants to make sure that single professional athletes -- not just the guys who have the companionship of a significant other -- are getting online and helping themselves.
"It's geared towards everybody, not just to spouses. I want to make sure it's available for anybody who plays professionally," she said, adding that the unpredictability of the Internet may open up unseen avenues for her fledging business. "Who knows what things will evolve into down the road?"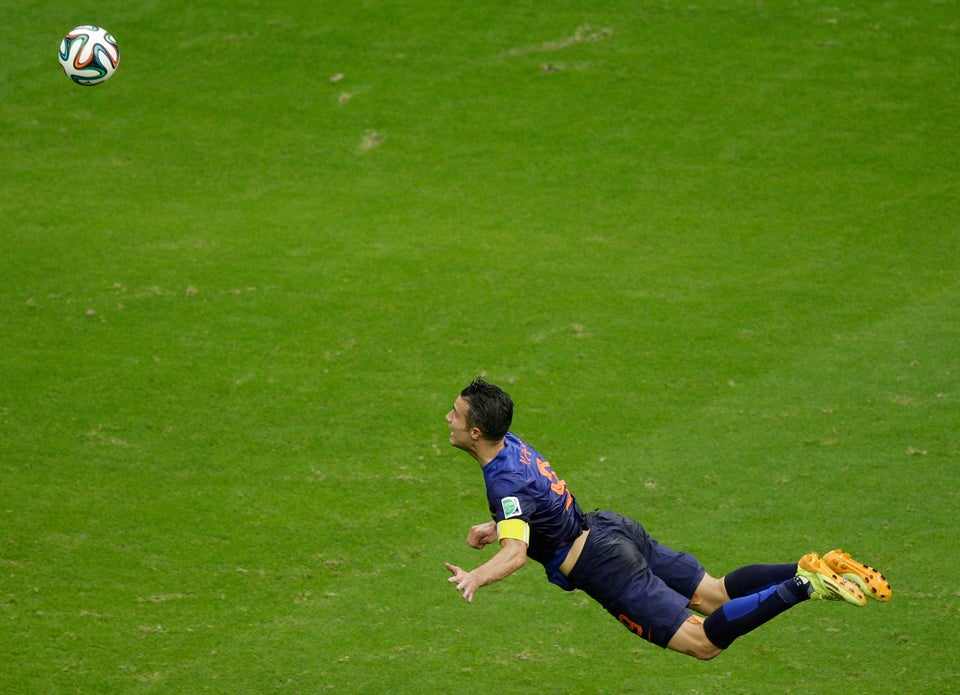 Amazing Sports Photos
Popular in the Community