While not everyone loves Valentine's Day, imagine jumping on a flight to Spain and spending February 14th transported to the Middle Ages. That's what it's like during Las Bodas de Isabel de Segura, a festival dedicated to celebrating the love between two 13th-century young lovers known as Los Amantes de Teruel.
Years ago, I was stuck in the usual 30-something single girl rut -- so I began to travel. On a flight to New York, I read a blurb in a travel magazine about a small city in Spain, Teruel, that celebrates this tragic love story. It piqued my interest. I began to research the story, a habit of working in Hollywood for years. I contacted local libraries, looked for the original version of the first written story and I then sent emails through the official website of the festival, La Fundación Bodas de Isabel, but heard nothing. I did find out that the story has been passed down both orally and in writings for centuries, and that some scholars believe it was the inspiration for William Shakespeare's Romeo and Juliet. This is all hearsay, but I was hooked.
Two years later, on a trip to photograph a wedding in Italy, I took a chance and decided to visit this Spanish city. I booked a flight through Barcelona, then transferred to a train at the main station, then to another train in Zaragoza, a very rickety old train. Five hours later, I got off in Teruel at 10 p.m., facing a foreign country with a broken pay phone, no mobile and no taxis! Now the trains are more modern, and considerably faster. The station manager was kind enough to give this lost foreigner a lift to her hotel, which happened to be just around the corner. That night, I met up with the founder and director of the festival, Raquel Esteban, and it was our new friendship that would change the direction of my life. Travel can be a funny thing.
The Festival: Las Bodas de Isabel de Segura
Every February, the entire city of Teruel converts to a medieval village with reenactments that celebrate Los Amantes de Teruel. Now in its 17th year, the streets transform back to the Middle Ages and become filled with people who dress in medieval clothing, re-enact scenes from the love story and celebrate with family and friends in jaimas (tents) until early in the morning. This year, an estimated 90,000 visitors will attend, which triples the population of the city.
The Legend: Los Amantes de Teruel (Spain's Romeo & Juliet)
So who are Los Amantes de Teruel? In Aragón, during the 13th century, a young boy named Diego de Marcilla fell in love with a beautiful girl, Isabel de Segura. Both belonged to noble families, but as he was a second son, he would receive no inheritance. Therefore, Isabel's father would not accept him as a match for his daughter. Making a promise with Isabel that he would gain a small fortune at war, Diego left to serve under King Pedro II of Aragón. He traveled from Aragón to the South of France to protect Spain against the Moors and the Papal troops in numerous battles. It would be nearly five years before he finally returned, as promised, to his beloved Isabel.
What happened next is reenacted by the whole town during the festival -- and you'll have to visit to learn of their fate!
For a truly romantic Valentine's Day, stop by this legendary medieval city. You can buy medieval clothing at a local shop, walk along the streets enjoying the medieval market, watch caballeros (knights) ride horses in a torneo (tournament), run with the bulls in La Plaza del Torico, drink cerveza (beer) and eat the delectable jámon (ham). While I can't promise you'll meet the love of your life, the trip just might change your life.
Do you have a trip that changed your life? Share with us in the comment section below.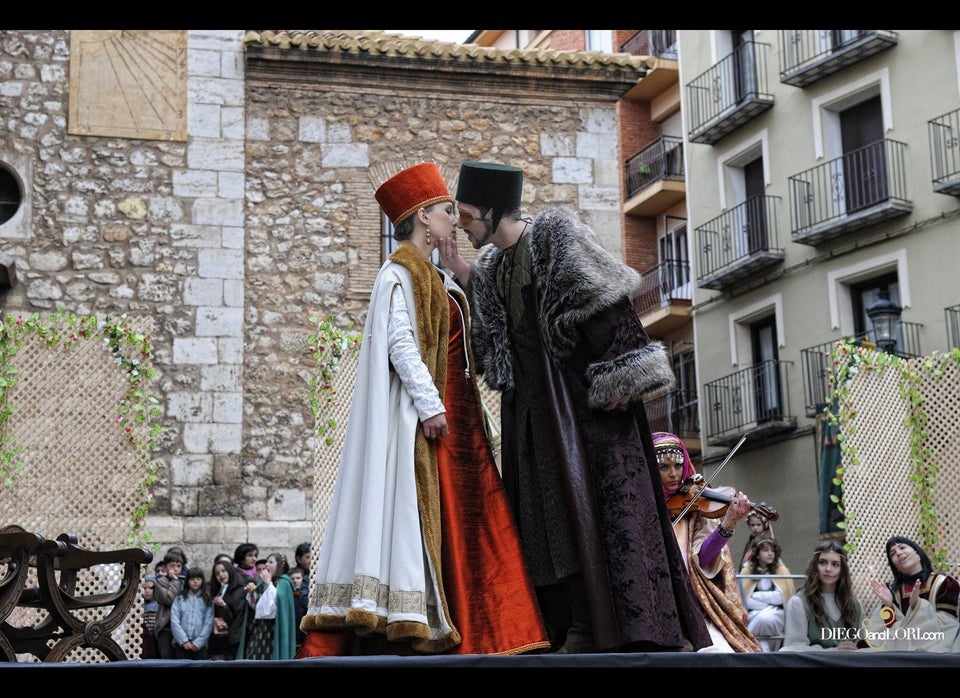 Las Bodas de Isabel de Segura