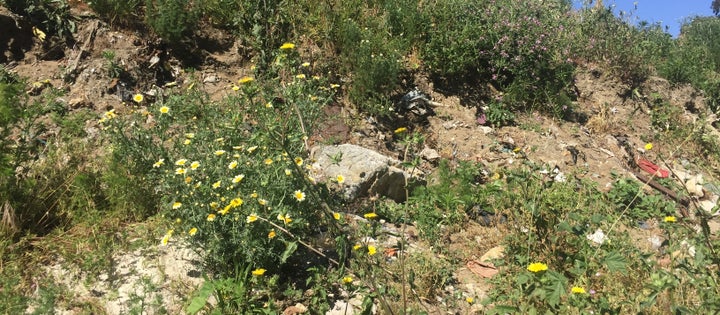 Aging is strange. It's strange to have memories that are decades old – older than the very lives of many people I know, work with and pass on the streets. I'm still getting used to the fact I know things from firsthand experience, not just books or elders. I'm still getting used to my memories being a part of history, the subject of documentaries.
Yesterday marked 25 years since the start of the Los Angeles Riots/Uprising. I remember Wednesday, April 29, 1992. At 3:00 pm a mostly White jury in a mostly White neighborhood absolved four White officers of any responsibility for sadistically beating Rodney King like a defenseless animal. An hour later the Black community's shock, rage and despair boiled over into violence in what was then called South Central Los Angeles, near the intersection of Florence and Normandie.
I would get to know South Central intimately over the next two years as a social worker, but when the riots started, I was a UCLA student two weeks from graduation. Confident of my acceptance, I'd eagerly applied to join the new Teach for America corps, and had just been rejected. I was stressing over final exams, scrambling for a job, and mourning graduating before my friends.
The verdict shocked me, and brought all my other concerns to a halt. I could see the plumes of smoke from the one bedroom apartment near campus I shared with two other students. I watched TV for hours, and heard my African American mayor refer to the rioters as "thugs" and "hoodlums." I listened to journalists express horror and decry the "lawlessness," the looting, and the beating of Reginald Denny. I worked radio dispatch one evening during the riots at the UCLA Police Department (I was a student security officer) and got to hear all the chatter. I did all of this in mostly silent shock, confusion and anger. On Friday I joined a large group of fellow students protesting the verdict. We wove our way through vacant Westwood streets past broken windows and boarded up trendy shops to the Federal building on Wilshire.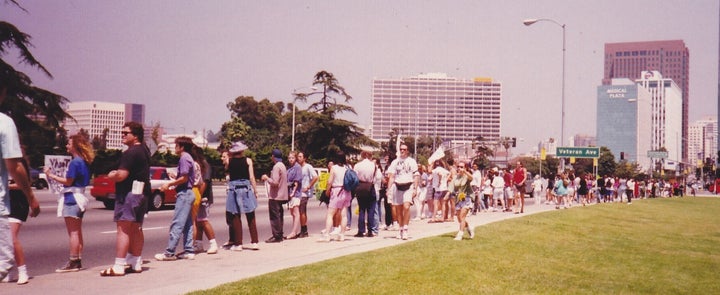 Two memories stand out most clearly for me about the Riots, and the first happened during that protest. At one point the crowd shifted into the street, toying with the idea of blocking Wilshire. Plumes of smoke from South Central rose in the near distance, and the streets were eerily quiet and tense. Suddenly, a police cruiser careened around the corner and stopped in the middle of the street. A White officer jumped out, drew his gun and pointed it at us, shouting. We froze. I felt like we were in a movie. After what seemed like a long time, a fellow officer calmed the cop down enough to get back in the car, and they sped away. I empathized with the officer's obvious stress, but as a security guard and campus night escort myself, I wondered: if this grown man was that triggered by a bunch of White college students, what was he capable of doing to a Black person?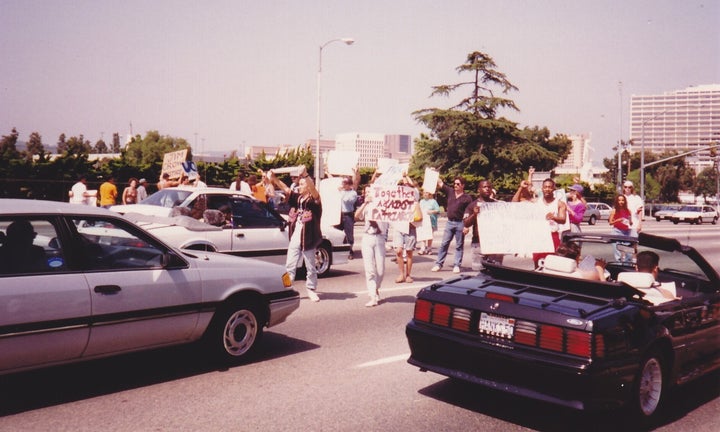 The second memory is about my loss of innocence. I was born and raised in Altadena, the same town as Rodney King, just north of downtown L.A. I lived on the east side of town in a mostly White middle class neighborhood surrounded by mostly White rich neighborhoods. We were bussed to public school in northwest Altadena, a mostly African American neighborhood with high rates of poverty and crime closer to where King grew up. We attended a Lutheran church with mostly blond rich kids who didn't like us very much. Between the ages of 5 and 10, I became acutely aware of, and was personally affected by, racism, classism and homophobia. Raised conscientious, Christian and conservative, I embarked early on my lifelong mission to understand and end oppression.
By 1990, I was a model do-gooder – White, female, middle class, bright, well-behaved, hyper responsible, and an overachiever. I cared deeply about people and the state of the world, and although my life hadn't always been easy or fair, I believed that folks mostly reaped what they sowed. However, spending the better part of a year studying, researching and travelling in Mexico gave me the first inkling that I'd been lied to about who my country was and how the world worked. In 1992, as a newly minted liberal activist, the "not guilty" King verdict sent another shockwave of truth and betrayal through my life.
I found the verdict deeply insulting not only to Rodney King, but to African Americans, and anyone with a sense of decency and integrity. It felt like the Twilight Zone that people could see that video and believe that anything other than a shocking injustice, reminiscent of slavery, had taken place. Not only that, the officers were smug and unapologetic to King after the verdict, and politicians and newscasters alike expressed little-to-no empathy or contextual understanding about the community's response. So deep was their arrogance that police had no plan to follow the verdict, and abandoned South Central to burn for almost five days. What planet was I on? What insanity was this? I felt numb and emotionally conflicted during the uprising – angry, horrified, excited, and guilty for feeling excited. My boyfriend, who was in Mexico City at the time, speculated it was because el pueblo no se dejó – the people didn't just put up with it. He was right. Despite the traumatic interpersonal effects of the violence, it gave me hope for the future to see that people wouldn't take such an egregious insult lying down.
Fast forward 25 years. Yesterday I remembered the anniversary by participating in a Los Angeles River cleanup in Compton. This was no ordinary trash clean up. There were layers of rusted metal, rubber tubes, clothing, shoes and plastic embedded in the river banks like layers of historic sediment. It felt like excavating a graveyard. It felt like sorrow, desperation and suffering. I flashed back to a vacant lot I visited years before in Juárez where women had been raped, murdered, burned and buried -- their tattered clothing poking up from the desert dirt. Then, as now, spring flowers poked up from the detritus, a cheery and morbid testament to the way life goes on and sweetness persists, even when it seems like it shouldn't.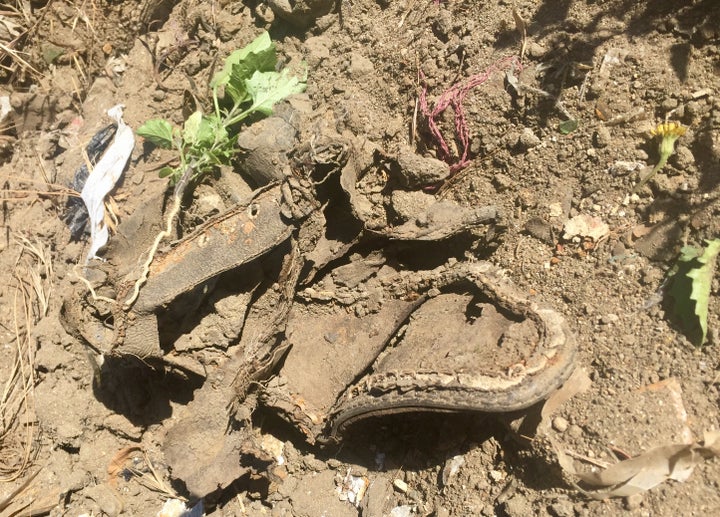 After the cleanup, I went to a rally at Florence and Normandie at noon and live streamed the proceedings. The people were multiethnic; the vibe by turns festive, prayerful, and indignant. Most of the attendees were affiliated with local community organizations, most were people of color, and most were too young to remember the Riots. What shocked me was the small size of the crowd. Where were the throngs of Angelenos? Where were the dignitaries and politicians? Where was the mass sense of appreciation, reflection and commitment to "never again"?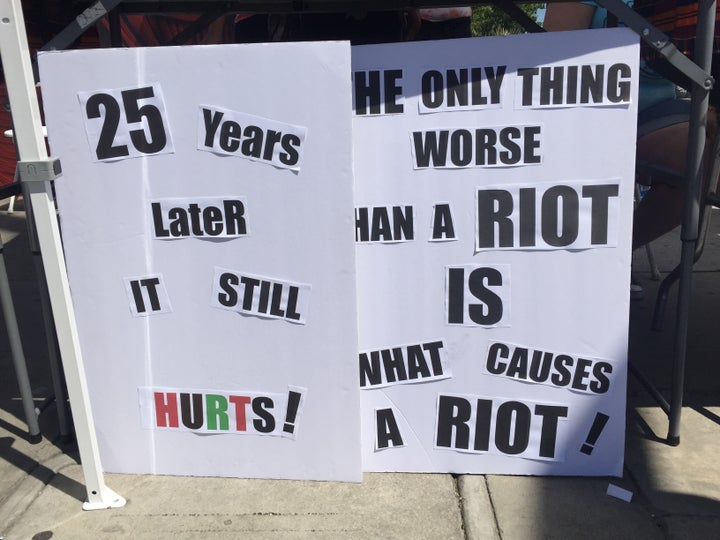 By almost all accounts at the rally and throughout the week on the news, much has changed and little has changed in L.A. since 1992. After 21 years as an expat, I just moved back home last year, and it's been an odd adventure. I could barely believe my eyes when I saw downtown for the first time since the 1990s! What's changed: the city is friendlier and less tense, there's been a lot of revitalization/gentrification and the police are better run and more civilized (unless you count the fact LAPD leads the nation in fatal shootings). However, the economic inequities that underscored the riots persist and deepen. So does the arrogance and amnesia – now on a broader scale. Twenty years after the riots we saw George Zimmerman set free for murdering Trayvon Martin. We saw an African American surgeon harassed and racially hazed at UCLA, just yards from where the White cop pulled his gun on us in 1992. We've seen more and more videos of unarmed African Americans being killed by police – with no accountability. And yesterday also marked the 100th day in office of the most incompetent, bigoted, psychologically unstable president our nation has likely known.
Aging is strange because black and white becomes grayer over time. We see the complexity of people and life, and how nothing is all good or all evil. We remember and replay the fires and beatings, but forget the multiple acts of kindness, courage and generosity that occurred during and after the riots. We forget that the riots contributed to the gang truce, which transformed the social fabric of Los Angeles. In the same way, the latest slew of police shooting and Trump's presidency have awakened and organized scores of new activists.
Indeed, el pueblo no se ha dejado – the people still aren't taking it lying down. Wildflowers still bloom over the broken dreams and rotting corpses of the past. Nature is resilient and life is persistent. But how long until Watts, Los Angeles, Ferguson or another city burns…again? How long until we all believe Black Lives (and Brown Lives) Matter as much as White lives? How long until another generation's dream deferred explodes? How long until we finally take each other (and ourselves) seriously enough to promise "never again"—and keep our word?
Popular in the Community