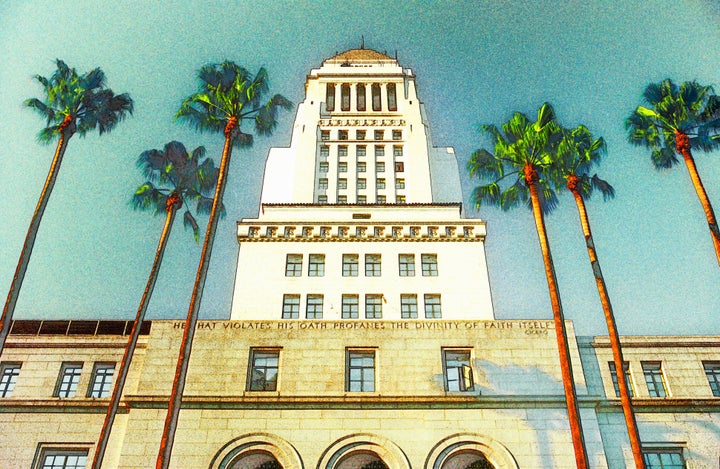 An independent commission of 12 top business, labor and civic leaders -- all with close ties to City Hall -- was announced on Thursday with a goal of developing a blueprint on how Los Angeles can get out of its structural deficit problems.
Created by City Council President Herb Wesson and chaired by former Commerce Secretary Mickey Kantor, the goal of the panel -- which calls itself Los Angeles 2020 -- is to provide an independent examination of the city's problem and develop its own set of recommendations on how the city can recover economically and develop options for the future.
"We are not here to rehash old fights and the past," Kantor said at a news conference in the downtown offices of his firm, Mayer Brown. "This is about the future ... to see how we can be helpful to the new (City) Council and mayor."
Other members of the commission include former First Deputy Mayor Austin Beutner, former Gov. Gray Davis, former state Business Secretary Maria Contreras-Sweet, attorney David Fleming, Thomas Sayles of USC, Kathay Feng of Common Cause, Antonia Hernandez of the California Community Foundation, Ron Miller of the Los Angeles-Orange County Building Trades and former Labor Secretary Hilda Solis.
On July 1, the city will have a new mayor -- Controller Wendy Greuel and Councilman Eric Garcetti are locked in a tight race in the May 21 runoff -- and seven new members of the 15-person City Council.
Wesson said he started thinking about creating the panel last December as a way to have an outside look at the city's fiscal challenges and to prepare a document for the new mayor and City Council.
"We want to look at what we can do to grow business, to see what structural changes we need to make sure the city is moving in the right direction," Wesson said.
The panel will be independent of City Hall and will develop its own funding source, Wesson said.
Kantor said he hoped to have an initial report to the City Council in 90 days -- to be presented at a public session -- and follow it some three months later with a report containing recommended actions for the city.
Mayor Antonio Villaraigosa has endorsed the work of the commission, even as he works on his final budget.
"We are making the tough decisions necessary to leave the city in the most solid financial position possible," Villaraigosa said, adding he is confident the commission will come up with solid recommendations.
Kantor said the one thing he has insisted upon is that the commission remain politically neutral -- even with most of them having taken positions in support of either Greuel or Garcetti.
All of its meetings will be held in private and members are being urged to not make any political statements.
Kantor said they will hear from a variety of sources, including city officials, neighborhood councils and others with expertise in city financial matters.
"We are not going to get involved in the mayor's race," Kantor said. "This is not a partisan commission. This is not a political commission. We want to make that clear."
However, two of the members, Brian D'Arcy of IBEW, Local 18, and Tyler Izen of the Los Angeles Police Protective League, have overseen the spending of hundreds of thousands of dollars into the Greuel campaign.
Kantor and Wesson said those actions would not impact the commission's work.
twitter.com/Rickorlov ___
(c)2013 the Daily News (Los Angeles)
Distributed by MCT Information Services
REAL LIFE. REAL NEWS. REAL VOICES.
Help us tell more of the stories that matter from voices that too often remain unheard.
BEFORE YOU GO