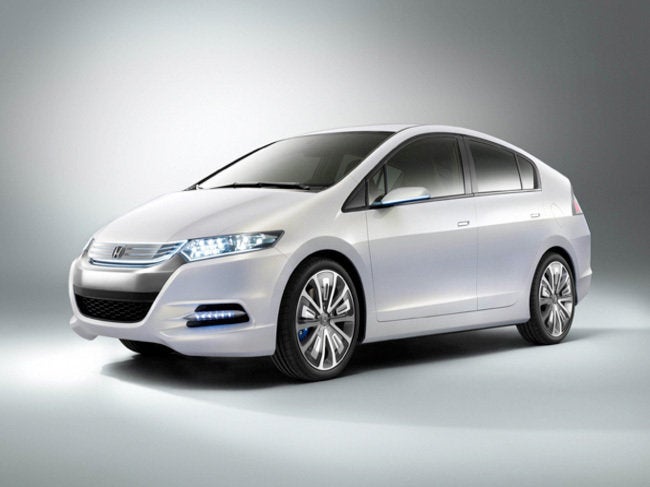 How anxious are the Detroit Three carmakers to make sales?
My wife and I were at the Los Angeles Auto Show last night, "Black Friday," at the Los Angeles Convention Center. At the hustling and bustling Ford display, several Ford employees approached us with an almost unheard-of offer: If we agreed to test drive - just test drive - a new Ford Fusion, Ford would give us $50.
Even more frightening, it also means I might finally look respectable enough to appear a model, trustworthy citizen. The kind of guy you'd like to test-drive one of your cars. Ah, where did I go wrong?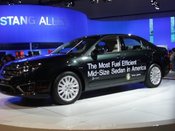 (Ford's alll-new gas/electric hybrid Fusion, twin car to the Mercury Milan, had trouble outdoing the excitement of the 2010 Mustang at the LA Auto Show, but Ford staffers told me they were getting a lot of interest - very welcome interest - in Ford's second-generation hybrids).
In Ford's large exhibit area, replete with spinning DJs (or is it "DJs spinning?"), video crews, Las Vegas-style electronic billboards and even a magician performing close-up tricks to entertain kids while mom and dad car-shop, my wife filled-out a form to enter some sort of contest. The next day - today - she got a call from one of our local Ford dealers (and we live 100 miles from downtown Los Angeles), asking her if she would come to their dealership and test-drive one or a few new cars.
With our emphasis on green and/or significant cars and trucks, let's make our final visit to this year's Los Angeles Auto Show.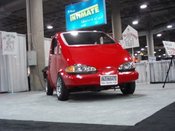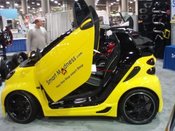 (Intimate was handing-out info on their EV, a glorified golf cart with few amenities, the kind of EV which makes many people edgy about the whole green concept. To the right is the handiwork of a company called Smart Madness ... Adding horizontal doors to the Smart. Legendary King of the Kustomizers, Hollywood's George Barris, showed a similar car at the recent SEMA Show in Las Vegas, but, naturally, Barris' was a Batman tribute car; Barris built the real Batmobile, too).
We'd visited the GM and Chrysler/Dodge/Jeep exhibits earlier in the week (see the posting before this for that story), and found them nearly barren of show-goers as well as concept cars or trucks not seen before at the LA or other auto shows.
Among the Detroit Three, Ford - by far - had the most exciting display, judging by the crowds of all ages in their large, bright and frankly aggressive exhibit area. People were having a good time, and good times sell cars.
With 2010 V6 and V8 versions of their iconic Mustang, made necessary because of an all-new 2010 Camaro, Mustang's traditional competitor, and all-new gas/electric hybrid versions of the Ford Fusion/Mercury Milan, Ford seemed connected to the present and the future.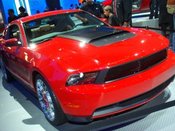 (With Chevrolet's announcement some four years ago that an all-new Camaro would hit showrooms in 2009 as a 2010 model, Ford had to freshen their iconic Mustang; some of the Ford's sheetmetal and lights have been tweaked, performance has also been enhanced, but it's not an "all-new" car - Still, Mustang's first champion, Lee Iacocca, would be proud - somewhat).
Dearborn's car-maker also showed a concept car, Verve, an all-new version of the company's Fiesta, an exceedingly popular car built and sold throughout Europe, and which goes on-sale next year in the US.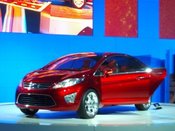 (This "concept car" in the Ford exhibit called Verve is really a lightly-disguised US-market version of the company's popular Euro-market Fiesta sedan. It's slated for US sales in 2011; clean diesel models are a distinct possibility, and Fiesta already uses most of the tricks in the book to produce high mileage and low emissions).
Honda's exhibit showcased their nearly-available gas/electric hybrid Insight (same name as Honda's first gas/electric hybrid sold in the US) and a concept car we'd seen at the Tokyo Motor Show, the CR-Z, which will eventually go on-sale in the US as the latest version of the performance-oriented Civic Si, this time with a hybrid engine.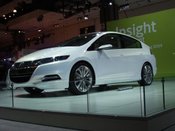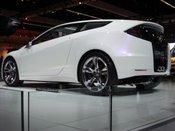 (Honda's two concepts used an old Honda name and a used concept car. The Insight, left, will be available next year as a gas/electric hybrid; Insight was the name of the first hybrid Honda sold in the US, and this Insight is much larger than the original. We first saw the CR-Z concept, right, at the last Tokyo Motor Show, and it is close-in-styling to the next-generation Civic Si.
Mercedes-Benz proudly displayed and talked-up their impressive BluTEC clean diesel system, available on the company's 2009 GL320, R320 and ML320 models (in our earlier LA Auto Show post, we showed you the Volkswagen and Audi clean diesels, which use the same basic system as the Mercedes).
And along with several custom takes on current Mercedes models aimed at import tuner/custom aftermarket-types, the GLK-based Urban Whip was, if not the silliest-looking car at the show, certainly in the running for that important honor. Urban Whip doesn't have a roof, but sports a 5,700-watt stereo system which ensures that our friends in Australia can also enjoy whatever sounds Whip's operator prefers.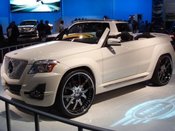 (What's a car show without one really ugly car? This aftermarket-tweaked Mercedes-Benz GLK was at Los Angeles and also at the recent SEMA Show in Las Vegas; don't blame us, we just report the news).
The new Lexus IS convertible and newly-freshened RX450h gas/electric hybrid-powered crossover were featured in that company's exhibit. We'd seen the concept for the RX at the Tokyo Motor Show, too. Now, in seeing the production model, we think the RX has, in something of a rarity in the car business, actually turned-out better-looking in its final, saleable form. For many reasons, often production cars bear little relationship to the styling of their original concept version.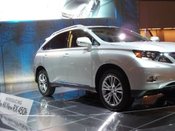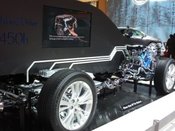 (The Lexus RX450h is a high-powered version of the existing RX400h gas/electric hybrid. A cutaway view of the RX's drivetrain is below, and who doesn't love big-time automotive cutaways? You know what those things cost ...?).
Toyota had their familiar-by-now line of gas/electric hybrids displayed, as well as something old made new again: a Camry powered by compressed natural gas, CNG, burning in tandem with gasoline, the clean-burning CNG making this car a hybrid, of sorts.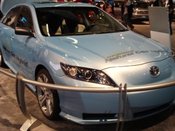 (Toyota tried selling a CNG/hybrid Camry about a decade ago but got few takers. They're hoping the public appreciation for all things hybrid and better availability of CNG will help jump-start sales this time out).
What's old about it? Toyota had tried the same trick over a decade ago, but CNG availability was so low - and gasoline so cheap - in the US that buyers ignored the car. Toyota is hoping that with the expanded and still-growing availability of CNG and a general acceptance and trust of hybrid technologies, buyers might now give the car a second look.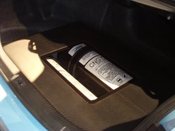 (This hybrid Camry has highly-pressurized tanks of CNG in its trunk; at first glance, I thought Toyota was bringing racing back to the streets, that the tanks held nitrous oxide, a painkilling, jovial-making drug used by dentists, well, used by dentists on their patients, as well as a serious chemical which adds an instant 100-horsepower-or-so when fed into engines for a few seconds. Don't worry, though, the nitrous used in cars has a horrible odor and taste added to discourage human use. But some people never learn ...).
Toyota's new Venza, a sort-of baby Highlander crossover, being built in Georgetown, Kentucky, comes with Toyota's 3.5 liter V6 producing 268 horsepower, and in early 2009, what Toyota calls a "super efficient 2.7 liter Inline-4 cylinder" making 182 horsepower becomes available.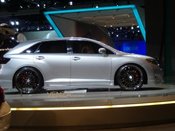 (This Toyota Venza is topped-off with some custom bits and pieces, and the US-built car is aimed at a younger audience than typical Highlander buyers; a V6 engine is available now, but in January, a thrifty Inline-4 can be ordered. Starting price is under $25K).
But that smaller engine bought for better mileage might not be strong enough to push this near two-ton front-wheel drive car up steep hills or make passing trucks on the interstates a pleasure rather than a fright. Interested parties should do a road test with each car, the V6 and the I4, and get the one which best fits their driving style and needs.
Two of the four Venza models (which can seat five adults) can be ordered with all-wheel drive, and Toyota has wisely decided to sell all four Venzas with a minimum of option packages, holding down its production cost and dealership price and making the buying experience shorter and simpler.
Toyota shares my "best display" honors along with Ford at the 2008 LA Auto Show.
There's an old auto industry adage, "product is king," and high-quality cars and trucks are any company's price of admission to the US auto market in good times ... and bad.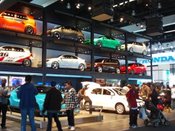 By the way - We always enjoy the hip auto show displays from Scion (above), but where is the gas/electric hybrid or EV car from Toyota's "youth culture" product line?
REAL LIFE. REAL NEWS. REAL VOICES.
Help us tell more of the stories that matter from voices that too often remain unheard.