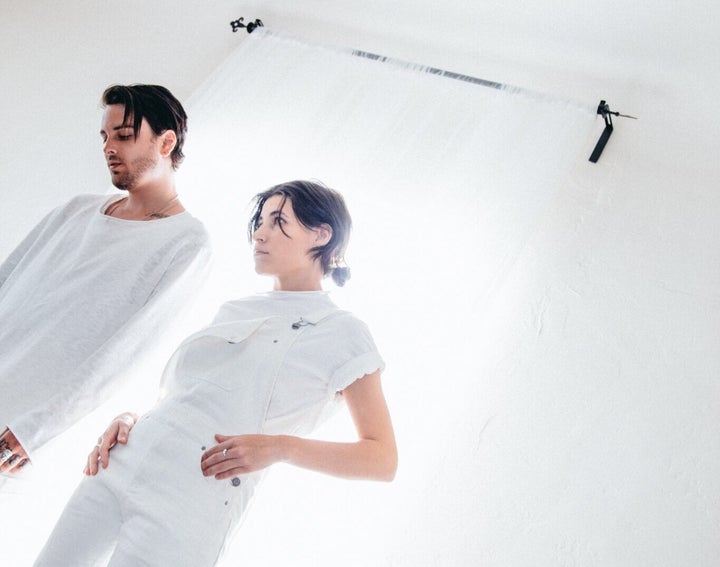 The Los Angeles-based duo of Alexa San Román and Dane Petersen, known as HEIRSOUND, collectively came together in New York a few years ago, and their artistic chemistry resulted in the aptly titled debut project, the Merge EP. Since then, the two have continued to write and record new music as they go through the ups and downs of various relationships in their lives, documenting through song the emotional stance that these experiences brought to their existence.
It's with their newly released three-volume Layers EP collection that Alexa and Dane give a glimpse into the emotive journey from the past couple years, with each volume representing another stage of their emotional process. The first volume deals with the surface level emotions like anger or attraction while the second volume proceeds with the more complex inner realities of confusion, anxiety, and new feelings, and the third volume concludes with the deep, sentimental feelings of love and acceptance.
With the release of the final volume of Layers coming on June 23rd, we have a first look at the video for the song "Heaven With You" along with a short Q&A with Alexa and Dane about the project and the video.
What's the idea behind releasing three volumes of four-song EPs this time around?
Alexa: Its been like two years in the making at this point with these songs. In those two years, things happen, people come and go, you go through conflicts, you meet new people, you can get into new relationships, and fall in love. All this stuff happened over two years, so as we started to put all of the songs into a pile of what our next album is going to be, it started to become pretty clear that we had written three different types of songs sonically. We started to write them out and just separate them into these three categories. Originally, we thought we'd release an album, but then as we saw the categories, we thought this is like three EPs because realistically, they organized themselves.
Dane: We're an independent band. Maybe we wouldn't have the opportunity to release any type of concept in this way, completely doing it the way we want giving all the new music out to the world. It just wound up being this mood separation that made the most sense.
What's the song "Heaven With You" about and how does the video tell its story?
Alexa: So "Heaven With You" was originally a poem. We started to jam with it. Structurally, as a song, it's the most outside the box. It's like three stanzas of the poem and we put it music and it felt really right. Its very much a conclusion and that's why its on the third EP. It touches on a narrative that's been going through Layers since the first EP. Its definitely a conclusion to some of the more angry feelings that were before. That's why it is so emotional. The music video is very simple and that's how we wanted it to be because that song is definitely just a reflective moment where you sit down, feel it out, you cry it out, and then you have that beautiful moment where that's it, you're just sitting in my room. That's what we wanted to portray with the music video, just have people see a really intimate look at how that felt.
With the three videos that were made for Layers, do you think that was a good representation of the full body of work in a visual aspect?
Dane: I do. If you take them out of context, they really mash up the volume they are connected to. Being there are three coming from each one, I think it really does showcase what you're getting out of each volume. I think it makes a lot of sense to me.
Alexa: Mood-wise, all three of the music videos correspond to each EP in a way that we definitely set out to do. We carefully planned out what each one of these music videos was going to be and making sure the overall aura and mood of them matches the content of each EP.
Listen to the full interview with Dane Petersen & Alexa San Román of HEIRSOUND on my Fresh is the Word Podcast below:
Related
Popular in the Community