Conditions in California are especially ripe for devastating fires at the moment, with tinder-dry undergrowth; strong, volatile winds; and terrain that's difficult for firefighters to traverse. Those natural catalysts are compounded by the proximity of several current fires to large population centers.
In just the past four days, multiple fires have started in the hills of Los Angeles and surrounding cities. As of early Thursday, most of them were barely contained, if at all, and tens of thousands of people have been required to evacuate.
And the strong Santa Ana winds that funnel through the steep hills around LA, feeding and spreading fire as they do, are projected to build in strength this week, peaking at up to 80 miles per hour on Thursday.
A red flag warning ― alerting residents to conditions of extreme fire danger ― was in effect for much of Southern California through Saturday, according to the National Weather Service, with high winds expected to pick up around Los Angeles and Ventura counties on Wednesday night into Thursday.
And late Wednesday, authorities sent an emergency alert to all residents in Los Angeles County warning of "critical fire danger."
"We are still in a very active and dangerous situation," Ventura City Fire Chief David Endaya said at a news conference Wednesday evening. "We are doing everything we can. We are facing dangers tonight and tomorrow. With the predicted wind, it could become a worse event than it is right now."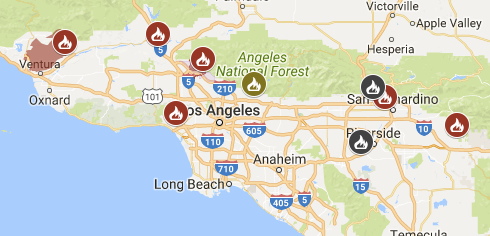 The largest of those, the Thomas fire, has so far burned over 90,000 acres and had 5 percent containment as of Wednesday evening, according to Ventura city officials. The fire has destroyed at least 150 structures (that number is expected to grow substantially ― the latest incident report lists 12,000 structures as threatened) and forced the evacuation of 50,000 people.
Another fire in the Bel-Air neighborhood erupted and quickly burned nearly 500 acres, prompting evacuations as some homes were consumed by flames. A fire in the Sylmar area of the San Fernando Valley torched more than 12,000 acres of land are forced the evacuation of more than 100,000 people as of late Wednesday.
"There will be no ability to fight fire in these kinds of winds," Ken Pimlott, director of the California Department of Forestry and Fire Protection, said, according to the L.A. Times. "At the end of the day, we need everyone in the public to listen and pay attention. This is not 'watch the news and go about your day.' This is pay attention minute by minute … keep your head on a swivel."
Though California has the largest fleet of firefighting aircraft in the world, those planes typically can't drop fire retardant in winds higher than 30 mph, California Department of Forestry and Fire Protection spokesman Scott McLean said at a news conference Wednesday.
"The prospects for containment are not good," Ventura County Fire Chief Mark Lorenzen said at a news conference Tuesday night. "Really, Mother Nature is going to decide when we have the ability to put it out ... it is pushing hard."
At 11,337 acres, the second-largest fire, known as the Creek fire, is burning homes on the west edge of the Angeles National Forest.
According to Angeles National Forest spokesman Nathan Judy, 1,500 firefighters are currently battling that fire alone, seven of whom have suffered minor injuries. Ten helicopters in the area are helping staunch the inferno, one of which captured the above apocalyptic scene Tuesday.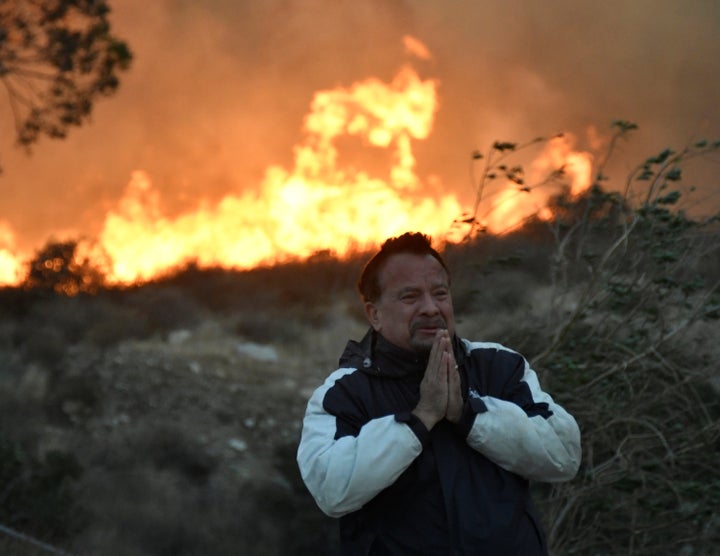 Meanwhile, a (comparatively) small 150-acre blaze known as the Skirball fire has destroyed at least four homes near the famed Getty Center museum complex west of downtown Los Angeles.
On Wednesday morning, while the Los Angeles Fire Department ordered residents of the famously well-heeled Bel-Air neighborhood to evacuate, commuters along Interstate 405 faced this surreal scene firsthand:
Conditions are unlikely to improve until later this week at the earliest. The National Weather Service expects high winds to return to the area late Wednesday through Thursday.
This article has been updated with information from officials on Wednesday evening.