If anyone had told me before I moved to Los Angeles over a decade ago that I'd be spending my nights and days here holed up in tiny bars and honky tonks listening to country music I would've been ROFLMAO before the acronym existed. I hated country music. With a passion I reserved for slasher movies or 80s hair. HATED it.
I was a punk / ska girl turned jazz / swing girl. I liked smart things. The gaudy rhinestones, the fake cowboy swagger, the suburban dudes told to sing about a dirt road... it was preposterous and hollow stuff.
Stinson changed everything. It's like the video of a kitten watching a kitten on YouTube causing the universe to implode. That's what it was like. I had to start over.
My first steps toward this implosion were enticed by James Intveld, the rockabilly, swing, country Frank Sinatra of an idol, who can fill a dance floor like no one else in this city. James would throw out, "This one's a Lefty Frizzel song," or "This one's from Waylon Jennings." Hm, pretty good tunes. James' own songs -- A Woman's Touch -- were equal to them.
I began to think, if this was country, what the heck was that on "country radio"? The cracks began.
Through a friend, I wound up at another dive where this former rock drummer was starting his own country band. Mike Stinson. It took me a few times. I'd catch a line here, a hook there. I'd smile.
I got a CD when it finally came out -- it blew my mind. The lyrics were beyond smart, they were brilliant and heartbreaking and honest and funny and piercing all at once, in a way that was entirely Mike.
"Now packing drums don't hold the allure, When you're 14 you don't think that far. That's what it's like to be the last fool at the bar" -- surely one of the best lyrics of all time.
He sang about the people I knew and the life we were all living between visits to the tiny honky tonks. Underneath it all, Mike sang about LA, channeling perfectly "all the hopeful misery of it all," as Jason Mandell of The Coals put it while out on the back porch of the Grand Ole Echo a few weeks ago.
Hear "Walk Away" on a lonely Monday night at the Redwood and you'd be penning your own suicide note next to your beer. But then Mike would rescue you with humor and self-effacing joy -- "Broken Record" or "Stop the Bar" -- and soon you'd be spinning out of time on the dance floor with a big grin.
Which brings me to my point.
Mike opened a door wide onto a thriving music scene that has rescued me. Rescued me and many, many others I know. Tucked into thrown-away nights and abandoned time slots -- far from the droning anonymous dance scene or here-today-gone-tomorrow rock gigs -- the Americana / hillbilly / country shows have been the musical lifeboats of Los Angeles.
Instead of distracting us from it, the music acknowledges the despair so many of us have been feeling and we don't feel alone anymore.
But the music does not let us give in. As Mike would put it, "I will live to drink another day." The community won't let us either -- I've seen outpourings of vital support given for everything from vet bills, to cancer treatments, to memorial collections for grieving families. The community has become as much a part of the music as the chords.
One major celebration of this music and community comes together on Sunday, August 14, at the second Roots Roadhouse all-ages, day-into-night festival at the Echo & Echoplex in Echo Park. Packed last year with incredible talent, a huge mix of scenes -- old hippies to young hipsters, dreadlocks to pompadours to diapers -- the urban-country-cowpunk-rockabilly-blues crowds magically overlapped and all got along... well!
Hell, a spontaneous square dance broke out on the pavement by night's end.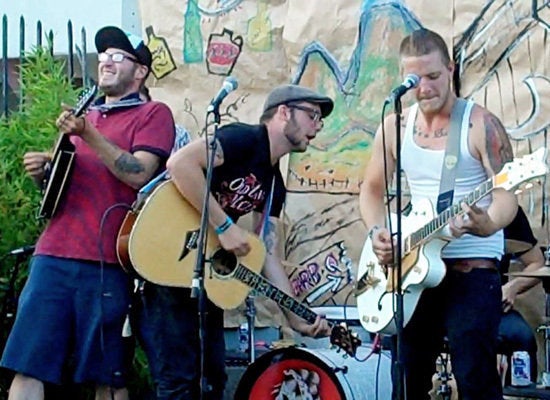 LA shakes a tailfeather at Roots Roadhouse festival 2010
This year promises another romping fine time -- acts come from all over the Americana / roots map: bluegrass, country rock, old time music, rockabilly, lo-fi blues, folk, psych-sonic, and of course, country. Put together by The Echo, the Grand Ole Echo and The New Los Angeles Folk Festival, there are three stages, one outside on the "back porch," in the tradition of one of the current cornerstones of this music scene, Sunday afternoon's all ages Grand Ole Echo.
Headlining are Canadian alt-country vintage-evoking favorites The Sadies. I'm looking forward to hearing Boston-based country noir "Queen of the Minor Key" Eilen Jewell, who has been all over Sirius' Outlaw Country and is #9 on the AMA charts. Also curious about the alt country as "art metal" sage Jessie Sykes with Phil Wandscher from Whiskeytown who will presumably trip the dark groove fantastic. Whitey Morgan and the 78s of "I ain't drunk" fame will be there.
But here's one insider's take on which stages to run to: don't miss Louvin Brothers devotee, young phenom Brennen Leigh. She's reminiscent of a young Emmylou -- only Brennen's a far better guitar picker. Jackshit is one smartass country-rocking super group. And LA's young The Driftwood Singers' folk tinged harmonies are channeling another time and place. Rockabilly swinging favs Big Sandy and His Fly-Rite Boys, of course. And David Serby & the Dirt Poor Folklore -- who has turned to the Civil War as a touchstone for the emotions of present day hardships. Former cowpunker (X) now guitar-legend Tony Gilkyson is a favorite too.
And topping it off, Mike Stinson -- universe-imploding honky tonk champion himself -- will be rocking the roof off, coming in from his new hometown, Houston. I trust he will sing his newest wonder-song "This Year" -- the one that brought him a standing ovation started by an awed Jim Lauderdale at a recent show at Pappy & Harriet's in Pioneertown. You definitely want to be there for that.
"We've been like hobos scratching in the dirt," says Kimberly Grant, Grand Ole Echo's tireless producer. "This is music that's been under-rated, under-heard, and under-appreciated -- not for lack of trying. I'm seeing a lot of new faces, young kids this year -- it's finally catching on. "
Without virtually any radio slots thanks to corporate monopoly radio, without a ten-dollar, let alone a million-dollar, CD rollout, this music won't be pushed at you. It has to be found. Or find you. I, for one, am humbly grateful it surrounds me. My kind of country music isn't what is sold to you, it's what you live. Or maybe, as Grand Ole Echo back porch curator Julie Richmond said, "Until you've lived a little, you don't know what they're talking about." Fortunately for everyone, these lifeboats can hold a lot of people.