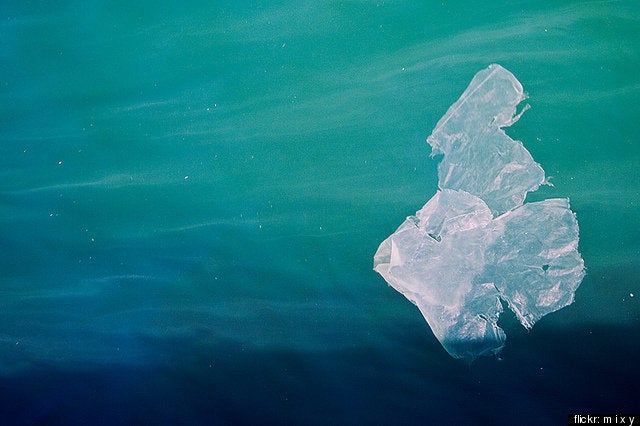 With yesterday's L.A. County Plastic Bag Ban, The Los Angeles Board of Supervisors proved themselves superior to our California State Legislators in standing up to the petrochemical and plastic bag manufacturing industries. The day began with an animated press conference in front of the Board of Supervisors' Building and facing the Los Angeles Cathedral. The presence of the dramatic cathedral rising above and facing the speakers seemed to elevate the call for delivery from plastic bag pollution, as if plastic bags are yet another, albeit recent, addition to biblical plagues. Clearly for the Supervisors and the assembled environmentalists who had spent years and vast resources both tackling plastic pollution and meeting the procedural challenges to regulation set forth by chemical industry lobbyists, the plastic bag plague is indeed more frustrating than locusts. Speakers included Supervisor Mark Ridley-Thomas who was fiery in his denouncement of the plastic bag as an urban and coastal pollutant. "It's time to ban these damn bags!" he said, giving a clear preview of his vote a few hours later.
The vote to ban plastic bags followed party line with the three Democrats: Gloria Molina, Mark Ridley-Thomas and Zev Yaroslavsky voting for the ban, and Republican Michael Antonovich voting against. Antonovich repeated a claim often voiced by chemical industry lobbyists that low-income people would be forced to buy plastic bags to pick up their dog waste and carry their lunches.
Anotnovich's line of reasoning drew the indignation of recent college graduate Vanessa Molano who stated, "I am one of those low income people you are referring to. I am insulted that you think poor people don't care about our environment. I wonder who you care about -- your chemical industry friends or people like me."
The victory offers some satisfaction to the extensive coalition that recently took a state wide plastic bag ban all the way through the state assembly, with the support of Republican Governor Arnold Schwarzenegger, only to see the legislation die in the state senate after heavy lobbying by the American Chemistry Counsel. Assemblymember Julia Brownley (D), author of the state bag ban bill that was defeated, (AB 1998, the Single Use Plastic Bag Reduction Act), assured supporters yesterday that she will revive the legislation this session.
Though legislative controls on plastic pollution in California, and in this nation, may prove to be incremental, there will be a tipping point for multi-territorial businesses when it is in their interest to stop providing plastic bags since more and more jurisdictions will ban them. Across the globe, 25% of the world's population already lives in a jurisdiction where plastic bags are either banned or have associated fees. In California, Rick Eiden of the United Food and Commercial Workers Union (the UFCW), the union that represents the people who pack our groceries, says Californians deserve better than wasted tax dollars used to clean up plastic waste and higher grocery costs that cover the "free" single use bags. He looks forward to the day when the people he represents will no longer have to ask, "Paper or Plastic?"