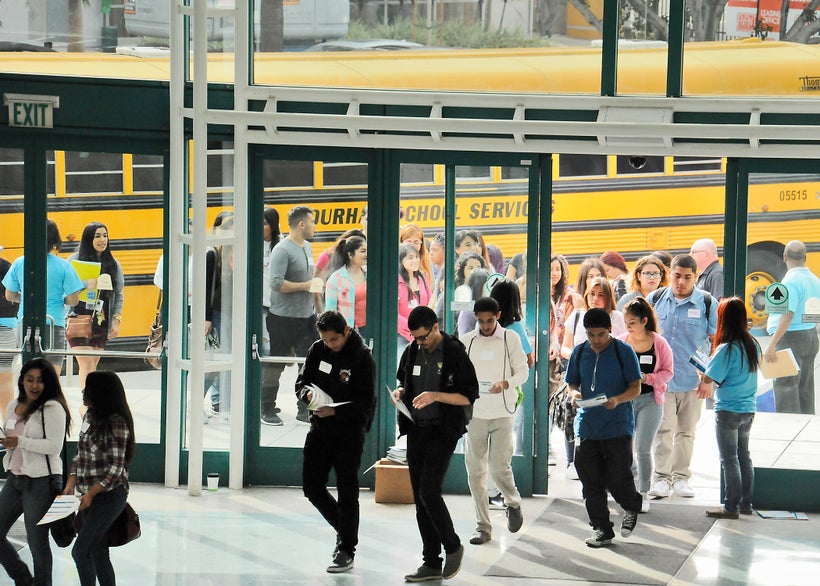 The recent revelation that the campaign money-laundering case against Los Angeles school board member Ref Rodriguez has expanded to include separate allegations of conflict of interest reveals a hard truth: the public knows far too little about how our money is being spent on charter schools.
If the charter school group that Rodriguez cofounded, Partnerships to Uplift Communities (PUC), hadn't held itself accountable, would we have ever found out about his potential conflict of interest? The office of the L.A. Unified inspector general must now be fully empowered to determine whether the $285,000 in public money Rodriguez transferred to nonprofits that he controlled actually contributed to the education of PUC students.
But there's another pot of money we should be looking at while we're at it. Last spring, In the Public Interest found that of the hundreds of millions of public dollars going to California charter school groups annually to lease, build, and buy school buildings, much is spent with little oversight or accountability due to inadequate state policy.
Not only has the public supported charter schools that have been found to have discriminatory enrollment policies, we've even given facilities funding to those that have engaged in unethical or corrupt practices. In a number of instances, groups have used this funding to pay above market rate rent to property owners they have close business ties with, effectively siphoning public money into private pockets.
A number of schools controlled by Rodriguez's former employer have benefited from public facilities funding, but two stand out. Since 2011, PUC's Community Charter Middle and Early College High School have received over $2.6 million through the state's Charter Facility Grant Program—known as "SB740" funding—to help rent former medical office space in Lakeview Terrace. According to public records, for some of that time the private corporation that owned the property listed Rodriguez as its manager.
A number of questions come to mind: has PUC used all of its facilities funding on renting space for schools and for how much? Why did the amount of SB740 funding double for the Lakeview Terrace property so close to the time one of the schools located there closed?
The office of the inspector general should broaden its investigation to include Rodriguez's role in the PUC's use of SB740 funding. Parents and the public deserve to know whether all of the money was used to cultivate a safe, thriving learning environment for students.
The stakes are particularly high as state funding for public education continues to stagnate. Conflicts of interest drain valuable resources from a system where every dollar counts—and the burden often falls on students and parents.
Right here in Los Angeles, years of questionable spending by leaders and potential conflicts of interest at the Celerity chain of charter schools forced teachers to lean on students to fundraise for basic school supplies. After federal agents raided the chain's headquarters last year, the state Board of Education shuttered two Celerity schools, leaving 1,400 students in kindergarten through eighth grade scrambling to find other options.
In 2016 in the Bay Area, Tri-Valley Learning Corporation filed for bankruptcy and abruptly closed its charter schools in Stockton and Livermore—but not before using hundreds of thousands of dollars in SB740 funding to rent property at three and one-half times market rate from a real estate company that had businesses ties to the group's founder. The conflict of interest was just one of many across the organization, and students and parents bore the brunt of a culture of self-dealing. Just as school was beginning last year, Tri-Valley's two Livermore schools announced teacher layoffs to pay down debt, prompting hundreds of students to flood nearby public schools.
"Essentially two once thriving schools were hijacked by a charter management corporation intent on private gain and profits on the backs of our kids under the guise of public education," said Superintendent Kelly Bowers at a state oversight hearing last July.
Clearly, this is a statewide issue. Sacramento must make the necessary reforms to increase oversight and transparency in charter school facilities funding to best fulfill the needs of students, but Los Angeles can start by shining a light, right here, right now.
The office of the inspector general, which has sustained ongoing attacks by charter school groups, should be given full rein to investigate PUC's SB740 funding. It's the public's money—we deserve to know how it was spent.
Calling all HuffPost superfans!
Sign up for membership to become a founding member and help shape HuffPost's next chapter
This post was published on the now-closed HuffPost Contributor platform. Contributors control their own work and posted freely to our site. If you need to flag this entry as abusive,
send us an email
.