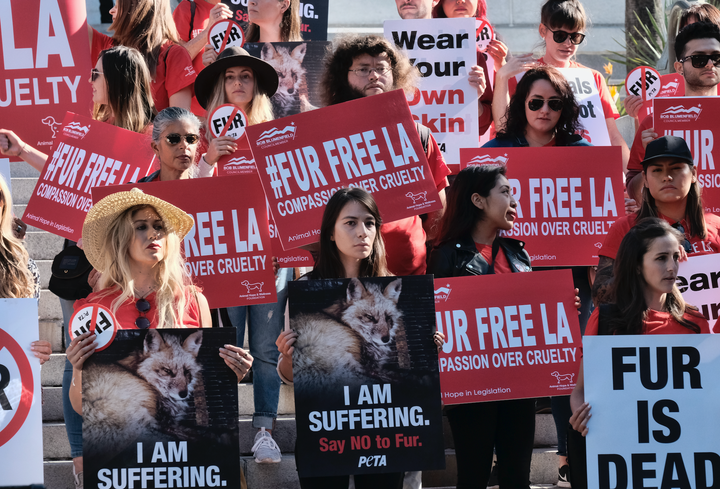 The Los Angeles City Council voted unanimously on Tuesday to move ahead with a ban on the sale of fur clothing and accessories within city limits.
The proposed ordinance would make Los Angeles the largest city in the United States to ban the sale of fur. It would also represent one of the most significant efforts to restrict fur sales anywhere in the world. 
By voting no to fur, the City of Angels is following in the footsteps of other California cities, such as West Hollywood and San Francisco, that have passed their own no-fur ordinances in recent years.
The 12-0 vote directs the city attorney's office to draft an ordinance outlining the ban, which would then require a final vote by the council. The ban would go into effect two years after final approval.
Council member Paul Koretz, who introduced the motion, said he hoped a citywide fur ban would inspire and influence other major U.S. cities.
"Los Angeles is one of the fashion capitals of the world, and if we can do it here, we can do it anywhere and hopefully we will be an example for the rest of the country and the rest of the world," Koretz said at a news conference before the vote, reported NBC Los Angeles.
"We're not blazing a new trail here ― San Francisco's done it, West Hollywood's done it, but never a city of our size, so we hope that New York City and Chicago and Miami are all watching," he added.
As NBC noted, the law may include some exemptions, including fur items worn for religious purposes and furs of animals trapped by California Fish and Game license holders. 
Animal rights groups hailed the City Council's vote as "historic." 
"Los Angeles' historic move to ban fur sales today is likely to herald the end of the barbaric fur industry for good," Marilyn Kroplick, president of In Defense of Animals, said in a statement. "This major city sets global fashion and culture trends, and has sent a message to the world that animals should not be abused for clothing." 
A fur-free trend appears to be sweeping the fashion industry, with several major fashion houses and clothing brands recently announcing fur-free policies ― including Burberry, Gucci, Versace, Yoox Net-a-Porter and TJX, the parent company of stores like T.J. Maxx and Marshalls. 
According to the Humane Society of the United States, more than 20 countries, including Norway and the Netherlands, have taken national legislative action against fur. 
P.J. Smith, a senior manager of fashion policy at the nonprofit HSUS, expressed amazement at the momentum the no-fur movement has seen in recent years. 
"I've been doing this job for about 10 years, and if you would have told me just two years ago that Gucci, Versace, Burberry, InStyle magazine, London Fashion Week, Norway, the Netherlands, São Paulo would be going fur-free, I wouldn't have believed you," Smith told The New York Times on Tuesday. "But it's happening."
Calling all HuffPost superfans!
Sign up for membership to become a founding member and help shape HuffPost's next chapter
BEFORE YOU GO