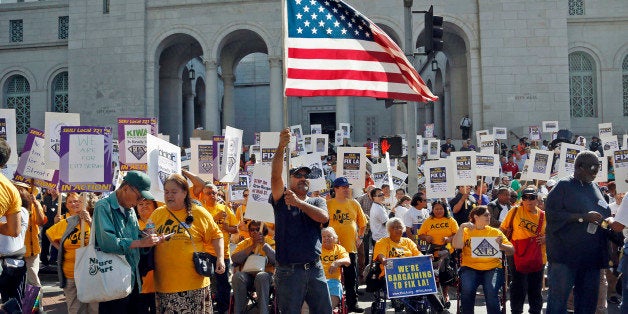 Los Angeles leads the nation in millions of dollars of wages stolen from workers' paychecks.
The term of art is "wage theft" and it happens to more people than you know. It means workers, particularly those paid hourly, miss hours in their paychecks, they don't get paid for overtime, they are required to clock out and then continue working and many other schemes that result in a paycheck smaller than it should be.
Los Angeles is ground zero for these violations. Eight out of ten low-wage workers here experience wage violations and every week workers lose $26.2 million in these violations, the highest of any other major city in the country. Currently, 83 percent of workers who hold a court-ordered claim to receive their unpaid wages never see a dime.
Last week, people from every corner of our city and members of the Raise the Wage coalition came together in support of a minimum wage of $15 an hour for workers across industries. It was the largest mobilization of low-wage workers in history. People in our city know first-hand that a base wage needs to be enforced for it to lift workers out of poverty. That's why the Raise the Wage coalition has been advocating for a citywide minimum wage increase to $15.25 an hour with earned sick days and enforcement provisions to protect workers against wage theft.
In the current system, it is too easy for unscrupulous employers to avoid the consequences of their actions, which disadvantages those businesses and employers that play by the rules.
In our time working in the labor movement in Los Angeles we have seen that this practice is so pervasive that even strong and organized workers have come to expect that their paychecks will be shorted. The problem is so widespread that it prompted a visit by U.S. Secretary of Labor Thomas Perez late last month. At an event with Mayor Eric Garcetti downtown, Sec. Perez spoke to supporters about the importance of ending wage violations to ensure that a minimum wage increase will lift workers out of poverty.
It's no secret that we believe the minimum wage must be raised in order to lift working families out of poverty. Most voters and many members of the city council and the Los Angeles County Board of Supervisors agree with us. But we believe enforcement is the key to success in any new minimum wage policy.
Raising the wage and ensuring that workers actually receive a full paycheck is critical to continuing to grow the Los Angeles economy and ensuring workers can move toward the middle class.
Juana Pablo, a lifelong garment worker, is a fearless and outspoken activist, but even the sharp tongued mother she says stolen wages come with the territory. At one garment factory she was paid by the piece, which amounted to less than the minimum wage. At another factory she consistently worked 11 or 12 hour days, six or seven days a week, but she was paid for eight hours. She never saw a cent of overtime.
For Lekecia Dukes, a home care worker at a private agency and a member of ACCE, she says it's pretty common for her paycheck to reflect fewer hours than she worked. She dismisses it as the cost of getting a job.
A number of high-profile cases illustrate the scope of the issue in the city: State investigators found this year that 1,549 local garment workers were owed more than $3 million in unpaid wages -- an average of $1,900 per laborer, the equivalent of five weeks of typical pay. Warehouse workers are seeking a class-action suit against California Cartage Co. and several staffing agencies, alleging that more than 500 workers are owed millions of dollars in unpaid wages and overtime dating back to at least 1999. Through its important Living Wage Ordinance, the city requires contractors like California Cartage Co. that operate their businesses on city owned land to pay a wage of at least $11.03 an hour with healthcare benefits and $12.28 without healthcare, but there are no enforcement provisions to ensure that contractors follow the law. This suit exemplifies why enforcement must be part of any minimum wage policy for it to have an impact.
A working mother of two is paid less than $19,000 a year if she works full time for minimum wage. That is below the federal poverty line. Factor in stolen wages and it's even less.
Los Angeles's low-wage crisis can only be addressed with a multi-pronged, comprehensive approach. It is too far-reaching for a singular fix to make a dent. That's why our coalition supports a plan that raises the base wage to $15.25 an hour, ensures adequate earned sick days so people don't lose needed pay if they are sick and don't lose their jobs over illness and includes strong enforcement that holds all employers accountable to the law.
Laphonza Butler and Rusty Hicks are co-conveners of the Raise the Wage coalition. Butler is president of SEIU California and SEIU-ULTCW. Hicks is the executive secretary-treasurer of the Los Angeles County Federation of Labor.
Popular in the Community