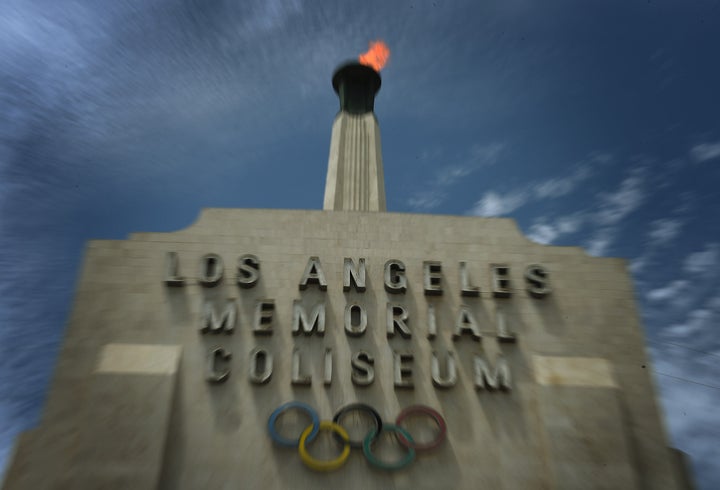 A month after Boston backed out of a bid for the 2024 Olympics, Los Angeles is preparing its own effort to lure the summer games back to the United States for the first time since 1996.
The Los Angeles City Council is expected to soon approve a resolution that would give Mayor Eric Garcetti the authority to pursue the Olympics, and on Tuesday, local organizers released documents that detail a $4.1 billion bid that includes insurance and contingency funds meant to protect taxpayers. Organizers project an LA games would turn a $161.1 million profit.
Los Angeles has long been considered the most sensible of potential American hosts, largely because of its wealth of existing facilities and experience hosting major sporting and entertainment events. Its renewed efforts to land the 2024 games now raise a central question: Can the city that in 1984 pulled off one of the only profitable games in modern history do it again four decades later?
Organizers and Garcetti have insisted it can, and on paper they have made a strong case. The 2024 bid relies heavily on facilities that are already in place, including NBA and college basketball arenas and a Major League Soccer stadium. Instead of building a new Olympic stadium, organizers are planning a $300 million upgrade to the LA Coliseum, which would serve as the centerpiece venue just as it did in 1932 and 1984. (The Coliseum would ultimately get an $800 million facelift, as the University of Southern California, which plays football there, has already planned a $500 million renovation.)
In total, organizers plan to spend just over $1 billion on venue construction and conversion, a paltry sum compared with recent hosts.
But Olympic observers have cautioned that a repeat of 1984 could be hard to pull off -- not because of LA itself, but because of the International Olympic Committee's bidding process. 
In 1984, Los Angeles was able to leverage its position as the only final bidder -- Tehran, Iran, pulled out amid political instability -- to propose and execute a cost-conscious games that turned an estimated $200 million profit. This time around, though, LA will run up against a host of European cities, including Paris, Rome, Budapest and Hamburg, and that could thrust the city into a more typical bidding war that drives up costs.
"It's possible to do it if the IOC lets them," Stanford University economist Roger Noll said. "But now that there's competition for them, it's likely implausible to think that they will be designated as the home of the Olympics and profit from it."
Los Angeles organizers are confident they can avoid many of the pitfalls that doomed Boston's bid, which fell apart amid tepid local support for the so-called taxpayer guarantee, the IOC mandate that cities put public money behind the Olympics in the event that revenues or private financing fall short. Los Angeles is willing to sign that guarantee, the bid documents state.
The documents also cite a level of public support for the games that Boston never reached even at its peak. With less than a month to go before the IOC's Sept. 15 deadline for formal bids, it is unlikely LA's effort would face the organized and developed opposition that derailed the hopes of Boston 2024, the private group backing that effort.
And even though its revenue estimates may fall on the "high side," Los Angeles can also make a strong argument in favor of its price tag, which the IOC has said is a factor after the exorbitant costs of recent Olympics drove many cities away.
"LA is obviously the cheapest way to go," Noll said.
But, he added, that alone might not be a big enough advantage to beat out the other cities, and the competitive nature of the international process could force changes to the bid if LA hopes to win over the IOC.
In that sense, Boston's failed effort could be instructive. Boston 2024 also sought to produce a limited-cost Olympics that relied largely on existing facilities, but officials underestimated potential costs by as much as $3 billion, according to a state-commissioned report released after organizers pulled their bid. 
For all its success, the '84 games remain an outlier. Every Olympics from 1960 to 2012 exceeded initial cost projections, doing so at an average of 179 percent, according to a study from the University of Oxford that became a common point of reference in the Boston debate. 
LA may be less risky than Boston, which would have needed a new Olympic stadium, but it still comes with potential problems that didn't necessarily exist in 1984. And for Los Angeles taxpayers who may be wary of Olympic costs, one key element remains unknown in the LA 2024 bid documents. In the box marked "Subsidies," there are only three letters: "TBD."
Calling all HuffPost superfans!
Sign up for membership to become a founding member and help shape HuffPost's next chapter