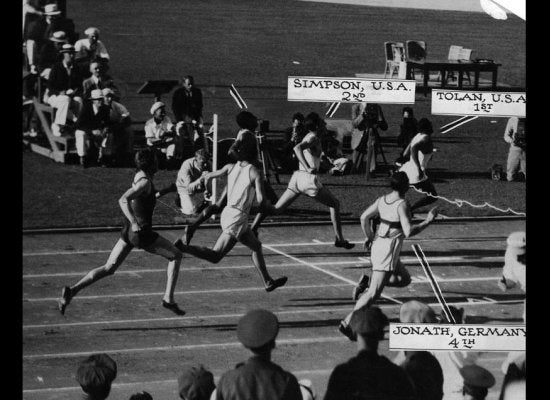 By Bob Timmermann and Christina Rice, Los Angeles Public Library
London is hosting its third Summer Olympics, pushing it ahead of several other cities that have played host to the games twice, including our fair city, Los Angeles.
The Olympics first came to Los Angeles in 1932 during the throes of the Great Depression. The Memorial Coliseum was the main venue, hosting the Opening and Closing Ceremonies, along with track and field, gymnastics, field hockey, and an equestrian event. The unique aspect of these games was the construction of the Olympic Village in Baldwin Hills, which the organizers built to reduce housing costs for athletes who were making the long trip to Los Angeles. Previously, competing teams would compete for hotel space with visitors to the games. Since these were the 10th Olympic Games of the Modern Era, 10th Street in Los Angeles had its name changed to its current one, Olympic Boulevard.
Fifty-two years later, Los Angeles hosted the Olympics again. In 1984, cities were not lining up to host the games. In fact, most were steering clear of them. However, the Los Angeles organizers were able to pull off a profitable Olympics thanks in part to working out numerous sponsorship deals, as well as avoiding building few new venues. The Memorial Coliseum was the host again. Television ratings skyrocketed as the absence of athletes from many Eastern European nations lead to numerous wins by the U.S.
It's been 28 years since the last time Los Angeles hosted an Olympics. Prior to that, the gap was 32 years. During each time period, the Olympic Games changed in ways that people watching at the time would be stunned to believe. Even beach-loving Angelenos of 1984 would be surprised to think that beach volleyball would be one of the biggest draws on television worldwide.
The Los Angeles Public Library's Photo Collection contains numerous images from the Olympic Games of 1932 and 1984. Below we highlight some of the biggest events from the time that they happened, that may not be remembered as well today. Don't worry, you can still load up on Mary Lou Retton and Carl Lewis photos!
For those not scoring at home, the other cities that have hosted the Olympics twice are Athens, Paris, Lake Placid, St. Moritz, and Innsbruck. Stockholm hosted the 1912 Olympics and the equestrian portion of the 1956 Melbourne games.
PHOTO GALLERY
Los Angeles Olympic Games
Calling all HuffPost superfans!
Sign up for membership to become a founding member and help shape HuffPost's next chapter